Turnovers costly in 21-8 Frankfort win
SHORT GAP – Play physical. Play disciplined. Year after year, that's the winning formula for Frankfort head coach Kevin Whiteman. On Friday night, the Falcon formula paid dividends, cashing in a 21-8 victory over visiting Hampshire.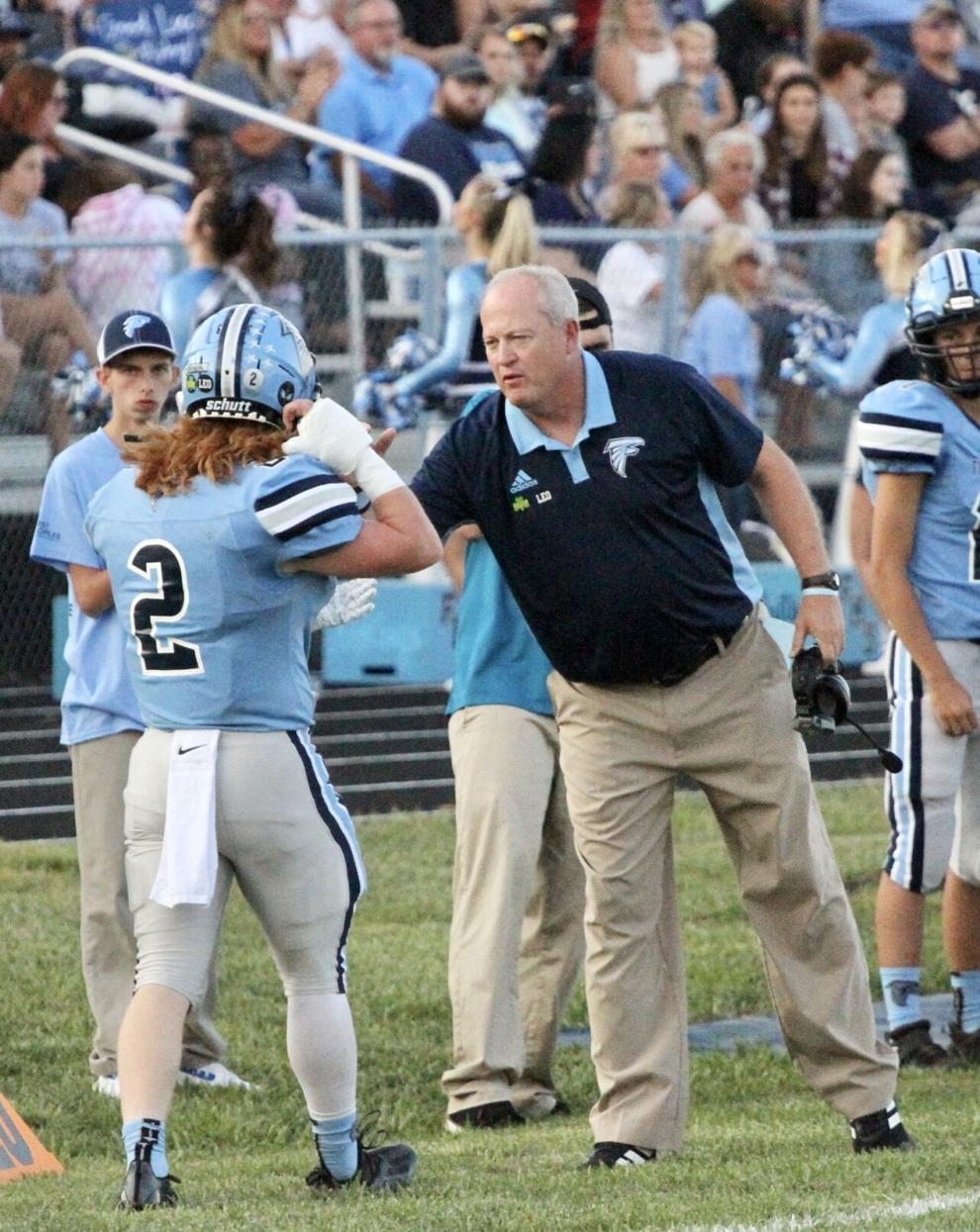 The Falcon defense played hard-hitting assignment football forcing 4 Trojan turnovers (2 interceptions, 2 fumbles).
"We did a good job of getting 11 hats on the ball," commented coach Whiteman after the victory.
"Credit the defensive coaches. They did a wonderful job of getting our kids prepared."
On offense, the Falcon strategy was run, run, run, run, run, run, then toss it deep, which netted a pair of 1st half touchdowns. Falcon signal caller, sophomore Landen Kinser, executed the game-plan with precision; protect the pigskin and run the ball. The triple threat backfield of Peyton Clark, Parker VanMeter and Joel Myers did the grunt work on the ground.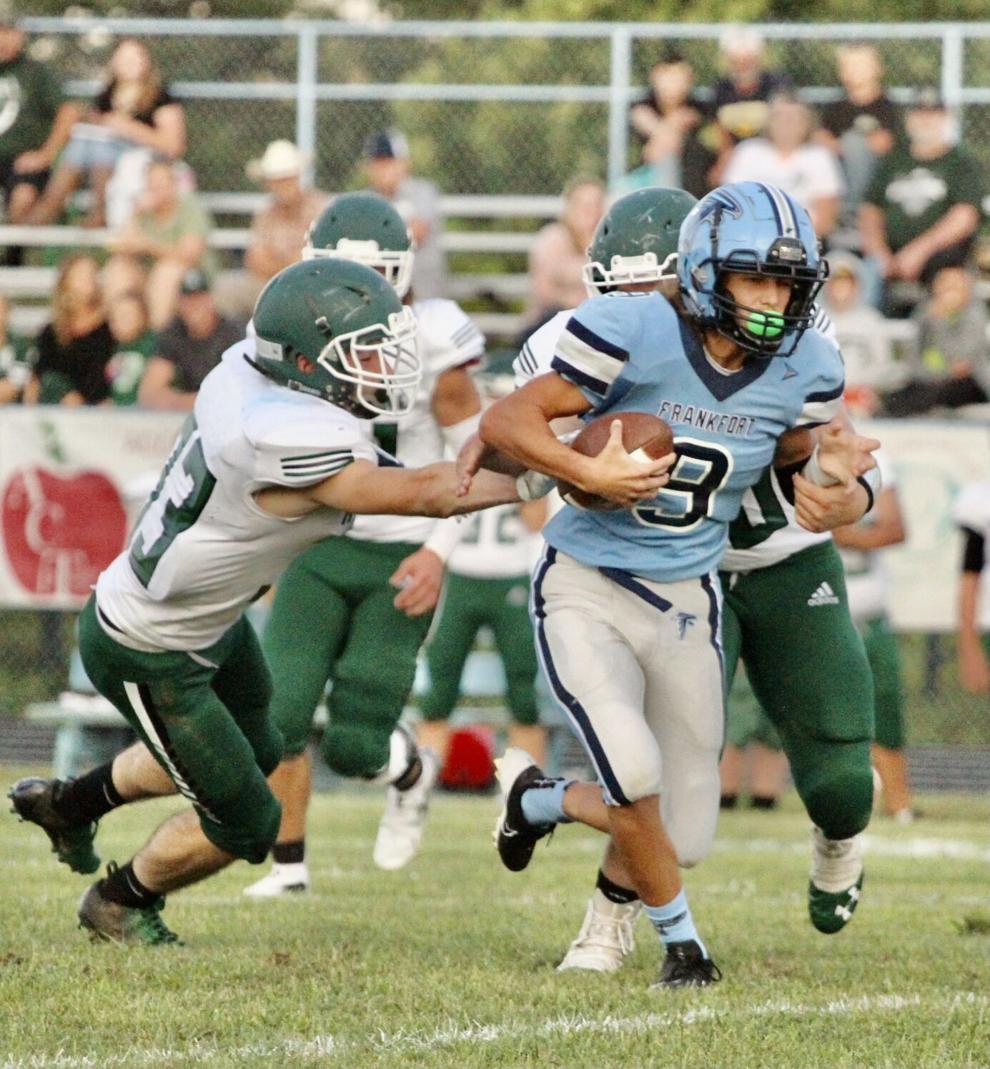 Clark had 16 rushes for 110-yards while VanMeter finished with 18 carries for 88-yards. Myers averaged 11.8 yards per carry (6-for-71), highlighted by an elusive 47-yard touchdown gallop at the 9:28 mark of the 4th quarter.
Quarterback Landen Kinser didn't throw often, 3-for-7 netting 63-yards, however 66% of his completions went for touchdowns.
Junior wideout Logan Athey was the recipient of 2 Kinser TD bombs, helping Frankfort establish a 14-0 advantage at intermission.
"I was proud of Landen's effort," said Whiteman.
"He is poised, smart and athletic. You can't say enough about the kid. He did a really good job coming in here tonight and throwing some nice passes." 
The Trojans matched the physicality of the Falcons, especially in the trenches, but 4 costly turnovers thwarted any chance of Hampshire stealing victory in Short Gap.
"We fumbled the ball away after their first TD and that can demoralize some spirits," said Hampshire coach Aaron Rule. 
"We were fortunate enough to stop them on that possession, but then we got deep into their territory and fumbled the ball away again."
The Trojans finished with 217 yards of offense, rushing 21 times for 85-yards and completing 14-of-26 passing for 132-yards. 
"We were gaining some momentum and doing a great job of moving the ball," said Rule. "We just have to be better taking care of the football."
The Falcons shut out Moorefield last week 19-0 and held Hampshire scoreless for 3 quarters of play. Early in the 4th quarter, Falcon RB Joel Myers notched a rushing touchdown then split the uprights, converting his 3rd PAT of the evening, to give Frankfort a 21-0 lead.
Losing by 3-possessions with less than 10 minutes remaining, credit the Trojans for staying resilient and responding with a touchdown of their own.
"We still believed and we were not going down without a fight," exclaimed Rule. 
"I've preached harder this year than any other year about playing the next play and not allowing adversity to dictate who we are as a program. In life, you can't lay down and just give up."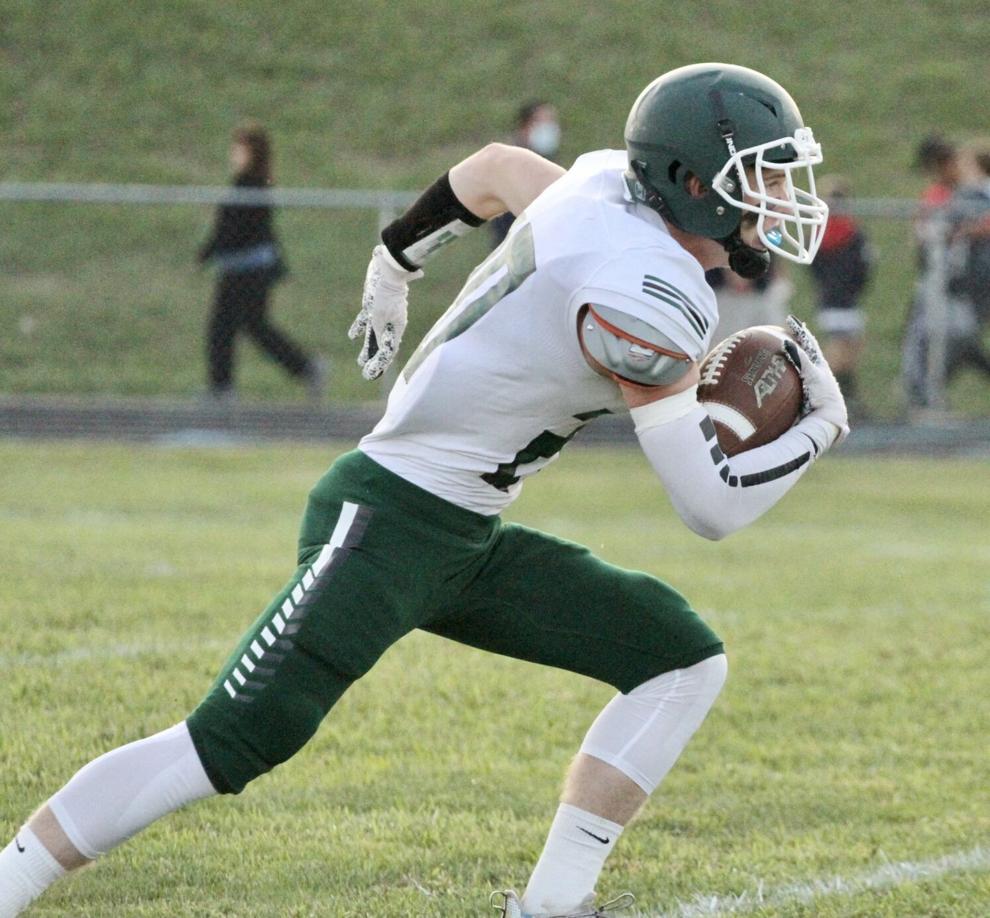 Hampshire's senior QB Alex Hott connected with junior standout Ashton Haslacker on 3 passes that netted 36 yards to push the pigskin into the red zone. On 4th and 7 from the Frankfort 16-yard line, Alex Hott called his own number and bulldozed 12-yards to give Hampshire 1st and goal from inside the 5-yard line. The drive was capped off 1 play later as RB Stephen Leonard lowered his shoulder and plowed 4-yards into paydirt.
On the next play, Fullback Jacob Staub stomped his way into the end zone for a successful 2-point conversion to make it 21-8 in favor of the home team. The Falcons took over the following possession and ran out the clock. 
In addition to turnovers, Hampshire's struggles on 3rd down, 3-for-15 for 20%, were costly.
"In all seriousness, we can't play behind the chains," said coach Rule. "We must convert more on 3rd downs."
Penalties were once again a thorn in the side of HHS as the Trojans were flagged 9 times for a total of 80-yards.
"We are making big plays but then get penalized for one reason or another and it backs us up," commented Rule about the penalties. 
"That has been our kryptonite. We must be more disciplined and make our 3rd downs more manageable."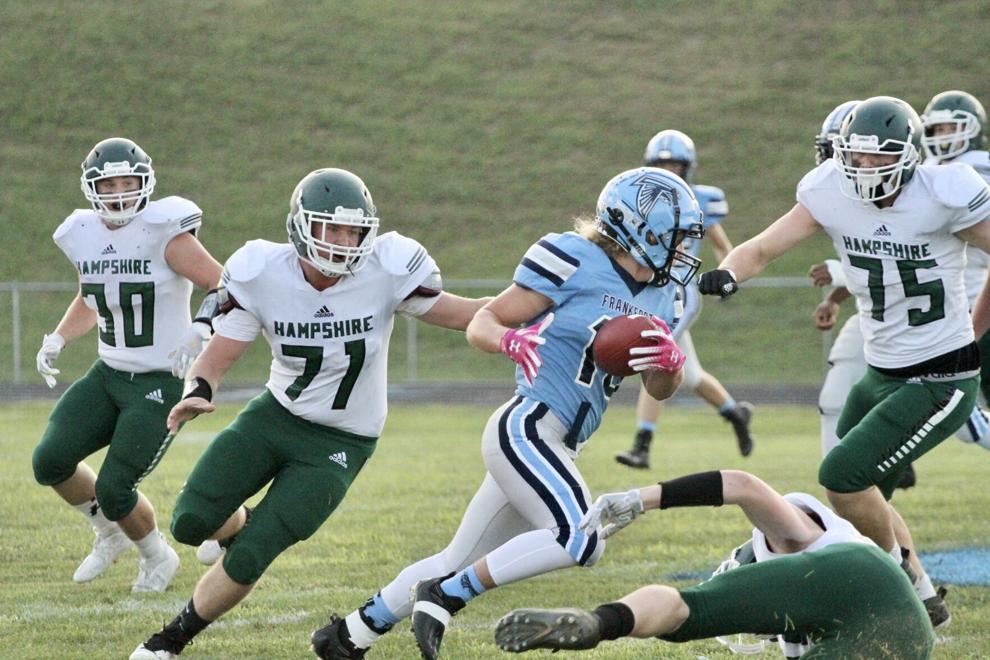 Although the Falcons gained 271-yards on the ground, both coaches praised the intensity of the Trojan defensive line.
"They have definitely improved since last year," said Whiteman.
"They were physical and their defensive game plan was well done. They are going to win some games this year."
Coach Rule echoed the same sentiments about his defensive line.
"We knew coming into the season that our DL was going to be a force to reckon with," said Rule. 
"This was going to be the strength of our defense. As long as we stay healthy, we feel very confident that we can dominate each and every game up front."
Alex Hott led Hampshire's rushing attack with 44 yards on 7 attempts. Ashton Haslacker was the primary receiving target as he hauled in 9 passes for a total of 66-yards.
Hott finished the day going 15-of-27 for a total of 122 yards and 2 interceptions. 
"Guys who are returners from last year's team have truly bought in and they are not giving up," Rule confirmed.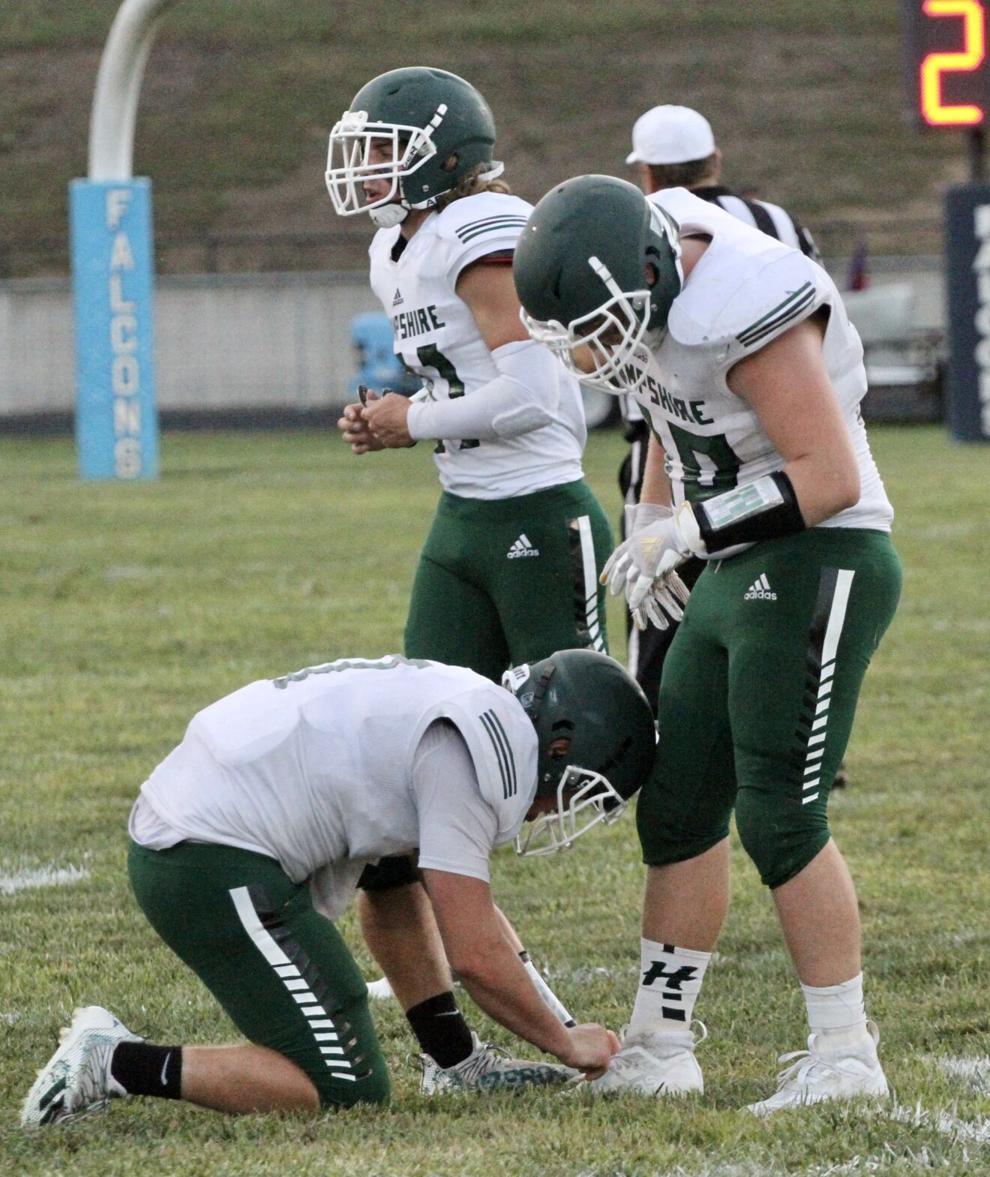 Hampshire drops to (1-1) on the season and will play class AAA Spring Mills (0-1) on Friday evening at 7 p.m. on Sunrise Summit.
Frankfort improves to (2-0), climbing to No. 5 in the most recent class AA MetroNews power rankings. Frankfort plays class AAA Washington (1-0) on Friday night at 7 p.m. in Short Gap. 
Due to ever-changing schedules and player availability, the weekly football preview will be published on Friday mornings to provide the most accurate and up-to-date information on Trojan game day. Look for our preview on our website, www.HampshireReview.com or on the Review app.
---
Summary Hampshire Frankfort
Rushes-Yards 23 100 44 256
Penalties-Yards 9 80 5 41