Mid-June is cherry season here in Hampshire County. Did you know cherries are a stone fruit, just like a peach?
Stone fruit, or drupes, consist of an outer fleshy layer with a thin skin around it and a pit in the middle. The pit in the middle of a cherry is the single seed contained in the fruit. Cherries start off the stone fruit ripening season and will soon be followed by peaches, plums and nectarines.
At the local market or grocery store there are typically 2 types of cherries to choose from — tart cherries and sweet cherries. Typically, sweet cherries are fresh eating cherries, and tart cherries are great for cherry pies and other baked goods.
Although tart cherries are easier to grow here in West Virginia, you can find both types. Commercially, tart cherries are widely grown in the Eastern United States, while sweet cherries are grown in the Western United States, mainly the Pacific Northwest.
Tart cherries can be Amarelle cherries that have red-colored skin and clear flesh, or Morello cherries that have red-colored skin and flesh. Sweet cherries varieties can have a wide range of colors and shapes. The ever-popular Rainier cherry is a yellow-blush color, and the sweetheart cherry is, of course, shaped like a little heart.
Cherries have numerous health benefits. They contain vitamins A and C plus potassium, manganese, copper and lots of antioxidants.
Like many small fruits, cherries can reduce inflammation and risk of cardiovascular disease. Cherries can contribute to a lower risk of diabetes and offer relief from arthritis and even insomnia. Specifically, a tart cherry cultivar called "Montmorency" contains high levels of melatonin that can help regulate sleep.
If you'd like to grow a cherry tree, these Montmorency cherries are well suited for growing in the Mid-Atlantic region.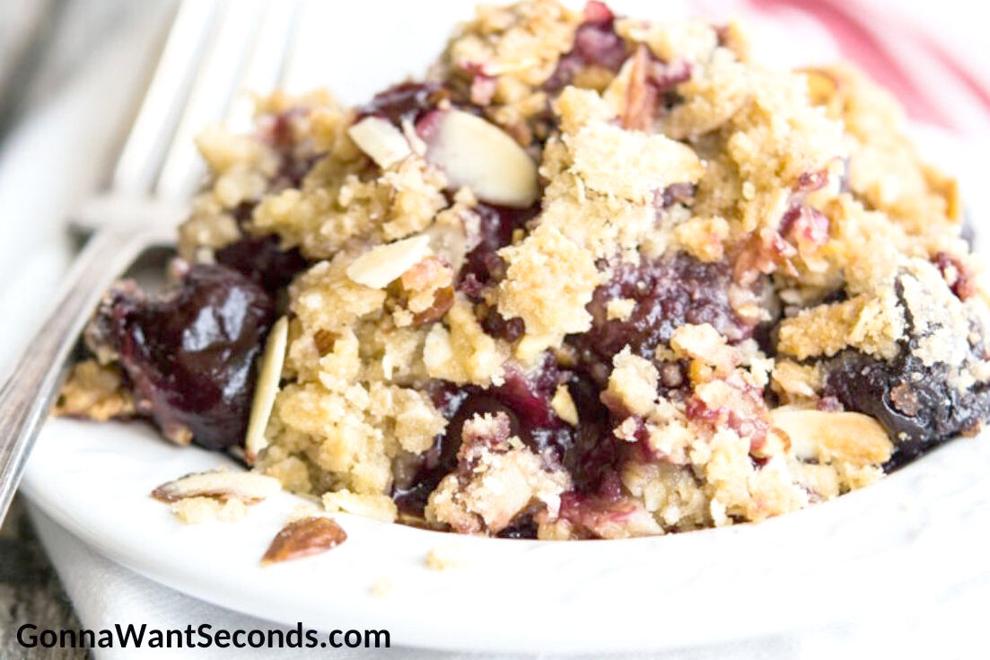 1 cup whole-wheat flour
1 cup rolled oats
2/3 cup packed brown sugar
1/4 tsp. cinnamon
Pinch salt
1/2 cup melted butter
2 cans cherries in water
1/3 cup sugar
2 Tbsp. orange juice concentrate
2 Tbsp. cornstarch
1 Tbsp. + 1 tsp. water
1/4 cup + 2 Tbsp. cherry juice
Grease a 9-by-9 pan. Mix topping, set aside. Drain cherries save 1/2 cup juice. Place cherries in baking pan. Mix cherry juice with sugar and orange juice in a saucepan. Heat on medium for 2 minutes. Mix cornstarch and water, add to juice mixture. Heat on medium until thick. Remove from heat. Stir well.
Pour 2/3-cup of juice mixture over cherries in the pan. Discard remainder. Sprinkle topping over cherries. Bake at 425 degrees for 40 minutes.
Source: South Dakota State University Extension
Cherry Jam with powdered pectin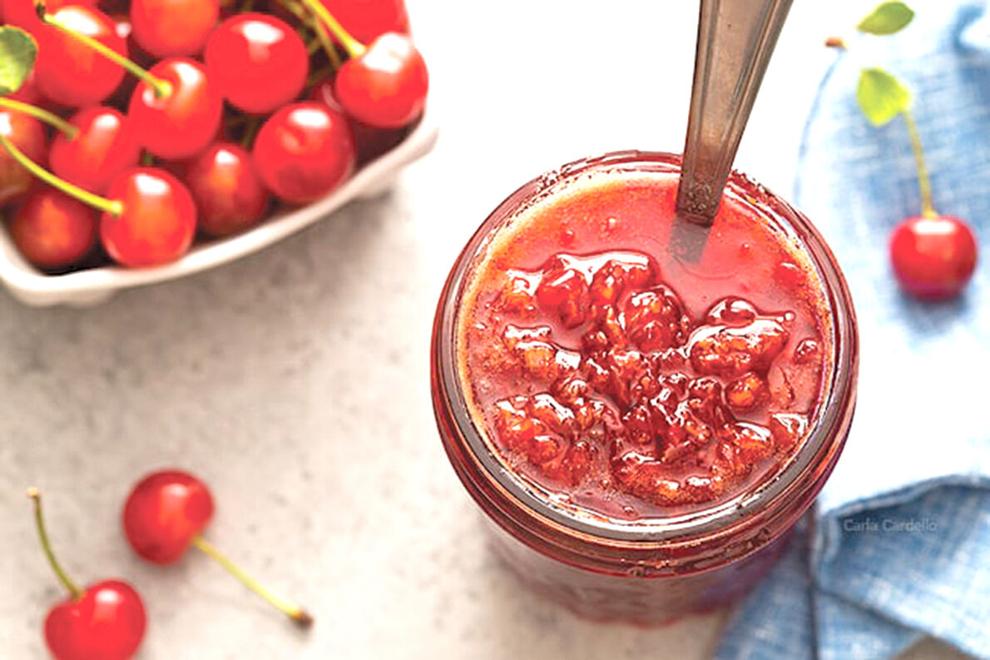 4 cups ground or finely chopped pitted cherries (about 3 lbs. or 2 quart boxes sour cherries)
1 package powdered pectin
5 cups sugar
If this is your 1st time canning, it is recommended that you read Principles of Home Canning.
Sterilize canning jars and prepare 2-piece canning lids according to manufacturer's directions.
To prepare fruit: Sort and wash fully ripe cherries; remove any stems and pits. Grind cherries or chop fine.
To make jam: Measure prepared cherries into a kettle. Add pectin and stir well. Place on high heat and, stirring constantly, bring quickly to a full boil with bubbles over the entire surface.
Add sugar, continue stirring and heat again to full bubbling boil. Boil hard for 1 minute, stirring constantly. Remove from heat; skim
Fill hot jam immediately into hot, sterile jars, leaving 1/4-inch headspace. Wipe rims of jars with a dampened clean paper towel; adjust 2-piece metal canning lids.
Process in a boiling water canner in half-pint or pint-sized jars for 5 minutes for altitudes under 1,000 feet, or for 10 minutes for altitudes of 1,001 to 6,000 feet.
Source: University of Georgia Extension
1 apple, gently rubbed under cold running water
1 Tbsp. nut butter (peanut, almond, etc.)
3 Tbsp. dried cherries, cut in half
Wash hands with soap and water. Cut apple into 4 pieces. Remove the core from each apple quarter.
Slightly spread nut butter on each apple quarter. Sprinkle dried cherries on the nut butter. Enjoy.
Source: University of Nebraska-Lincoln Extension
1/4 cup sugar
1 Tbsp. cornstarch
4 cups pitted tart cherries (fresh, frozen, or canned and drained)
1/2 Tsp. vanilla
1/3 cup whole-wheat flour
1/3 cup old fashioned rolled oats
2 Tbsp. packed brown sugar
2 Tbsp. margarine or butter, melted
Preheat oven to 350 degrees. In a large bowl, mix together the sugar and cornstarch. Add the cherries and vanilla and mix well. Pour the fruit into an 8-by-8-inch baking dish.
In a medium bowl, mix together the flour, oats and brown sugar. Add the melted butter and stir until the texture is coarse with some clumps. Sprinkle the oat topping over the fruit. Bake for 30 to 45 minutes, or until the juices are bubbling and the oat topping is golden brown. Refrigerate leftovers within 2 hours.
Source: Oregon State University Extension
1/2 cup sweet cherries
1 cup cantaloupe cubed
1 cup green grapes, cut in half
1 medium banana, peeled and sliced
1/4 cup orange juice (juice from 1/2 orange)
1/4 cup flaked coconut (optional)
Wash all fruit before cutting. Pit cherries by slicing them in half and removing the pit. Mix the cut fruit together in a bowl. Pour orange juice over fruit and stir in coconut if desired. Refrigerate leftovers within 2 hours.
Source: Purdue University Extension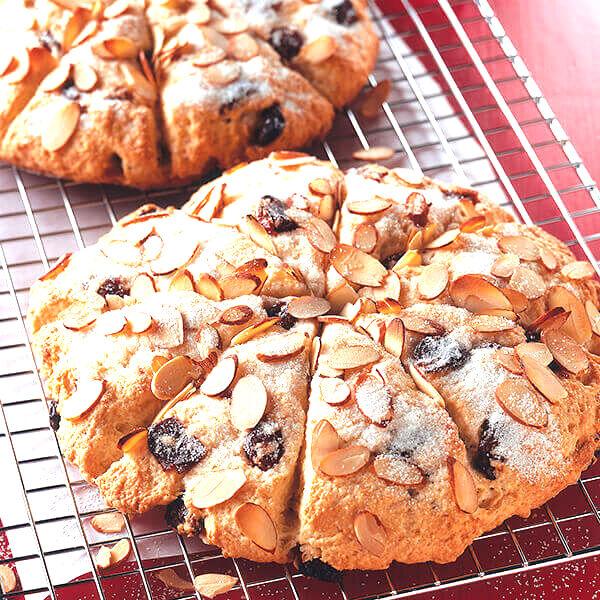 1 cup whole wheat flour
3/4 cup all-purpose flour
1/3 cup sugar
1 tsp. baking powder
1/2 tsp. baking soda
1/4 tsp. salt
1 cup dried cherries, or chopped fresh, canned or frozen and thawed cherries. Drain canned or frozen cherries well.
1/4 cup margarine or butter, melted
2/3 cup buttermilk
1 tsp. vanilla
Preheat oven to 400 degrees. Combine the whole-wheat flour, all-purpose flour, sugar, baking powder, baking soda and salt in a medium bowl. Mix well. Add the cherries and mix lightly.
In a small bowl, combine the melted margarine or butter, buttermilk and vanilla. Add to the dry ingredients and mix gently. Spoon the dough into 10 equal mounds on a greased baking sheet. Bake until well browned, 18 to 20 minutes. Serve hot or at room temperature. Store leftovers in an airtight container at room temperature for 2 or 3 days.
Source: Oregon State University Extension
Chocolate Bark with Pistachios and Dried Cherries
3/4 cup roasted, shelled pistachios (3 oz.), coarsely chopped
3/4 cup dried cherries or dried cranberries, coarsely chopped
1 tsp. freshly grated orange zest
24 oz. bittersweet/dark chocolate chips or bars, finely chopped
Line the bottom and sides of a jelly-roll pan or baking sheet with parchment paper.
Melt chocolate in a double boiler over hot water. (Alternatively, microwave on low in 30-second bursts.) Stir often with a rubber spatula so it melts evenly.
Remove the top pan and wipe dry (or remove the bowl from the microwave).
Add the orange zest, half of the pistachios and half of the cherries (or cranberries) to the chocolate; stir to mix well. Working quickly, scrape the chocolate onto the prepared pan, spreading it to an even 1/4-inch thickness with a rubber spatula.
Sprinkle the remaining pistachios and cherries on top; gently press it into the chocolate with your fingertips. Let cool at room temperature until completely cool until set.
Invert the pan onto a large cutting board. Remove the pan and peel off the foil. Break with your hands or, using the tip of a sharp knife, score the chocolate lengthwise with 6 parallel lines. Break bark along the score lines. Break the strips of bark into 2- to 3-inch chunks.
Once the bark has been broken up, store in an airtight container in the refrigerator for up to 2 weeks.
Source: Colorado State University Extension
Grilled Chicken with Fresh Cherry Salsa
2 Tbsp. lemon juice
1 Tbsp. balsamic vinegar
2 tsp. honey
1/4 tsp. salt
1-1/2 lbs. cherries, pitted and roughly chopped
1/2 cup shallot or red onion, finely minced
2 Tbsp. fresh basil, chopped
8 thin-cut chicken breasts, about 3 oz. each
2 Tbsp. olive oil, more if needed
Freshly ground black pepper
Whisk lemon juice, balsamic vinegar, honey and salt in a bowl. Stir in cherries, basil and shallots or onions. Refrigerate until chicken is ready.
Coat both sides of each chicken breast with olive oil and season with pepper. Grill over medium-high heat until cooked through, about 2-3 minutes per side. Thermometer should read 165 degrees. Let rest for a few minutes, and then top with cherry salsa and serve.
Source: Colorado State University Extension
Pork Chops with Tart Cherry Sauce
1/3 to 1/2 cup dried tart cherries
2 boneless pork loin chops that are about 1-inch thick
1/4 tsp. salt
1/3 tsp. black pepper
2 Tbsp. vegetable oil
1/2 cup chopped onion
1 cup reduced-sodium chicken broth
2 Tbsp. orange marmalade
1 Tbsp. balsamic vinegar
1/8 tsp. dried red pepper flakes
Season pork chops with salt and pepper. Heat oil in a large skillet on high heat. Add pork chops and brown well for about 3 minutes per side. Remove to plate. Add onions to skillet and cook until tender, 3–5 minutes.
Add chicken broth, dried tart cherries, orange marmalade, vinegar and red pepper flakes to skillet. Bring broth to a rapid boil on medium heat until broth is reduced by half, then reduce heat. Add pork chops to pan and heat to a minimum internal temperature of 145 degrees.
Serve pork chops with cherry sauce spooned over them.
Source: Cherry Marketing Institute/Ohio State University Extension