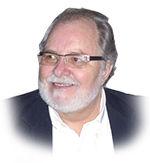 I was just a kid growing up off River Road south of Romney and the youngest of 16 children, all from the same set of parents and no twins, so my Mom spent much of her time having and raising children. My father never owned a piece of land in his entire 95 years and always worked as an apple-picker or a tenant farmer.
I remember riding by some of the bigger homes in the area and wondering who lived behind the big doors and what the inside of the big brick structures looked like. It was obvious that we didn't have as much as many others. I remember the excitement when, occasionally, Dad would bring home big rolls of fake siding that we would nail onto our house and for a while would make it feel almost like a new home.
We never felt we were poor. In all my years I never went to bed hungry because we didn't have anything to eat. In fact, Mom fed friends, neighbors and relatives any time they would happen to stop in — and it didn't have to be right at mealtime. I still haven't figured it out, but there was always plenty to go around. Somehow I believe God blessed the food and multiplied its bounty.
I don't remember dreaming about what I was going to be when I grew up. My parents couldn't afford to send me to college, so I went to a 3-year Bible school instead.
Life didn't turn out the way I expected it would during my earlier adult years. Although I had high expectations of pastoring a great church and making an impact of some kind on the world around me, not all went as planned. Although the thought was a novel idea, my inexperience and immaturity led me down a path of lesser resistance. I found it much easier to go with the flow, and so I figuratively floated my way down stream, going wherever my actions and behavior decided to take me.
I had wanted to pastor a great church and make an impact on those around me. At least half of my plans came true. I made an impact on those around me; only it wasn't the kind of impact I wanted to make. Actually, I had a tendency to have a negative impact on many of those I came in contact with. My bad judgments and poor decisions seemed to send a message loud and clear, "Do as I say, not as I do."
I'm not sure exactly when things began to turn around for me and I started growing up, but somewhere, somehow, God never gave up on me, and I began to understand the importance of maturity and responsibility. I began to realize that all of us have an impact on others. The question would be what kind of impact would I leave behind? I learned the real meaning behind the word "grace" and the importance of showing the same grace to others whom God continually shows to me.
The truth is, I would have written me off years ago, but God didn't. And it's so amazing how he restored me and re-established my goings. And I found him to be a restorer of dreams.
My dream of one day pastoring a great church has come about. I'm really not trying to make this a commercial for my church because we are not the only great church around. I know many of the pastors in the area whom I would highly recommend to anyone looking for a place to attend church. This isn't about my church. It's about my testimony. It's about how God can take an empty vessel, or even a broken vessel, and make it like new again.
For anyone who thinks I have reached perfection (surely I jest), I still make my share of mistakes. I say this in all humility, but I have had people say, "Pastor, something you did or something you said made a difference in my life." I thank God for giving me the privilege of leaving some kind of a positive impact on someone around me, for that is what God wants from all of us.
The very fact that he can take a hometown country boy and do anything with his life is a miracle in itself. So who said the day of miracles is over?
First published June 18, 2014