Veterans Appreciation Festival
Veterans fest recalls 9-11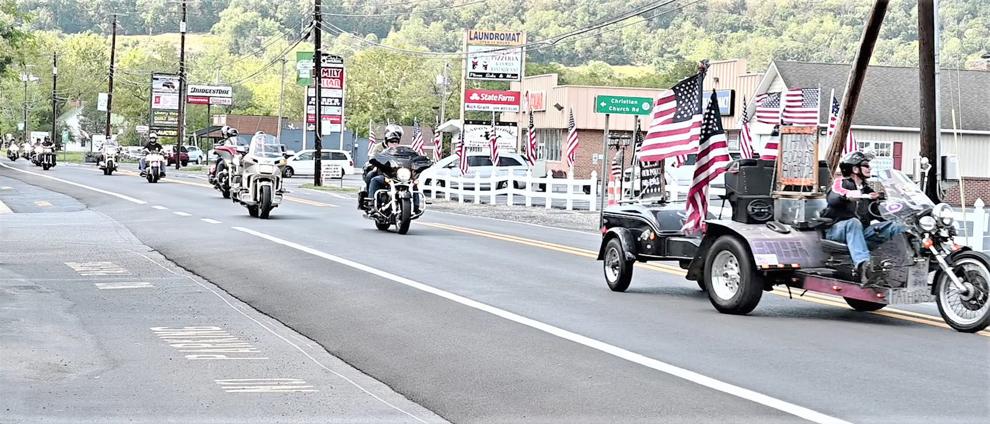 SYDNEY MAURER Review Correspondent
CAPON BRIDGE — A description of what the 9-11 attack was like for Pentagon workers was one of the highlights of last Saturday's Veterans Appreciation Festival, held in Capon Bridge on the 20th anniversary of the attack on the World Trade Center and the Pentagon and the crash of Flight 93.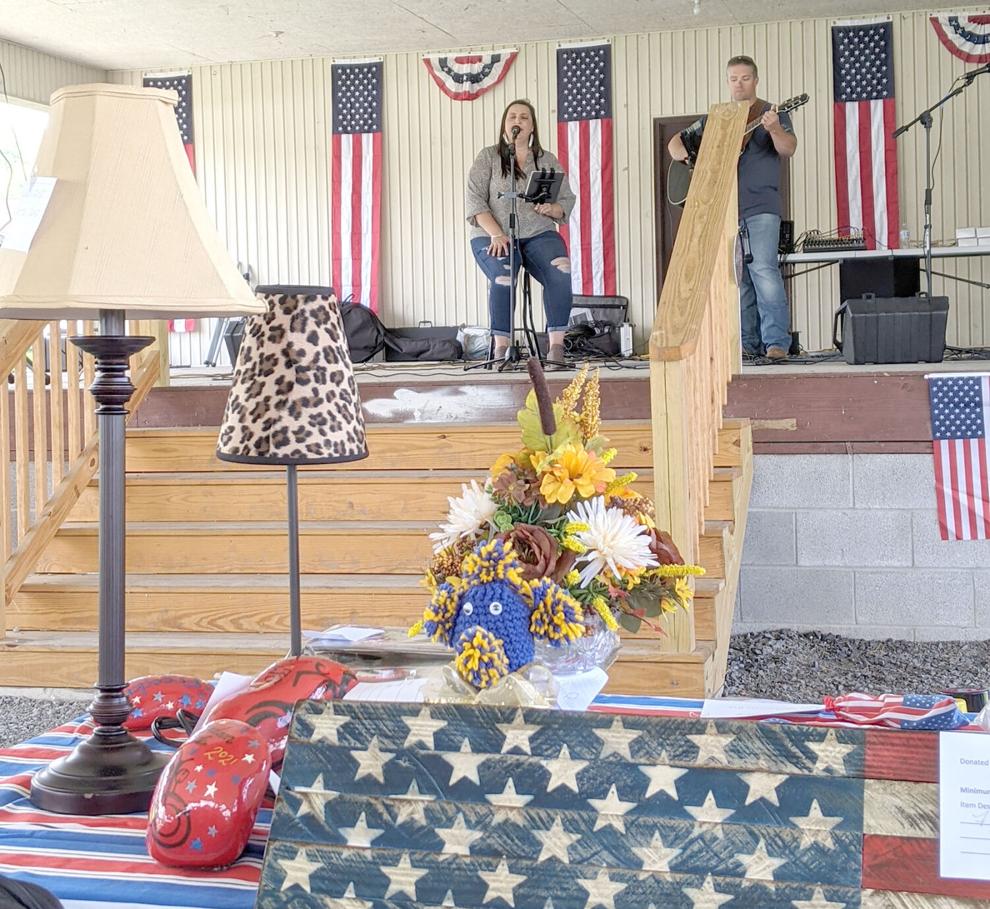 A fundraiser for the Hampshire County Veterans Foundation, the festival had drawn a crowd even before 245 Freedom Ride motorcyclists thundered onto the firehouse grounds at the end of their annual ride from Romney to Moorefield and Petersburg, and back through Wardensville to Capon Bridge.
As he opened the festival, Terry Craver announced that when the festivals began in 2014, they planned to contribute the proceeds to a national organization. This changed when they learned how much national organizations spend on administration, salaries and advertising.
Instead, they founded their own all-volunteer foundation, so every dollar they raise could be used to support veterans and their families.
"We just enjoy giving back," he said.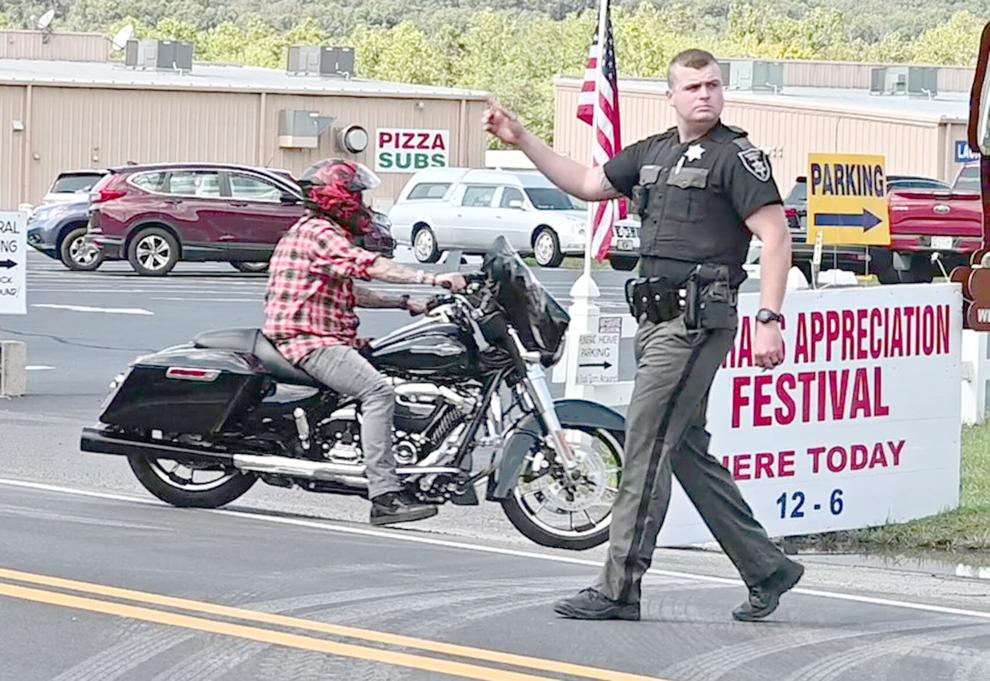 Over the years the Hampshire County Veterans Foundation has expanded its scope to include veterans and their families from Mineral, Morgan, Grant and Hardy County in West Virginia, as well as Frederick County, Va., and Allegany County, Md.
This year the festival filled the firehouse grounds. Vendor booths were arranged on both sides of the pavilion, some with special offers for veterans, and the festival ended with an auction of donated items.
Live music played in the pavilion all afternoon, beginning with Tracey Wygal Withrow singing Patsy Cline, but including a powerful performance of "Amazing Grace" in memory of those dying on 9-11.
Just before the program honoring veterans, Maria Rose, performing with Danny Elswick, sang an original song on a theme underlying much of the festival's entertainment: "We Need to Be the Re-United States."
During the program that followed, Paw Paw resident Helene Kerns described her experiences on 9-11 — a day that began like any other with her driving to Winchester and taking a vanpool to her Pentagon job with the Defense Intelligence Agency.
"Everything was fine" as she entered the building, she said.
They were concerned when the 1st plane hit the World Trade Center, but it was not until the 2nd that they knew they were under attack. "We all went to our offices where we needed to be, and we did our job," she said.
At 9:37 a.m. everything shook, as American Airlines Flight 77 slammed into the building.
The reaction was disbelief at first.
The walls in the Pentagon are 6 feet thick, Kerns said, and so solid she had always felt very safe there — despite the plaque in the building marking "ground zero," the spot on which Soviet Union missiles were targeted during the Cold War.
Firefighters running through the halls told workers to evacuate — a difficult process, since the Pentagon's wide hallways narrow to "little tiny doors." When they passed a corridor on fire, there was dead silence, Kerns said.
Cell phone service was quickly overwhelmed. She could not reach her family until 4:45 that afternoon to tell them she was all right.
The staff realized they had to get back into the building and "do the best they could for everyone, as calmly as possible," Kerns said. People would be looking for leadership, and they needed to plan for continuity of command.
She walked out of the building again at 3:30 p.m. She looked toward a section where some colleagues had worked, and everything was gone.
There was no vanpool to take her home. She stood by the side of the road holding up a paper saying "Ashburn" and got a ride. Then she got another ride to Leesburg.
More "nice people" took her to Winchester, where another total stranger gave her a ride to the place she had left her car.
She got back to Paw Paw at 7:45 p.m. — and received a phone call telling her to be back at work at 6 a.m.
As she drove to the Pentagon the next morning, she saw a flag hanging from every bridge along the way — "making sure we knew we were still America," she said.
Kerns concluded by reading the names of the colleagues lost that day and in Benghazi on Sept. 12 the following year, wishing that: "everybody from this day going forward could remember we are all Americans, with love for each other."
Hampshire County Veterans Foundation Board President Larrice Craver said Sunday that the festival had been highly successful, with proceeds that "surpassed all prior years and all our expectations." They will not have a full accounting until their next meeting.
"We are humbled and feel blessed by the community's support for our area veterans," she added.
Feeling the buzz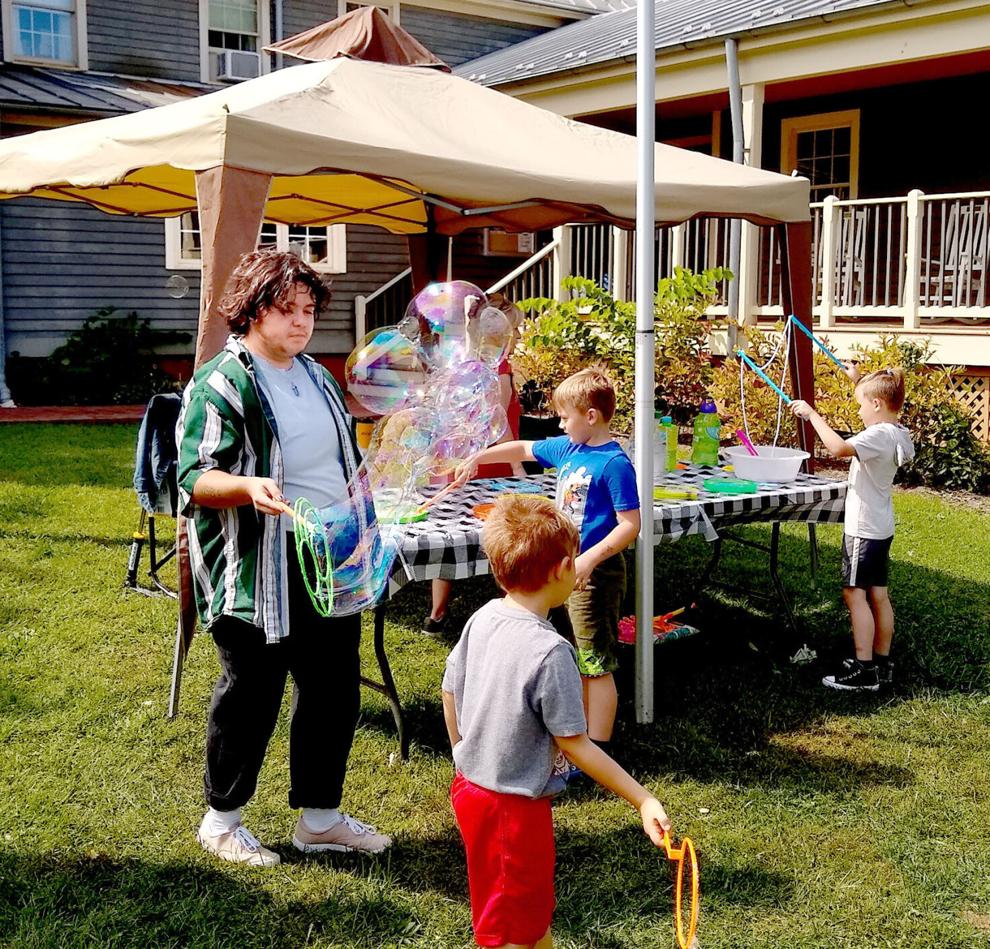 ROMNEY — The 3rd annual Hampshire Highland Arts and Music Festival returned to Romney Saturday after a Covid hiatus last year.
The festival was held on the lawn outside Taggart Hall in Romney, and vendors were set up along High Street, showcasing arts, crafts and more.
Musicians performed all day, including Jim Morris, who won this year's Open Mic competition at the River House on Sept. 3.
There was fun for the entire family, and the bubble-blowing turned out to be a crowd favorite, said artist Mary Fulloon.
"Both the young and the young at heart enjoyed blowing bubbles, then popping as they floated across the grass," Fulloon described. "If children's laughter adds years on to your life, then Marion (Mich) and I should live a little longer."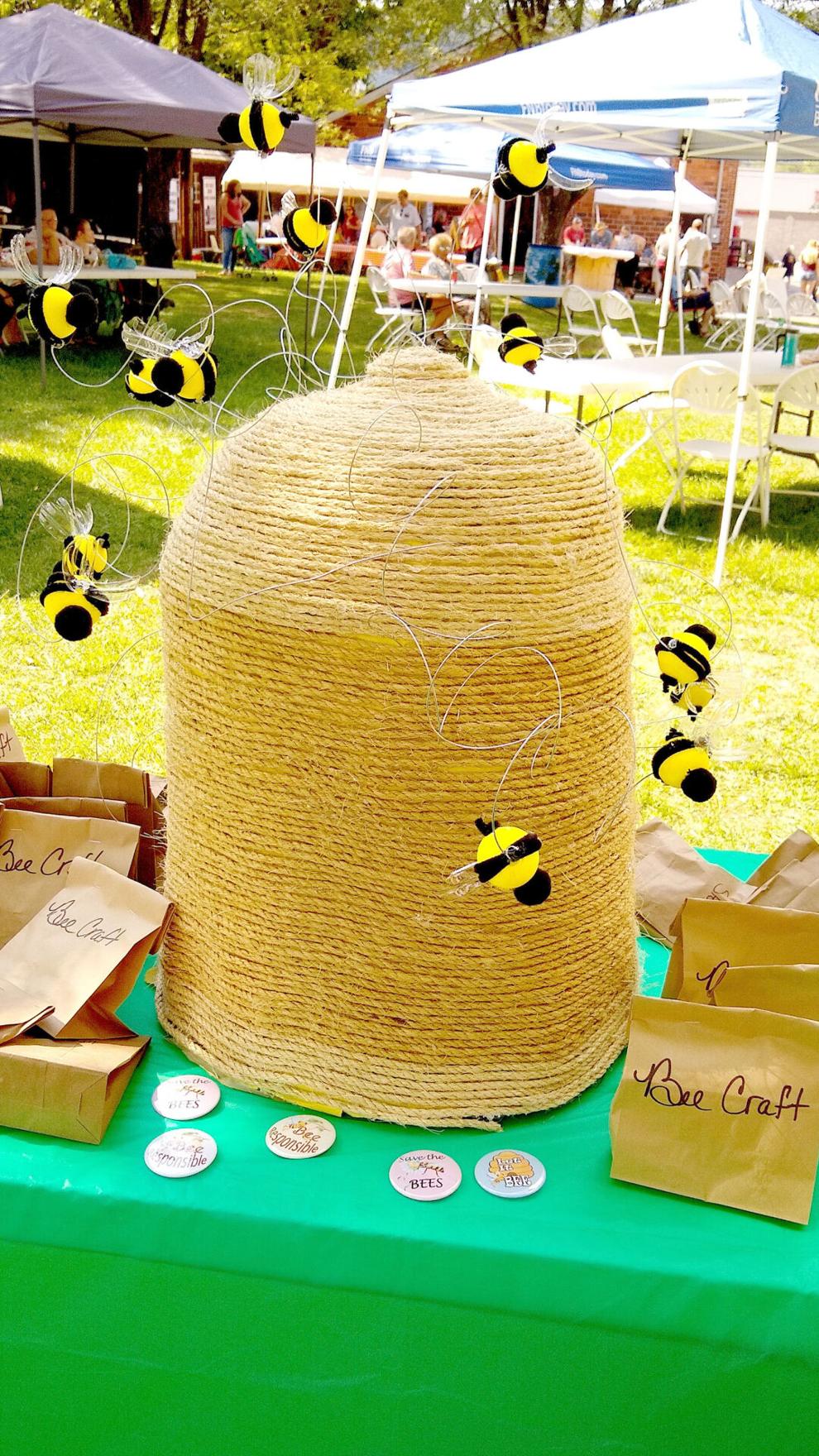 This year's theme was "pollinators," and Rio artist Julie Cook even put together a "hive" crafted out of twine and Ping-Pong balls to illustrate the importance that bees have to the environment.
Hampshire Heritage Car Show
Romney gets revved up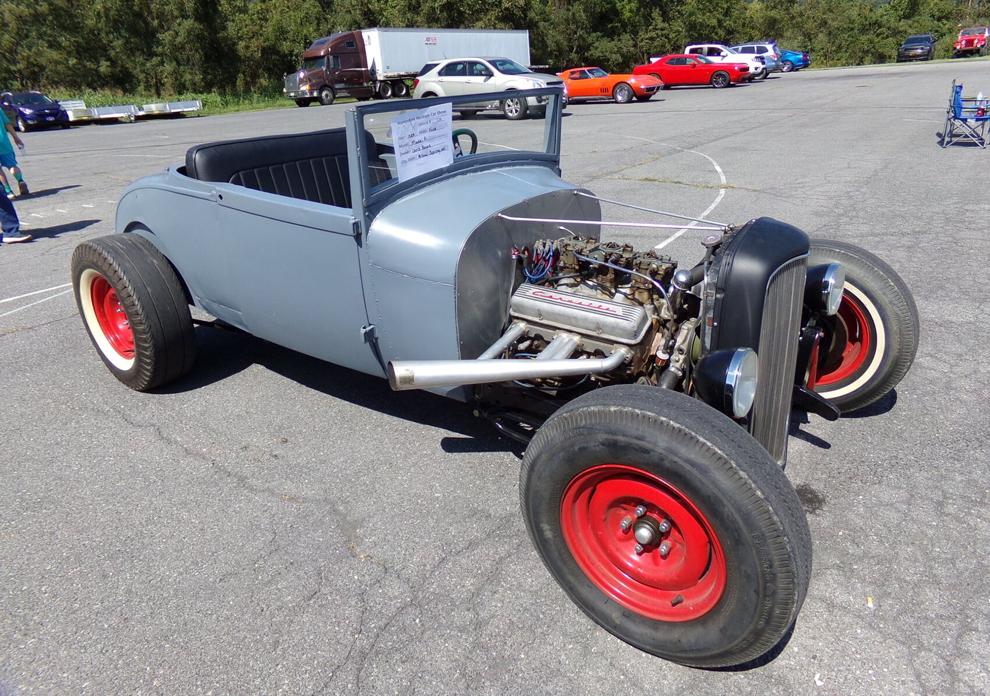 ROMNEY — Romney Cycles was a happening place Saturday — even after dozens of bikers left on a Freedom Ride that ended at the Veterans Appreciation Festival in Capon Bridge.
Left behind were hundreds of classic car fans for the 8th annual Hampshire Heritage Car Show that filled the lot.
"It was a very busy show," said one of the organizers, Beverly Shanholtz.
About 140 vehicles were registered — from Model Ts to muscle cars of the '70s. Vehicles on display included cars, trucks and motorcycles.
The cars, a 50/50 drawing, gun raffle and other raffle prizes drew a crowd.
"We had more spectators than we ever had," Shanholtz said.
The show began in 2014 on School Street as part of Hampshire Heritage Days, then survived the festival's demise a few years later as its own stand-alone event on the Saturday after Labor Day.
It moved to Romney Cycles in 2019.