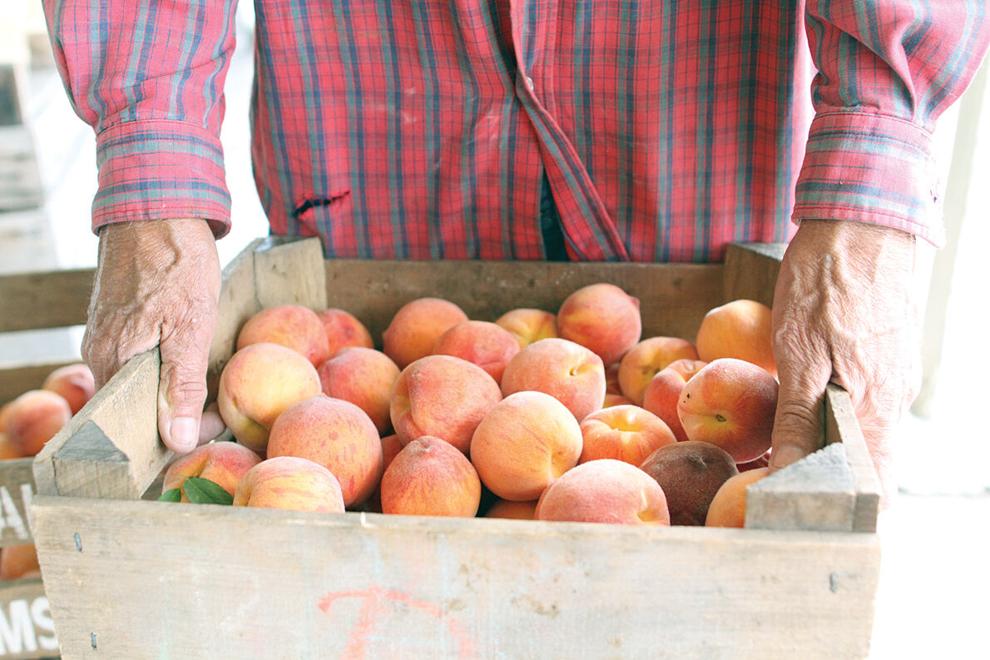 Now's the time to enjoy the wonderful bounty of Hampshire County's fresh peaches.
From canning to peach pies, there are many ways to enjoy this locally grown fruit. Let's not take for granted how easy it is for us to visit our local orchards and fruit stands to purchase this healthy product for our families.
One peach is an excellent source of Vitamin C. Peaches also offer vitamins including Vitamin A, Vitamin E, niacin, riboflavin and thiamin.
Canning peaches now is also a great way to preserve and enjoy them during the winter months. Peaches are high in acid and can therefore be processed in a boiling water canner. Adding syrup can help fruit retain shape, color and flavor.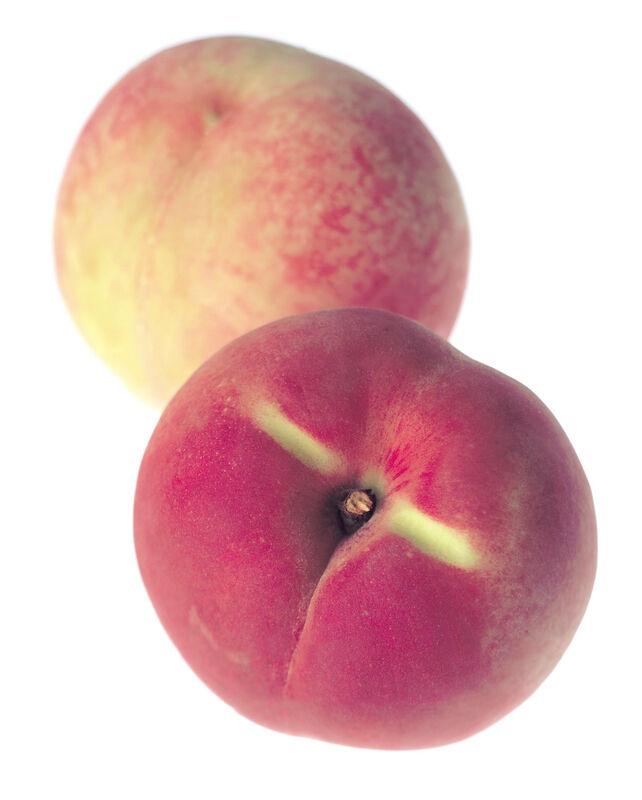 Canning Peaches, Hot Pack Method
About 17.5 pounds peaches is needed to make 7 quarts. Dip fruit in boiling water for 30 to 60 seconds until skins loosen. Dip quickly in cold water and slip off skins. Cut in half; remove pits and slice if desired. Place fruit in antioxidant solution and drain before boiling.
In large saucepan, place fruit in water, juice or syrup and bring to a boil. Pack hot fruit into jars; cover with boiling liquid, leaving 1/2 inch headspace. Raw packs make poor quality peaches. Commercial unsweetened apple juice, pineapple juice, or white grape juice can also be used.
Syrup solutions for 4-quart loads:
Very light: 6 1/2 cups water and 3/4 cups sugar
Light: 5 3/4 cups water and 1 1/2 cups sugar
Medium: 5 1/4 cups water and 2 1/4 cups sugar    
Heavy: 5 cups water and 3 1/4 cups of sugar    
Very heavy: 4 1/4 cups water and 4 1/4 cups sugar    
Processing times for peaches
Process in boiling water bath
Process in a pressure canner
Set dial gauge at 7 pounds or weighted gauge at 10 pounds
Pints or quarts, 10 minutes
For complete canning guidelines, steps and directions, call 304-822-5013 or stop by the WVU Hampshire County Extension Service office for a "We Can Fruits" canning publication.
Source: WVUES We Can Fruits Food Preservation publication
2 quarts crushed, peeled peaches
1/2 cup water
6 cups sugar
Sterilize canning jars. Combine peaches and water; cook gently 10 minutes. Add sugar; slowly bring to boiling, stirring occasionally until sugar dissolves.
Cook rapidly until thick, about 15 minutes; stir frequently to prevent sticking. Pour hot jam into hot jars, leaving 1/4 inch headspace. Wipe jar rims and adjust lids. Process 5 minutes in a boiling water bath.
Source: Cooperative Extension University of Georgia
Peach Jelly With Powdered Pectin
3 cups peach juice (about 3-1/2 pounds peaches and 1/2 cup water)
5 cups sugar
1/2 cup bottled lemon juice
l box powdered pectin
To prepare juice: Wash and slice or chop fully ripe peaches. Do not pit or peel. Crush fruit. Place crushed fruit and 1/2 cup water in saucepan. Cover, bring to a boil and simmer 5 minutes, stirring occasionally. Extract juice.
To make jelly: Measure sugar and set aside. Measure prepared juice, powdered pectin and lemon juice into a large saucepot. Bring to a full boil over high heat, stirring occasionally. At once, stir in sugar. Bring to a full rolling boil that cannot be stirred down. Boil hard 1 minute, stirring constantly.
Remove from heat, quickly skim off foam. Pour jelly immediately into hot, sterile canning jars, leaving 1/4 inch headspace. Wipe jar rims and adjust lids. Process for 5 minutes in a boiling water bath.
Yield: About 5 or 6 half-pint jars
Source: Clemson Cooperative Extension Service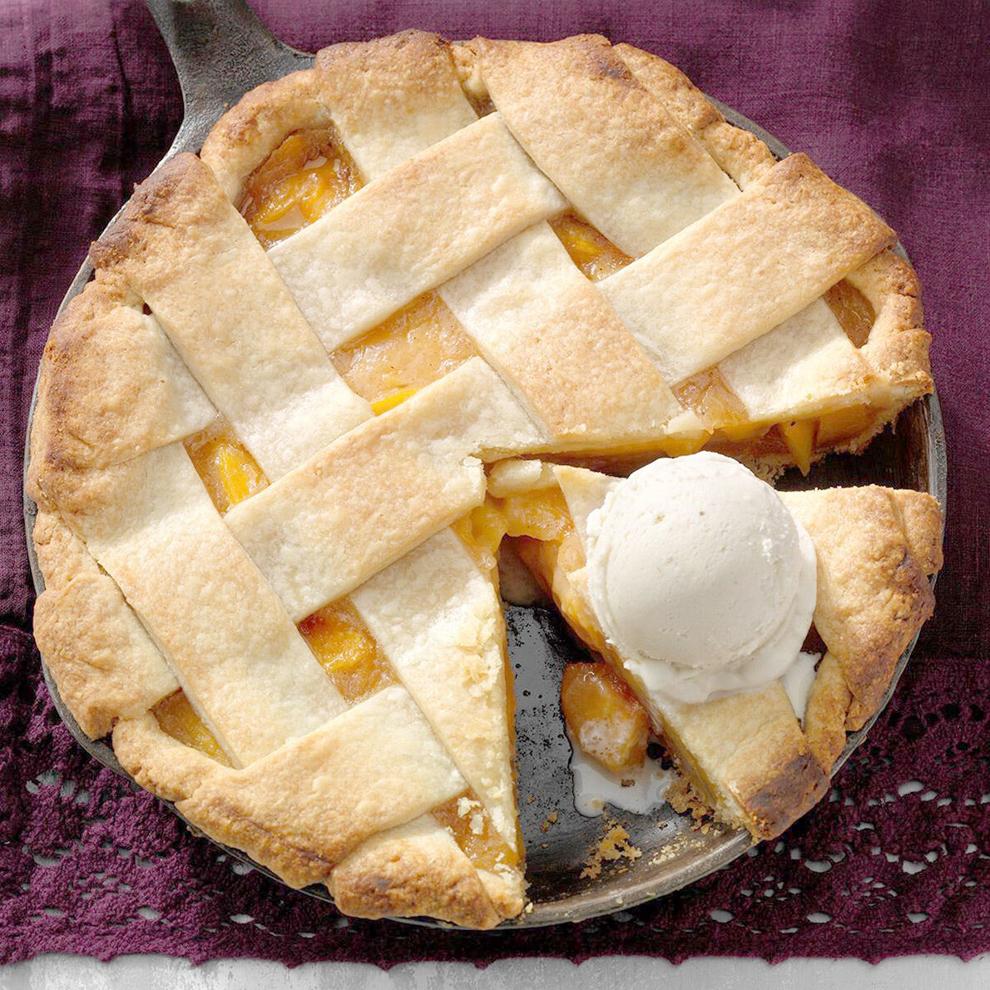 Select ripe but firm peaches. Red Haven, Redskin, Sun High and other varieties of similar quality are suitable. Peel peaches.
To loosen skins, submerge peaches in boiling water for 30 to 60 seconds and then place them in cold water for 20 seconds. Slip off skins and prepare slices 1/2 inch wide.
Place slices in water containing 1 tsp. of ascorbic acid crystals or 6 500-milligram vitamin C tablets in 1 gallon of water to prevent browning. For fresh fruit, place 6 cups at a time in 1 gallon of boiling water.
Boil each batch for 1 minute after the water returns to a boil. Drain, but keep heated fruit in a covered bowl or pot.
Combine sugar, ClearJel, water and cinnamon or almond extract in a large kettle.
Stir and cook on medium-high heat until mixture thickens and begins to bubble.
Add lemon juice and boil sauce for 1 minute more, stirring constantly.
Fold in drained peach slices and continue to heat for 3 minutes, then fill jars with mixture, leaving 1 inch of headspace, and process without delay.
Ingredients for 1 quart or 7 quarts
Fresh sliced peaches: 3 1/2 cups or 6 quarts
Granulated sugar: 1 cup or 7 cups
ClearJel: 1/4 cup + 1 Tbsp. or 2 cups + 3 Tbsp.
Cold water: 3/4 cup or 5 1/4 cups
Cinnamon (optional): 1/8 tsp. or 1 tsp.
Almond extract (optional): 1/8 tsp. or 2 tsp.
Bottled lemon juice: 1/4 cup or 1 3/4 cups
Recommended process times for peach pie filling in a boiling water canner. Process time (in minutes) at altitudes of 1,001-3,000 feet: 35 minutes.
Source: Penn State Extension Service
2 cans of peaches (drained) save the juice
1 Tbsp. cornstarch or flour
1/4 tsp. ground cloves
1/2 tsp. cinnamon
Dash of nutmeg
1 cup oats
1/4 cup flour
1/4 cup brown sugar
2 Tbsp. reduced fat margarine or reduced fat cooking spray
Preheat oven to 350 degrees. In an 8-by-8 baking dish place the peaches and then mix the cornstarch, cloves, cinnamon and nutmeg and sprinkle over the fruit. Mix the topping ingredients and sprinkle over the fruit. If using cooking spray, mix all the ingredients less the spray, sprinkle over the fruit and then just lightly spray the top. Bake for 45 minutes.
Source: WVUES Family Nutrition Program
1 to 2 cups fruit (peaches, bananas, apples, pears) cut into bite-sized pieces
1 container of yogurt (6 to 8 oz.)
1 cup of low-fat granola, crushed in small pieces, or 1 cup crispy rice cereal
Wooden skewers
Spread cereal or granola in a 9-by-13 pan. Place pieces of fruit on the skewers. Gently roll the fruit skewers in the yogurt, then in the granola or cereal. Serve immediately. Serving size 2 kabobs; recipe makes 4 servings (8 kabobs)
Source: WVUES Family Nutrition Program
1/2 tsp. cinnamon, ground
1 Tbsp. vanilla extract
2 Tbsp. cornstarch
1 cup peach nectar
1/4 cup pineapple juice or peach juice
2 cans (16-oz) peaches, sliced, packed in juice, and drained (or 1-3/4 pounds), fresh
1 Tbsp. soft (tub) margarine
1 cup pancake mix, dry
2/3 cup all-purpose flour
1/2 cup sugar
2/3 cup evaporated milk, fat-free
Non-stick cooking oil spray (for baking dish)
1/2 Tbsp. nutmeg
1 Tbsp. brown sugar
Combine cinnamon, vanilla, cornstarch, peach nectar, and pineapple or peach juice in a saucepan over medium heat. Stir constantly until mixture thickens and bubbles. Add sliced peaches to mixture. Reduce heat and simmer for 5-10 minutes.
In another saucepan, melt margarine and set aside. Lightly spray an 8-inch-square glass dish with cooking oil spray. Pour hot peach mixture into the dish.
In another bowl, combine pancake mix, flour, sugar and melted margarine. Stir in milk. Quickly spoon this mixture over peach mixture. Combine nutmeg and brown sugar. Sprinkle mixture on top of batter.
Bake at 400 degrees for 15-20 minutes or until golden brown. Cool and cut into eight squares.
Source: A Healthier You, Centers for Disease Control and Prevention
8 oz. (1 cup) nonfat plain yogurt
1 cup low-fat or nonfat milk
1 fresh peach, peeled and sliced, or 3/4 cup frozen peach slices
1-3/4 cup whole fresh or frozen strawberries, hulled
2 tsp. vanilla extract
2 Tbsp. chopped walnuts
2 whole strawberries (optional)
Place first 5 ingredients in a blender. Puree mixture for 15 to 20 seconds. Pour into 2 tall glasses and top each with 1 Tbsp. chopped nuts. Garnish glass with strawberry, if desired.
Source: University of Nebraska-Lincoln Extension Service
1/3 cup vegetable oil
1/2 cup plain low fat yogurt
1-1/2 cups sugar, divided
3 eggs
2 egg whites
2 cups chopped, fresh peaches
1 tsp. vanilla
3 cups flour, divided
1-1/2 tsp. baking powder
1/2 tsp. salt
2 cups chopped, fresh peaches
Spray a 10-inch tube pan with cooking spray. Sprinkle with 1 tsp. sugar.
Combine oil and yogurt; gradually add remaining sugar, beating well. Add whole eggs and whites, one at a time, beating well after each addition. Add vanilla and mix well. Combine 2-3/4 cups flour, baking powder and salt. Gradually add to yogurt mixture; beat until well blended.
Dredge peaches with remaining 1/4 cup flour. Fold peaches into batter. Pour batter into prepared pan. Bake at 350 degrees for 1 hour 10 minutes. Remove from pan and cool completely.
Source: North Carolina Cooperative Extension Service
4 cups sliced fresh peaches
1-1/2 cups cane sugar
2 Tbsp. orange or apple juice
5 Tbsp. cornstarch
1/2 tsp. cinnamon
Pinch of nutmeg
1/2 cup sugar
1/2 cup butter
1 cup flour
Cut peaches into 1-inch pieces, add juice and simmer in a pot over medium high heat. Mix together sugar, cornstarch, cinnamon and nutmeg in a small bowl. After peaches release some juice pour the sugar mixture to the pot and stir well.
Stir the pot frequently. Once the filling has thickened remove from heat and pour in the pie shell.
Mix the crumble ingredients together to achieve a grainy consistency. Top the filling with the crumble and bake at 350 degrees for 45 - 60 min until the pie gets bubbly around the edges.
Source: Cornell Extension Service
1 envelope unflavored gelatin
1/4 cup cold water
1/2 cup boiling water
1/4 cup sugar
2 cups mashed peaches
1 quart nonfat buttermilk
2/3 cup lemon juice
Soften gelatin by sprinkling it over cold water; let it soak until all gelatin is moist. Then add gelatin to boiling water and stir until dissolved.
Add sugar, peaches, buttermilk, and lemon juice. Stir until mixed well. Pour into 2 square baking pans and place in freezer. When half frozen, scrape into a bowl; beat with electric mixer. Return to pans; freeze until firm.
Source: Auburn University Extension Service
Stuffed Peaches on the Grill
4 large peaches
1 c. frozen blueberries
1/3 c. brown sugar
3 Tbsp. lemon juice
Wash and halve peaches. Remove pit. Place peaches on aluminum foil so that you can fold up the foil and seal the peaches in.
Spoon 2 Tbsp. of berries into each peach half. Sprinkle 2 tsp. of brown sugar and 1 tsp. of lemon juice on each half. Fold foil and seal.
Place on hot grill and cook for 15 to 18 minutes Turn once. Serve right out of the foil. Top them off with vanilla ice cream or frozen yogurt.
Source: North Dakota State Extension Service