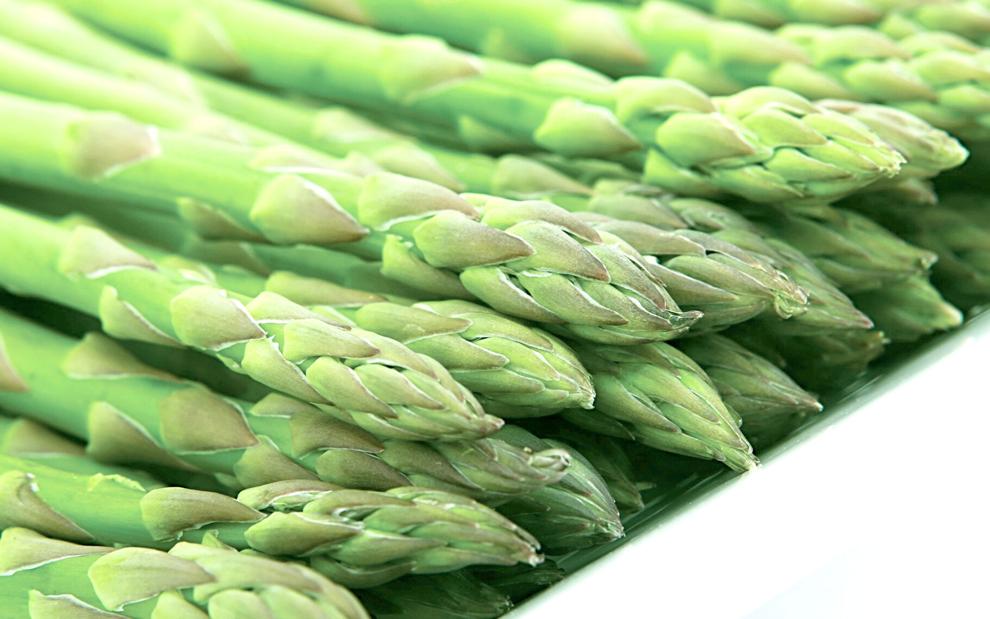 Asparagus has been cultivated for culinary and medicinal purposes for more than 2,000 years. Versatile and healthy, it can be eaten raw or cooked, and is used fresh, frozen, or canned.
Asparagus is generally available from April through June. Asparagus can be used in salads, side dishes, entrées or as an appetizer, and can be boiled, steamed, microwaved, roasted or stir-fried.
May is National Asparagus Month. Check out the following tips and information on buying, storing, and adding asparagus to a healthful eating plan.
Lisa Franzen-Castle, University of Nebraska-Lincoln Extension Nutrition Specialist offers these tips on selection, storage and preparation in her Healthy Bites Newsletter from May 2015:
Nutrition and health: Five medium asparagus spears have about 20 calories. All asparagus spears are not the same size, but this can be used as a general estimate. Asparagus has no saturated fat, sodium or cholesterol, is high in folate, and is a good source of vitamin A and C.
Selection and storage: Choose odorless asparagus stalks with dry, tight tips that are similar in size. Avoid purchasing limp or wilted stalks. Refrigerate unwashed asparagus for up to four days by wrapping the end of stalks in a wet paper towel and placing in a plastic bag.
Cleaning and preparing: Rinse asparagus stalks thoroughly in cool water to remove dirt and sand. Bend asparagus so that it snaps at its natural breaking point. This will remove the woody bottom.
Cooking methods: When boiling asparagus, cook it in a wide skillet, with about 1 inch of water. If desired, add about 1 tsp. of salt to the water. A good method when using asparagus in salads and cold dishes is blanching. Place asparagus in boiling water for about 3 minutes. Remove and immediately place in an ice bath.
When roasting, cover a rimmed baking sheet with aluminum foil and then place asparagus in a single layer on the sheet. Coat with oil and sprinkle with salt and pepper. Rub to coat all spears with oil. Bake in an oven at 450 degrees Fahrenheit (F) for about 10 to 15 minutes. Purchase thick spears for grilling. Place asparagus spears on a medium-high heat grill coated with olive oil spray and cook for about 5 to 8 minutes until tender, turning occasionally.
Great additions to meals and side dishes: Add steamed pieces of asparagus to scrambled eggs or omelets. Spread a soft cheese on whole-wheat crackers and top with a crisp asparagus head for an appetizer or snack. Place fresh or frozen asparagus in a microwave-safe container or in a saute pan with a small amount of water, low-sodium seasonings, and garlic for a side dish or snack. Put fresh asparagus in a plastic bag, drizzle with olive oil, pepper, and other seasonings, shake until coated, and then bake in the oven at 400 degrees until crisp.
Asparagus is a long-lived perennial vegetable crop that is enjoyed by many gardeners. It can be productive for several years if given proper care.
1 bunch asparagus
1 Tbsp. olive oil
Pinch salt and pepper
Lemon juice (optional)
Parmesan cheese (optional)
Preheat oven to 425 degrees. Cover a cookie sheet with foil (optional) for easy cleanup. Place asparagus on cookie sheet in a single layer. Coat with olive oil.
Sprinkle with a pinch of salt and pepper. Roast for 12 to 15 minutes until asparagus is tender. Squeeze lemon juice or parmesan cheese over the top for flavor.
Source: University of New Hampshire Extension Service
Garlic Parmesan Roasted Asparagus
1/2 lb. fresh asparagus
1/2 tsp. salt and black pepper
3 cloves minced garlic
3 Tbsp. Parmesan cheese
1 Tbsp. olive oil
Preheat oven to 425 degrees. Line a rimmed baking sheet with aluminum foil and set aside. Rinse the asparagus and trim off woody end pieces. Spread out in a thin layer on top of the prepared cookie sheet. Pour the Tbsp. of olive oil on the asparagus, evenly coating it. Then sprinkle with salt, pepper, garlic and Parmesan cheese. Use your hands to mix the asparagus with all of the ingredients, then lay out into an even layer again. Bake in the preheated oven for 8 minutes. Remove from the oven and serve immediately.
Source: WVU Extension Service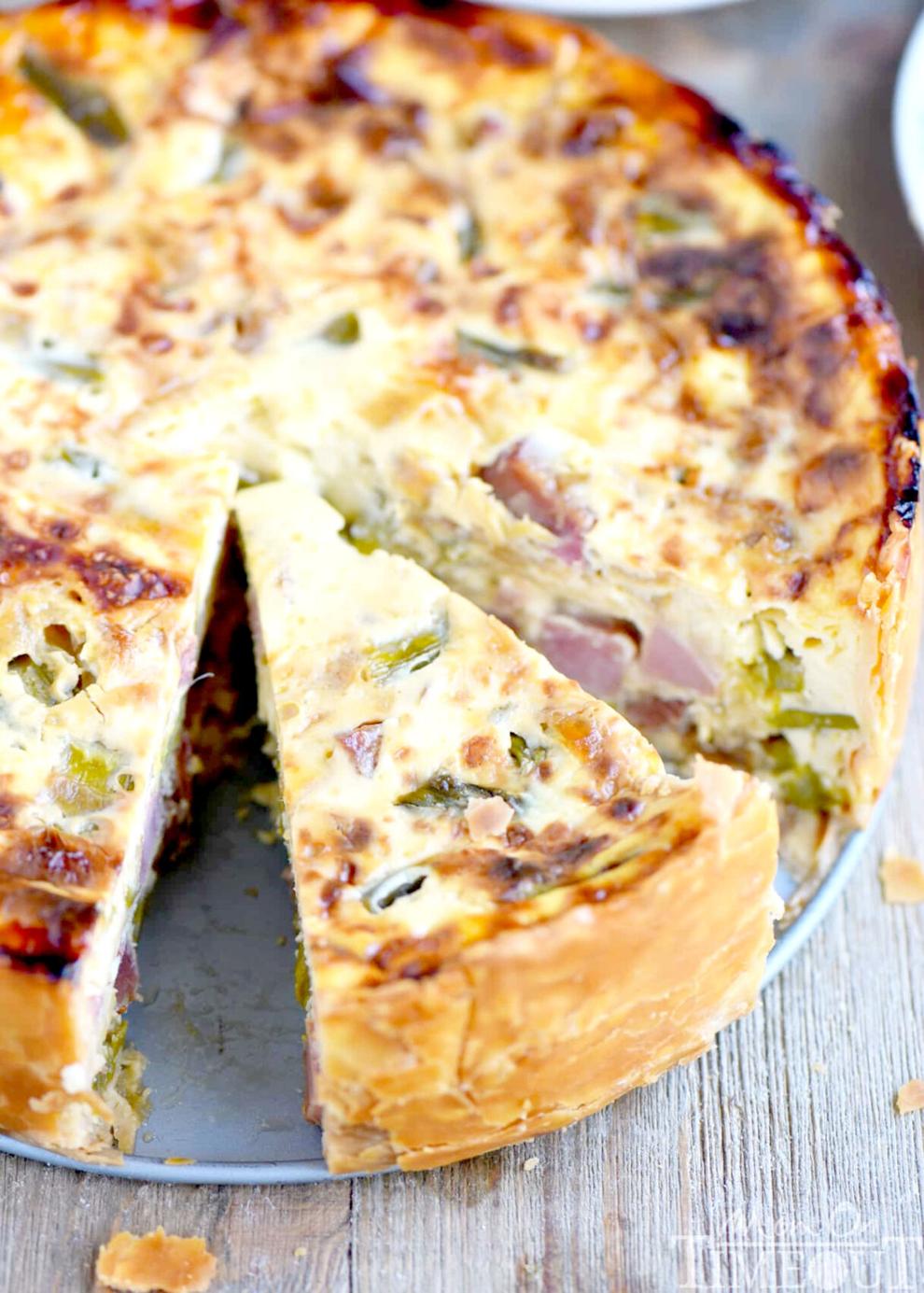 1 lb. fresh asparagus, trimmed and cut into 1/2-inch pieces
1 cup, finely chopped ham
1 small finely chopped onion
2 (8-inch) unbaked pie shells
1 egg white, slightly beaten
2 cups shredded reduced fat cheddar cheese
4 large eggs
1 container (5.3 oz.) plain Greek yogurt
1/3 cup 1% milk
1/4 tsp. ground nutmeg
1/4 tsp. salt
1/4 tsp. pepper
Preheat oven to 400 degrees. Place asparagus in a steamer over 1 inch of boiling water and cover. Cook until tender but still firm, about 4-6 minutes. Drain and cool.
Place ham and onion in a nonstick skillet and cook over medium heat until lightly browned. Brush pie shells with beaten egg white. Spoon the ham, onion and asparagus into pie shells, dividing evenly between the 2 shells. Sprinkle 1 cup shredded cheese over the mixture in each shell.
In a separate bowl, beat together eggs, yogurt, milk, nutmeg, salt and pepper. Pour egg mixture over the top of the cheese, dividing evenly between the 2 shells. Bake uncovered in a preheated oven until firm 25-30 minutes. Allow to cool approximately 20 minutes before cutting.
Source: University of Kentucky Extension Service
Dijon Asparagus Chicken Roll-ups
3 Tbsp. Dijon mustard
1/2 cup low fat mayonnaise
1 lemon, juiced (approximately 3 Tbsp.)
2 tsp. dried thyme
2 tsp. black pepper
1/2 tsp. salt
16 spears fresh asparagus, trimmed
4 skinless, boneless chicken breast halves (about 5 oz. each)
4 slices skimmed mozzarella cheese
1 cup panko bread crumbs
Preheat oven to 400 degrees F. Grease an 11-by-7-inch baking dish. In a bowl, mix together the mustard, mayonnaise, lemon juice, thyme, salt and pepper; set aside. Place asparagus in a microwave safe dish and microwave on high 1 to 1-1/2 minutes.
Place chicken breasts between 2 sheets of heavy plastic (a re-sealable freezer bag works well) on a firm surface. Pound the chicken breasts with the smooth side of a meat mallet to thickness of 1/4 inch. Place 1 slice of cheese and 4 asparagus spears on each breast. Tightly roll the chicken breasts around the asparagus and cheese.
Place each, seam side down, in the prepared baking dish. Apply a coating of the mustard mixture to each chicken breast and sprinkle each with the panko crumbs, pressing the crumbs into the chicken to secure. Bake 35 minutes or until the chicken temperature is 165 degrees. For crisper chicken, place roll-ups under the broiler for 1-2 minutes on high.
Source: University of Kentucky Extension Service
1 lb. fresh asparagus
1 tsp. minced garlic
2 Tbsp. olive oil, canola oil or other oil
Salt (to taste)
Prepare the grill. Rinse the asparagus stalks under running water. Drain well and place in a pan. Mix the oil and garlic and drizzle the mixture over the asparagus.
Grill for about 5 minutes and turn regularly with tongs. Grill until tender but not mushy. The natural sugars will caramelize and produce a delicious flavor during the grilling process.
Source: University of Kentucky Extension Service
Creamy Pasta with Spring Vegetables
Salt and pepper
2 Tbsp. olive oil
2 Tbsp. butter
2 medium leeks, cut into half-moons and rinsed well
2 cloves garlic, minced
12-15 asparagus spears, ends trimmed and cut into 1/2-inch pieces
1/2 lb. sugar snap peas, cut in half crosswise
1/2 lb. medium wide flat egg noodles
2 Tbsp. sherry or white wine
1/2 cup heavy cream
3/4 cup grated Parmesan cheese
Bring a large pot of salted water to a boil. In a large skillet, heat the olive oil and butter. Add the leeks and generous pinch of salt and black pepper. Sauté for a couple of minutes until bright green and starting to soften and add the garlic.
To the boiling water, add the asparagus and peas and boil for 2 minutes while the leeks and garlic sauté. Remove the vegetables with a spider or slotted spoon to the skillet. Add the noodles to the pot of water and boil for 7-8 minutes.
Meanwhile, add the wine to the skillet with the vegetables and cook until most of the liquid has evaporated, about 3 minutes. Add the cream and let it reduce slightly over medium heat, about 3-4 minutes. Add the parmesan cheese.
Remove the noodles with a spider or slotted spoon to the skillet and stir together to coat everything and melt the cheese. Season with salt and pepper and serve immediately.
Source: University of Tennessee Extension Service
Roasted Asparagus with Blender Hollandaise Sauce
2 bunches asparagus spears
Olive oil
Salt
Black pepper
4 egg yolks
2 Tbsp. lemon juice
3/4 cup butter, melted and bubbling hot
Salt
Dash cayenne pepper
Cut the bottom couple of inches off the asparagus spears and discard. Drizzle a little olive oil over the spears of asparagus and toss to coat. Lay in a single layer on a baking sheet and sprinkle with salt and pepper. Bake in a 400 degree oven for about 15 minutes or until the spears are tender and slightly browned.
Place egg yolks and lemon juice in blender jar and blend for 30 seconds. Slowly add hot butter in a steady stream through the opening in the top with the machine running. Season with salt and a dash of cayenne pepper. Lay asparagus down a serving platter and pour sauce down center of asparagus.
Source: University of Tennessee Extension Service