4 Tbsp. vegetable oil
1 lb. lean chicken sausage
1 cup chopped celery
1 cup chopped onions
1 clove garlic, minced
1 cup thinly sliced carrots
2 cups canned crushed tomatoes
4 cups chicken broth
1/2 tsp. dried thyme
1/2 tsp. dried marjoram
1/2 tsp. dried parsley
1 cup lentils
1 can rinsed and drained white beans
In a large pot, heat 2 Tbsp. oil and sauté sausages until evenly browned. Drain off fat. Remove sausages with a slotted spoon and keep warm. In the same pot, heat the remaining oil and add celery, onions, garlic and carrots and sauté for 10 minutes or until onions are translucent.
Add the tomatoes, chicken broth and herbs. Cut the reserved sausages into 1-inch slices and return to the pot. Bring soup to a boil. Add lentils and reduce heat.
Simmer uncovered for 30 minutes or until the lentils are tender and the sausages are thoroughly cooked. Add white beans and heat through. Serve immediately.
Source: NDSU Extension Service
3-1/2 c. flour
2 tsp. baking soda
1-1/2 tsp. salt
2 tsp. ground cinnamon
1 tsp. ground nutmeg
2 c. brown sugar
1 c. canola oil
4 eggs
2 c. canned pumpkin
Preheat oven to 325 degrees. Spray 2 loaf pans (9- by 5-inch) with canola baking spray.
In a large mixing bowl, combine all ingredients until just blended. Pour batter into pans and bake for about 1 hour 15 minutes. Cool on wire racks.
Source: NDSU Extension Service
Cinnamon and Sugar Roasted Pumpkin Seeds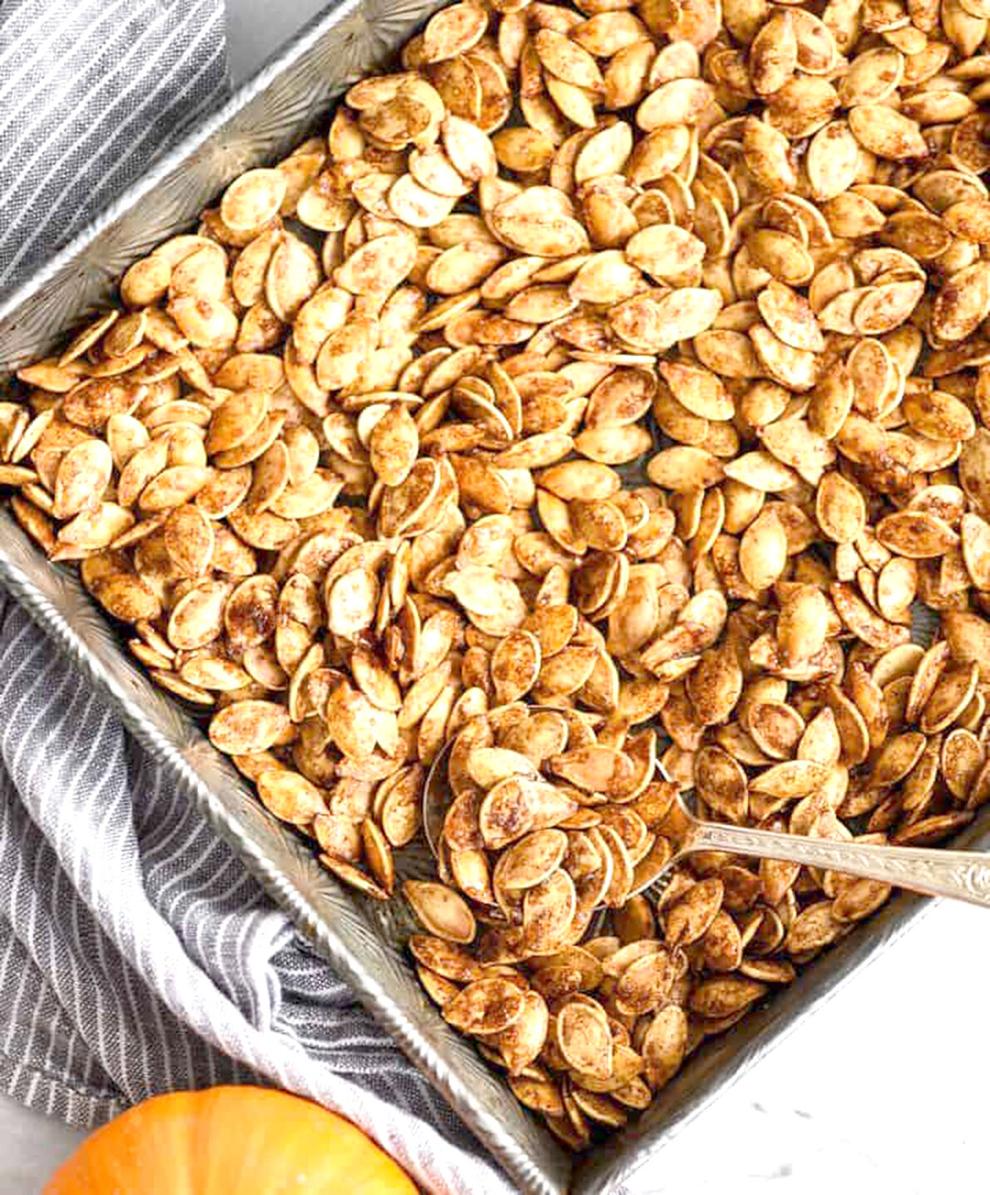 1 c. pumpkin seeds
1 Tbsp. melted butter (or substitute oil)
1 Tbsp. sugar
3/4 tsp. cinnamon
1/4 tsp. nutmeg
Dash of salt
Toss seeds with above ingredients. Line a well greased baking sheet with seed mixture and bake at 300 degrees for approximately 50 minutes. Stir and mix the seeds often to keep from burning and sticking. Bake until browned. Let cool and enjoy.
Note: Pumpkin seeds can be a choking hazard for children, especially for those less than 5 years of age.
Source: NDSU Extension Service
1 cup canned pumpkin
1 cup light brown sugar
1/2 cup canola oil
1 egg
2 cups all-purpose flour
1/2 tsp. salt
2 tsp. cinnamon
1/2 tsp. nutmeg
1 tsp. baking soda
1 tsp. milk
1 cup butterscotch chips
1 tsp. vanilla
1/2 cup chopped pecans
Combine pumpkin, sugar, oil and egg. Stir together flour, salt, cinnamon and nutmeg. Mix all together, along with baking soda dissolved in milk. Add chips, vanilla and nuts and mix again.
Drop by tsp. onto ungreased baking sheet. Bake at 350 degrees for 10 to 12 minutes. Makes 4 dozen cookies.
Source: NDSU Extension Service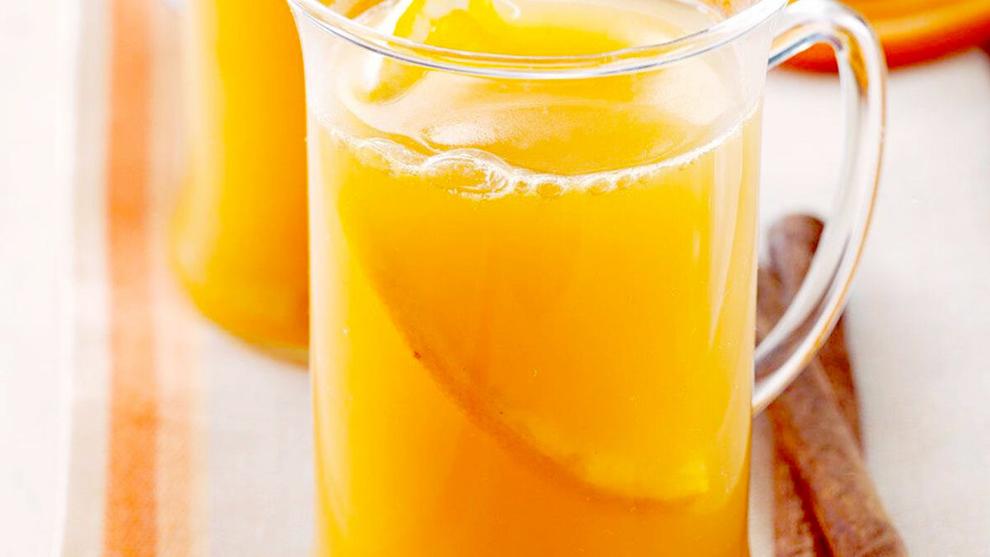 2 qt. apple cider
1 tsp. whole cloves
1 tsp. whole allspice
1 3-inch stick cinnamon
1/3 c. sugar
1 orange, sliced into "wheels"
Heat cider, spices and sugar to boiling in large pot. Cover and simmer 20 minutes; strain to remove whole spices. Float orange slices on top. Serve. Makes 8 cups.
Source: NDSU Extension Service
Pumpkin Chocolate Chip Muffins
1-1/2 c. all-purpose flour, or 1 c. all-purpose flour and 1/2 c. whole-wheat flour
1/4 c. ground flaxseed or wheat germ (optional)
2 tsp. baking powder
1/2 tsp. cinnamon
1/4 tsp. salt
1 c. canned pumpkin
2 large eggs, beaten
1/2 c. packed brown sugar
1/3 c. canola oil
1/2 c. skim milk
1 tsp. vanilla
1/2 c. mini chocolate chips
Preheat oven to 350 degrees. Coat a muffin pan with nonstick cooking spray or line with paper muffin liners. Whisk together the flour, flaxseed or wheat germ (optional), baking powder, cinnamon and salt in a large bowl.
In a separate bowl, combine the pumpkin, eggs, sugar, oil, milk and vanilla; stir well. Pour the pumpkin mixture over the flour mixture and stir until just moistened. Stir in the chocolate chips. Spoon the batter into the muffin cups.
Bake 20 to 23 minutes or until lightly browned. Let cool 5 minutes. Remove muffins from pan and cool completely.
Source: NDSU Extension Service
Maple-Roasted Chicken & Acorn Squash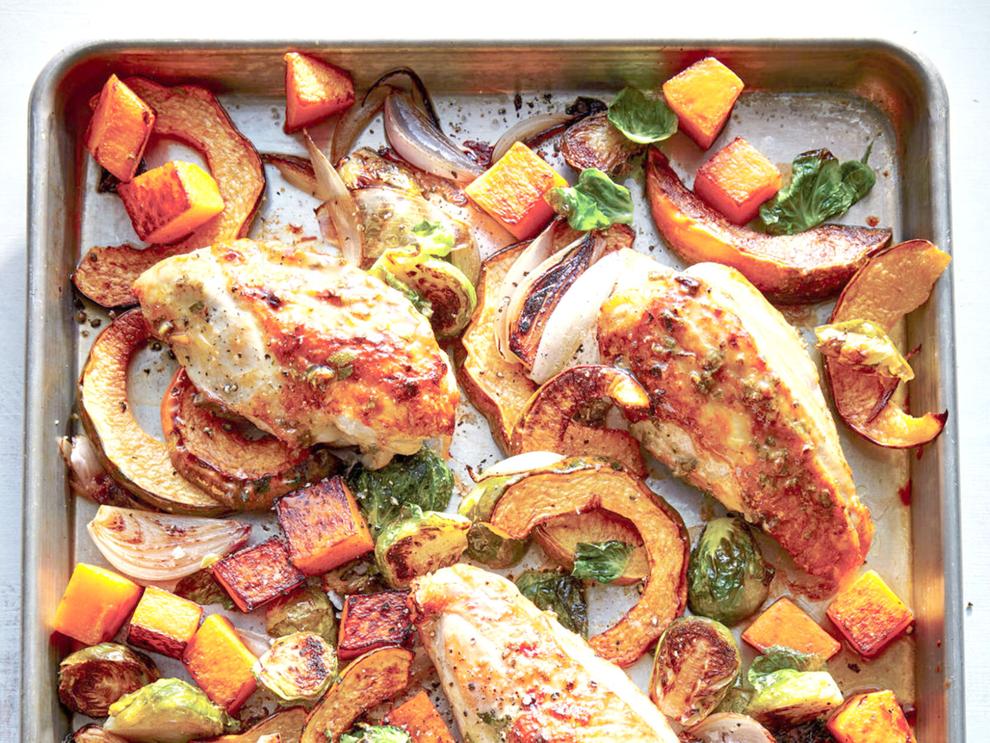 1 medium acorn squash
4 medium carrots, chopped (about 2 cups)
1 medium onion, cut into 1-inch pieces
6 bone-in chicken thighs (about 2¼ lbs.)
1/2 cup maple syrup
1 tsp. salt
1/2 tsp. coarsely ground pepper
Preheat oven to 450 degrees. Cut squash lengthwise in half; remove and discard seeds. Cut each half crosswise into 1/2 -inch slices; discard ends.
Place squash, carrots and onion in a greased 13-by-9 baking pan; top with chicken, skin side down. Roast 10 minutes. Turn chicken over; drizzle with maple syrup and sprinkle with salt and pepper. Roast 25 to 30 minutes longer or until a thermometer inserted in chicken reads 170 to 175 degrees and vegetables are tender. Yield: 6 servings
Source: University of Vermont Extension Service
2-Ingredient Pumpkin Spice Muffins
1 (15-oz.) spice cake mix
1 (15-oz.) can pumpkin (not pumpkin pie mix)
Optional topping: 1/2 tsp. sugar per muffin
Preheat oven to 350 degrees. Place ingredients in a bowl and mix thoroughly with an electric mixer for about 2 minutes or beat by hand. Grease or spray muffin tin cups or use paper liners. Fill each muffin cup about 2/3 full. The batter is thick, so use a knife to smooth the top of the batter. If desired, sprinkle the top of each muffin with 1/2 tsp. of sugar. Bake for 18 to 22 minutes, until a knife or toothpick comes out clean.
Source: NDSU Extension Service
Applesauce in the Slow Cooker
3 lbs. large apples, any kind
1/2 cup pf water
1/4 tsp. ground cinnamon
1 Tbsp. lemon juice
Peel and chop the apples into 1 to 2-inch pieces. How big you make them will depend on how chunky you like your applesauce. Place the apples into a 5-quart or larger slow cooker.
Add the water, cinnamon and lemon juice and stir to combine. Cover and cook on high setting for about 4 hours stirring twice during the cooking.
If you like fairly chunky applesauce, use a potato masher to break up some of the pieces of apple. If you like smooth applesauce, use an immersion blender to puree until the sauce is as smooth as you like it.
Let the sauce cool to room temperature and store it in airtight containers in the refrigerator for up to 5 days or freeze it for up to 3 months. Yield: 4 cups.
Source: University of Vermont Extension Service
1/2 cup mayonnaise
1 Tbsp. sugar
1 Tbsp. vinegar
1 quart shredded cabbage
2 cups chopped apple
1/2 cup chopped celery
1/4 cup raisins
1/4 cup chopped walnuts
Combine mayonnaise, sugar and vinegar; mix well. Add remaining ingredients, mix lightly. Chill for several hours to blend flavors.
Source: University of Vermont Extension Service
1/4 cup butter
2/3 cup sugar
2 eggs well beaten
2 cups sifted all-purpose flour
1 tsp. baking powder
1 tsp. baking soda
l tsp. salt
2 cups coarsely grated raw apple
1 Tbsp. grated lemon peel
2/3 cup chopped walnuts
Peel and core the apples. Chop coarsely in a food processor and remove. Process sugar and butter until blended. Add eggs and process for 20 seconds.
Mix flour, baking soda, baking powder and salt. Add alternately with apples to sugar, shortening and egg mixture, processing for 10 seconds after each addition. Add grated lemon peel and walnuts and process for 3 seconds.
Bake in a greased and floured loaf pan (8-by-5 inches) at 350 degrees for 50 to 60 minutes. Do not slice until cold.
If you do not have a food processor, follow the above sequence but chop apples with a knife. This delightful quick bread will enhance any meal, but is particularly good toasted for breakfast.
Source: University of Vermont Extension Service