Size matters when it comes to what you eat
Knowing appropriate portion sizes is becoming more difficult as commercial food industries and restaurants offer inaccurate views of recommended food helpings.
This distorted outlook on food portion size can teach children improper eating behaviors and improper diet choices from a young age.
Avoiding portion distortion is vital to weight control. Fast food restaurants and conveniently packaged commercial foods have skewed perceptions of portion sizes by way of "value" menus and "supersized" meals.
You can escape serving-size mishaps by cooking at home or choosing appropriately sized portions when eating out a restaurant so that you avoid over-eating.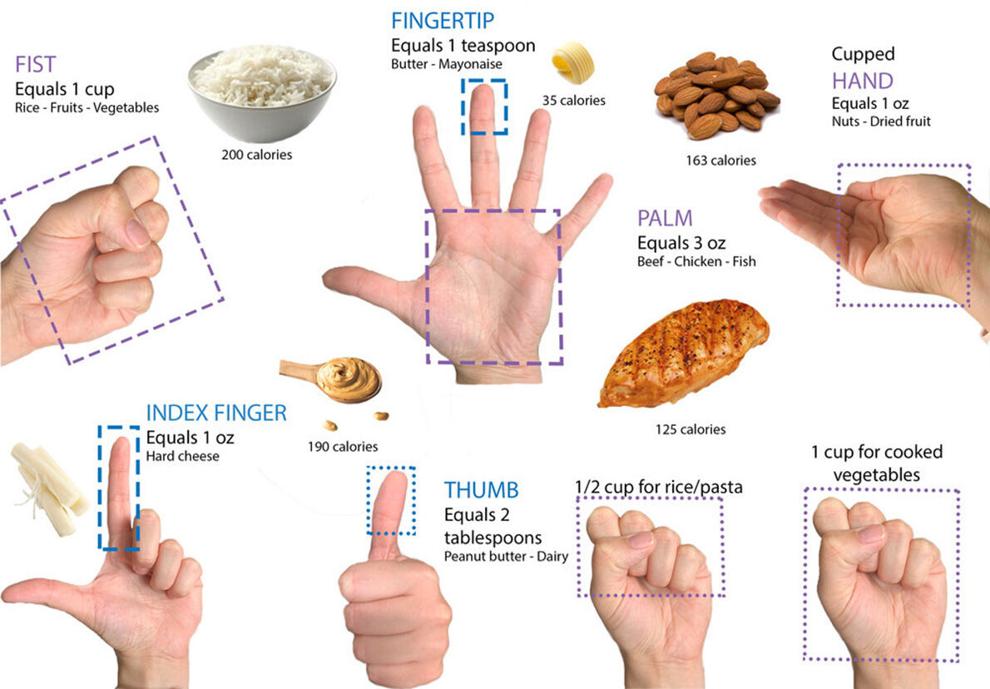 There are several ways to provide children with proper servings during mealtime. Kids should have smaller portions of food than adults during mealtimes.
Food portions should be about the size of the child's fist. Use smaller plates for kids, and start with a small portion — kids can have seconds if they're still hungry. Don't force them to "clean their plate" if they're already full.
WVU Extension specialists say if your meal follows the U.S. Department of Agriculture's recommended serving size, your family will eat recommended portion sizes, leading to better, healthier lifestyles.
What exactly is a serving size? How are you supposed to measure each helping of food to make sure that you are eating the correct amount?
The answer is simple. By relating serving sizes to everyday objects, it can be easy to ensure you're making smart food portion choices.
For each food group, you can associate an object. A tennis ball, for example, would be the size of one serving of fruit. Three ounces of meat is about the size of a deck of playing cards.
A slice of bread, half of a bagel or 1 cup of cereal accounts for one serving of whole grains.
To learn more about healthy eating habits and portion recommendations, visit letsmove.gov.
Controlling portions of food is only one part of upholding healthy eating habits and heart health. The amount of calories in each serving is also an important consideration when planning meals.
High-calorie foods that have increased levels of saturated fat and cholesterol can lead to severe heart problems such as stroke, heart failure and heart disease.
Reduced- or low-calorie foods help create healthy eating habits. Low-calorie foods like fruits and vegetables help sustain good, physical body shape and contribute to good heart health.
Low calorie, nutritious foods paired with proper serving sizes leads to an effective diet, healthy lifestyle and overall well-being.
By supporting each other and following recommended USDA portion sizes, families can coach themselves and each other to consume fewer calories. Check USDA's ChooseMyPlate.gov website, where you will find exact recommendations, personal calorie guides and other healthy lifestyle information.
Apple Cranberry Chicken Salad
2 chicken breasts
Olive oil (as needed, for cooking)
1/4 cup walnuts (chopped, or slivered almonds or pecans, toasted)
1/4 cup dried cranberries
1/2 cup celery (diced)
1/2 medium red onion (finely chopped)
3 apples (diced)
4 to 6 Tbsp. mayonnaise (to taste)
2 tsp. fresh lemon juice
1/4 tsp. chili powder or pepper flakes
1/4 tsp. curry powder (or to taste)
1/4 tsp. salt (or to taste)
1/4 tsp. ground black pepper
Lettuce leaves
Toasted French bread slices
Cut chicken breasts into bite-size pieces and season with salt, pepper and chili powder or pepper flakes. Place a lightly oiled skillet over medium heat. Add the chicken breasts to the hot skillet and cook them for about 6 minutes, or until browned. Flip and continue cooking for about 5 minutes longer, or until thoroughly cooked. Avoid overcooking.
Put 1/4 cup of chopped walnuts, slivered almonds, or pecans in a dry skillet. Place the skillet over medium heat and cook, shaking the skillet and stirring and turning the nuts constantly, until they are lightly browned and aromatic. This should take about 3 to 4 minutes. Pour the toasted nuts out onto a plate immediately to stop the cooking process.
In a bowl, combine the diced, cooked chicken, cranberries, celery, onion, apple and walnuts, if using. In a cup or small bowl, combine 4 Tbsp. of mayonnaise, lemon juice, curry powder, if using, salt, and pepper. Stir the mayonnaise mixture into the chicken, adding more mayonnaise as needed for moisture and for flavor.
Line the bread with lettuce leaves and spread the chicken salad on the lettuce. Or serve the chicken salad on lettuce-lined plates with slices of avocado or tomatoes.
Source: University of Vermont Extension Service
10 apples, quartered
3/4 cup sugar
1 Tbsp. cinnamon
1 Tbsp. allspice
Place apples in a large stockpot and add enough water to cover by at least 2 inches. Stir in sugar, cinnamon and allspice. Bring to a boil. Boil, uncovered, for 1 hour. Cover pot, reduce heat and simmer for 2 hours. Strain apple mixture though a fine mesh sieve. Discard solids. Drain cider again though a cheesecloth-lined sieve. Refrigerate until cold.
Source: University of Vermont Extension Service
Chicken, Wild Rice and Butternut Squash Casserole
1 cup uncooked wild rice (3 cups cooked)
4 Tbsp. olive oil, divided
1-1/4 lbs. skinless boneless chicken breasts
1 medium yellow onion, diced
1 small butternut squash, cubed, about 5 cups
1/2 tsp. kosher salt
1/2 tsp. black pepper
1 Tbsp. chopped fresh thyme
3/4 cup dried cranberries
1/2 cup freshly shredded Parmesan cheese
Cook the rice according to package directions. Drain off any excess cooking liquid and set aside. Preheat your oven to 350 degrees. Lightly coat a 9-by-13-inch baking dish with cooking spray and set aside.
In a large, deep skillet, heat 2 Tbsp. olive oil over medium heat. Add the diced chicken and sauté until the chicken is cooked through and no longer pink on the inside, about 6 minutes. Remove to a paper towel lined plate and set aside. With a paper towel, carefully wipe the skillet clean.
Heat the remaining 2 Tbsp. olive oil over medium. Add the diced squash, onions, salt, and pepper. Sauté until the onion begins to soften, about 2 minutes. Cover and cook, stirring occasionally, until the squash is tender but still retains a slight firmness, about 6-8 minutes.
Stir in the thyme, cranberries, reserved chicken, rice, and 1/4 cup Parmesan. Transfer the mixture to the prepared baking dish. Bake in the oven for 20 minutes, then remove from the oven and sprinkle with the remaining 1/4 cup Parmesan cheese. Bake 5 additional minutes, until the cheese melts. Sprinkle with additional chopped fresh thyme and serve warm.
Source: NC Cooperative Extension Service
Mini Pumpkin Spice Muffins
1-1/2 cups all-purpose flour
1 cup quick oats
3/4 cup brown sugar
1 Tbsp. baking powder
1/2 tsp. baking soda
1/2 tsp. salt
1-1/2 tsp. pumpkin pie spice
1 egg, slightly beaten
1 cup pumpkin puree
3/4 cup low-fat milk
1/3 cup oil
1/4 cup quick oats (for topping
1 Tbsp. brown sugar (for topping
1 Tbsp. melted margarine or butter (for topping)
1/8 tsp. pumpkin pie spice (for topping)
Spray mini-muffin tins with cooking spray or use mini-muffin liners. In a medium bowl, combine flour, quick oats, brown sugar, baking powder, baking soda, salt and pumpkin pie spice.
Break egg into a small bowl. Add pumpkin, milk and oil to egg. Mix well. Add liquid ingredients to dry ingredients and stir until just moistened. Fill muffin cups two-thirds full. Mix topping ingredients. Sprinkle topping evenly over muffins.
Bake mini-muffins at 400 degrees for 8 to 12 minutes or until evenly browned. Bake regular-sized muffins for 15-18 minutes.
Source: University of Nebraska-Lincoln Extension Service
Fall Spiced Pumpkin Bread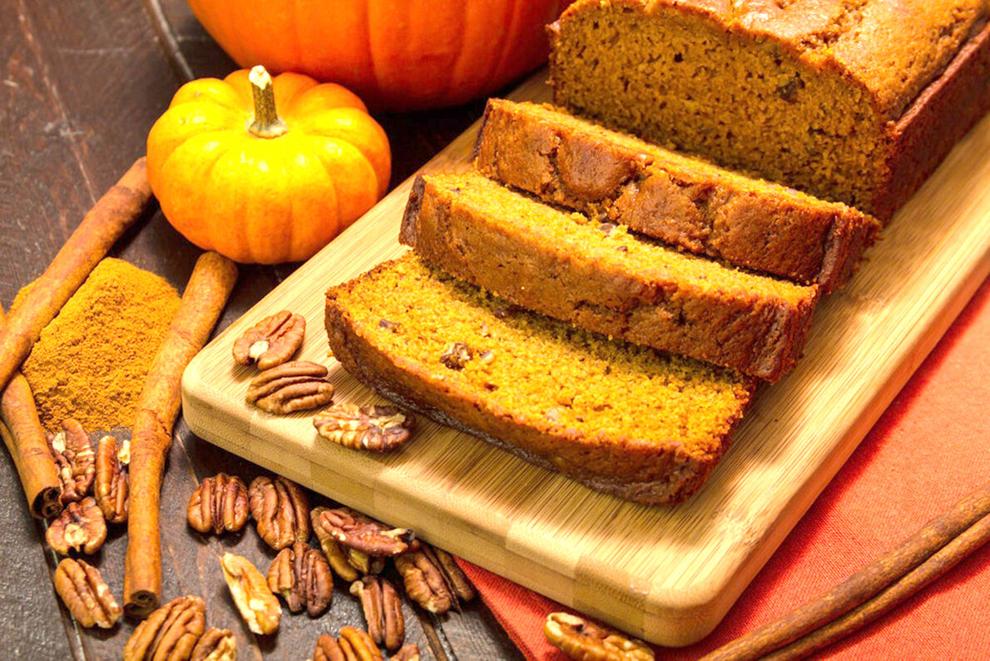 1/2 cup all-purpose flour
1-1/4 cup whole-wheat flour
1-1/2 tsp. baking powder
1 tsp. baking soda
2 tsp. pumpkin pie spice
1/2 tsp. salt
1/2 cup melted margarine
1/2 cup sugar
1/2 cup honey
2 cups pumpkin puree
1/3 cup olive oil
2 eggs
1/3 cup chopped walnuts
Heat oven to 350 degrees. Mix flours, baking powder, baking soda, pumpkin spice and salt; set aside. In a large mixing bowl, whisk together margarine, sugar, honey, pumpkin puree and olive oil. Blend in eggs.
Add flour mixture. Stir until dry ingredients are moistened. Spray an 8-by-4 inch loaf pan with non-stick cooking spray. Pour batter into pan; sprinkle walnuts on top of batter. Bake for 1 hour.
Remove from oven and cover with foil. Return to oven and bake an additional 20 minutes or until toothpick inserted in center comes out clean. Cool for 10 minutes and remove from pan.
Source: University of Kentucky Extension Service
5 cups torn leaf lettuce
2-1/2 cups spinach leaves
1 medium red apple, chopped
1 medium pear, chopped
4 tsp. lemon juice
1/4 cup dried cranberries
1/4 cup feta cheese crumbles
1/2 cup chopped walnuts
2-1/2 Tbsp. olive oil
2 Tbsp. balsamic vinegar
1-1/2 tsp. Dijon mustard
2 tsp. honey
1/2 tsp. salt
Combine leaf lettuce and spinach leaves in a large salad bowl. Mix apples and pears with lemon juice in a small bowl and add to lettuce mixture. Prepare dressing by whisking together the olive oil, balsamic vinegar, Dijon mustard, honey and salt; pour over lettuce mixture and toss to coat. Sprinkle salad with cranberries, feta cheese and walnuts. Serve immediately.
Source: University of Kentucky Extension Service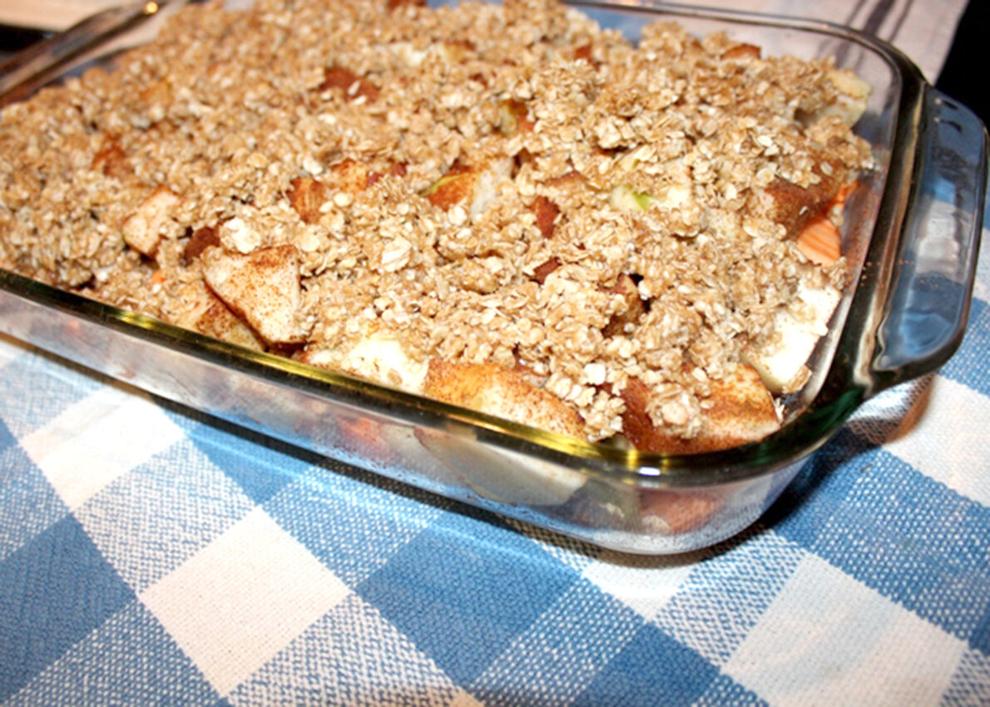 3 large fresh sweet potatoes, cooked until tender.
8 oz. reduced fat cream cheese, softened
1 cup brown sugar, divided
1 tsp. vanilla
1 Tbsp. ground cinnamon
2 medium apples, chopped
1/2 cup all-purpose flour
2/3 cup quick cooking oats
3 Tbsp. butter
1/4 cup chopped pecans
Preheat oven to 350 degrees. Lightly spray a 9-by-13-inch pan with non-stick spray. Mash sweet potatoes. Add cream cheese, 2/3 cup brown sugar, vanilla and cinnamon. Mix until smooth. Spread sweet potato mixture evenly into pan.
Top sweet potatoes with chopped apples. In a small bowl, combine flour, oats, and 1/3 cup brown sugar. Cut in butter until mixture resembles coarse crumbles. Stir in pecans. Sprinkle mixture over apples. Bake uncovered for 35-40 minutes or until topping is golden brown and fruit is tender.
Source: University of Kentucky Extension Service