When the anxiety runs deeper and more help is needed
When a child's pre-school complaints persist about stomachaches, headaches, trouble sleeping or complaints like "school is just sooo stupid," then parents — and maybe professionals — need to dig a little deeper.
Last week we looked at some basic complaints that add up to school anxiety. Here's some advice from WVU Extension's emotional wellness specialists for parents dealing with persistent issues.
Q: How should parents handle it when their child says he's sick and wants to stay home?
A: Always check out recurring physical symptoms with a pediatrician to rule out medical problems. Assuming kids are physically healthy, parents need to be firm about not allowing them to miss school. Just as it's our job to work and raise our family, it's part of a child's job to go to school.
"You know, (child's name), it's normal and OK to feel a little scared in new situations. Feeling nervous means you are excited about this new situation and that you feel unsure about it. You have done many new things in your life, like remember when you slept at Grandma's house for the 1st time without me? That was hard at first, but remember how happy you were to do that? Wouldn't it be sad to miss out on those fun things in school and new friends?"
If school refusal appears suddenly, ask your child and his teacher if something upsetting happened, such as bullying or teasing — both are very common causes of school anxiety.
Is your child worried about changes at home — a move, a divorce or even the death of a family pet?
Helpful websites on bullying for kids and parents:
Q: Is it normal for children to backslide into old behaviors?
A: Of course. After all, adults, too, sometimes wish they could take a day off. Even though you love your job, aren't there some days you just want to stay in bed?
Expect children to go back to old behaviors, like crying when being dropped off, when they don't feel well or are experiencing stress. Soothe your child. Once the upset is calmed down, talk with them about their feelings.
Remember your basic message, "I will help you figure out what's wrong. I do expect you to be in school and will work to make sure it is a safe place."
Q: When should parents seek professional help?
A: If you've tried everything discussed above for a month and the anxiety interferes with your child's enjoyment of other areas of their life — they're having difficulty sleeping regularly, are isolating, or are always worried or sad, for instance — then it's time to have them evaluated by a mental health professional.
For example, some kids develop school refusal or phobia — a fear so intense that the children can't be coaxed onto the school bus or into the building. If they manage to get to school, they cry, complain of aches and pains and can't be calmed down by the teacher.
One guideline: Usually, kids who have serious school anxiety will show a range of stress — or anxiety-related symptoms, like insomnia or headaches, trouble concentrating and irritability or depression.
Children with true school anxiety struggle with it every day. It's not something they have one day but not the next. These kids aren't just being oppositional; they're trying to avoid a situation that makes them scared.
Severe school anxiety may be a symptom of an anxiety disorder. Recent studies show that anxiety disorders are one of the most common mental health conditions among kids, with as many as 10% suffering from undiagnosed anxiety disorders (OCD, social phobia or panic disorder) which require medical treatment. Whether you consult a social worker, a psychologist or a psychiatrist, choose someone who specializes in working with kids your child's age. Be sure that this expert, your child's teacher and you work together as a team.
Finally, remember that kids see their friends attending school; they want to be able to do that too. Some just need extra help to overcome their fears.
Q: What is the treatment for school anxiety?
A: Treatment usually begins with cognitive behavioral therapy, which teaches relaxation and coping skills to reduce anxiety and can result in improved behavior over several months.
If symptoms are severe, doctors may prescribe medication, which can produce some results within two months. The good news is that anxiety disorders are the most treatable mental health condition, and treatment has been repeatedly shown to be effective.
It is much better that you find appropriate treatment for your child than watch him or her suffer in silence.
Remember, school anxiety is most often a sign of close connections between the child and parents. This means you have done your job well! This strong loving bond will help you and child work through the fears.
Q: Can you recommend helpful books?
A: Consider these as a place to start.
• "Overcoming School Anxiety: How to Help Your Child Deal with Separation, Tests, Homework, Bullies, Math Phobia, and Other Worries" by Diane Peters Mayer (2008).
• "Freeing Your Child from Anxiety: Powerful, Practical Solutions to Overcome Your Child's Fears, Worries, and Phobias" by Tamar Chansky (2004).
These books, written for children, teach skills to manage anxiety and worry.
• "What to Do When You Worry Too Much: A Kid's Guide to Overcoming Anxiety" by Dawn Huebner (2006). Published by American Psychological Association
• "When My Worries Get Too Big! A Relaxation Book for Children Who Live with Anxiety" by Kari Dunn Buron (2008).
BBQ Chicken Stuffed Sweet Potatoes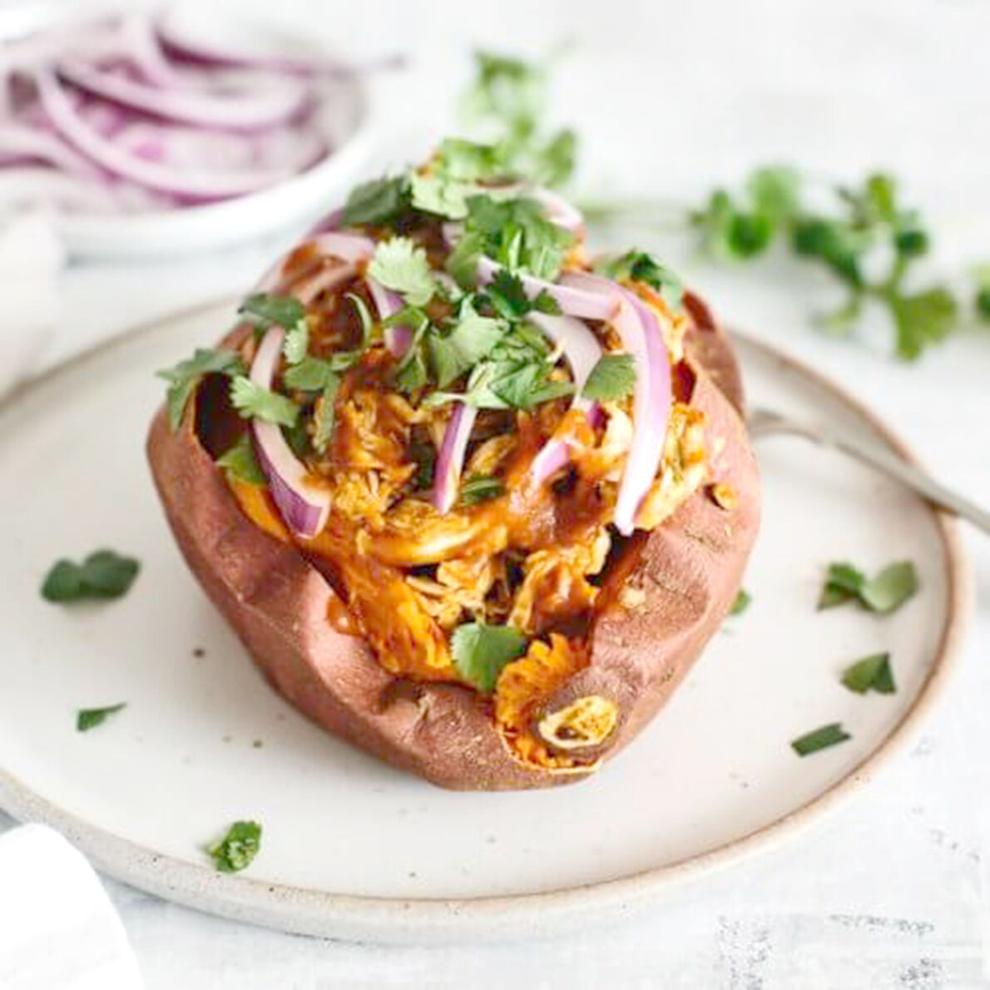 4 medium sweet potatoes
1/2 lb. chicken breast, cooked
1/4 cup barbecue sauce
1/2 cup cheddar cheese, shredded
1/4 cup red onion, diced
1/4 cup fresh cilantro
Cook sweet potatoes using one of the following methods:
Microwave — Pierce sweet potatoes with a fork. Place in a microwave safe dish and microwave on high for 8-10 minutes or until fork tender.
Multi-cooker — 1 cup water in bottom. Pierce sweet potatoes with a fork. Place on trivet in pot. Lock cover in place and set vent to closed. Manual setting for 15 minutes or until fork tender.
Oven — Pierce sweet potatoes with a fork. Place in an oven-safe dish. Bake 400 degrees for 50 minutes or until fork tender.
Cook or reheat chicken to 165 degrees. Shred chicken and add in barbecue sauce. Mix until chicken is coated. Top each sweet potato with a quarter of the chicken, cheese, onion and cilantro.
Source: NDSU Extension Service
Better Than Basic Muffins
2 cups all-purpose flour
1 cup whole wheat flour
1 cup sugar
1 Tbsp. baking powder
1/2 tsp. salt
1/2 cup (1 stick) unsalted butter, at room temperature
2 eggs
1 cup milk
1 Tbsp. flavor extract
Up to 2 cups of mix-ins (fruit, nuts, vegetables, baking chips)
Preheat oven to 400 degrees. In a large bowl, whisk together the flour, sugar, baking powder, and salt. Cut in the butter with a fork or pastry cutter. Stir in the eggs, milk, and flavor extract until all ingredients are incorporated.
Stir in desired mix-ins, but do not over mix. Evenly divide the batter between the prepared muffin cups. Bake for 15 to 20 minutes or until a toothpick inserted in the center comes out clean.
Fruit - apples, blueberries, blackberries, peaches, pears, raspberries, strawberries
Dried Fruit - blueberries, cranberries, coconut, cherries, strawberries
Nuts - Sliced almonds, macadamia nuts, pecans, pistachios, walnuts
Sweets - chocolate chips, butterscotch chips, white chocolate chips, cinnamon chips
Flavor extracts - Almond, lemon, lime, vanilla
Source: NDSU Extension Service
Sausage, Potatoes and Cheese Breakfast Bake
16 oz. hash browns, fresh or frozen (defrosted)
Salt (optional)
12 oz. breakfast sausage links, cut into chunks (or chopped ham)
1/2 cup onion, chopped
1/2 cup red bell pepper, chopped
2 cup Colby-jack or cheddar cheese (low-fat or fat-free), shredded
6 eggs
1/2 cup milk, fat-free or low-fat
1/2 tsp. black pepper
Preheat oven to 350 degrees. Thaw hash browns in a microwave oven if needed. Cut links into small pieces, then brown sausage in a frying pan. Add onion and pepper to the pan and saute until softened. Set aside.
Spray a 9-inch square casserole dish. Spread half of the hash browns in the pan. If desired, sprinkle potatoes lightly with salt.
Top the potatoes with half of the sausage, onion and pepper mixture. Top with 1 cup of shredded cheese. Repeat layers. Sprinkle the top with remaining cheese.
Whisk together eggs, milk and seasonings. Pour egg mixture over the layers and swirl gently to penetrate layers. Bake for 30 to 35 minutes or until eggs are set.
Source: NDSU Extension Service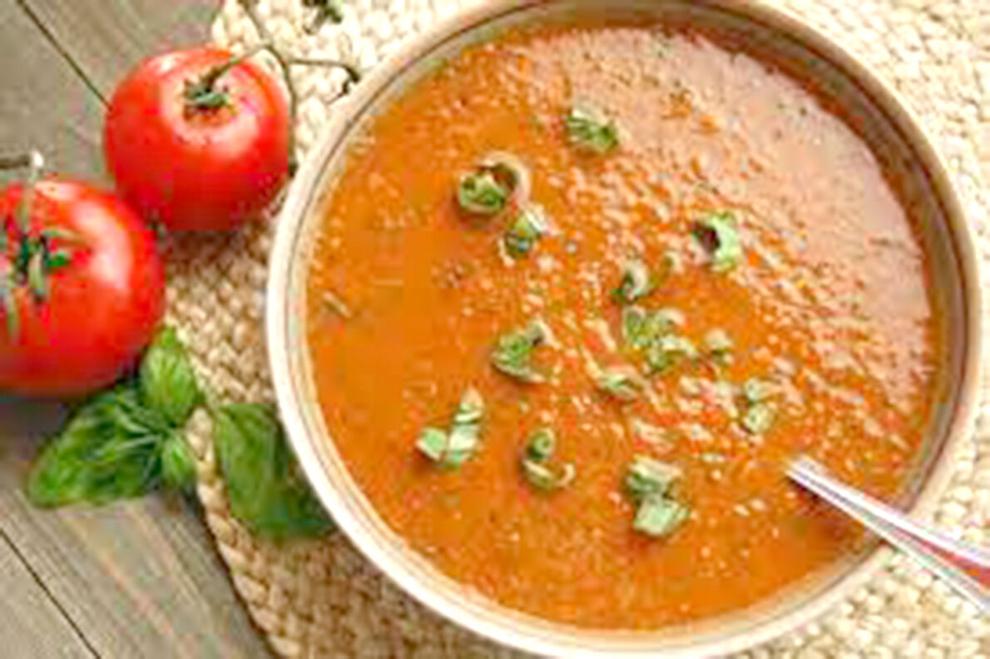 2-1/2 pounds fresh, ripe tomatoes, halved
4 Tbsp. olive oil
1/2 Tbsp. salt
1 tsp. black pepper, plus more to taste
2 medium onions, chopped
10 garlic cloves, chopped
2 (14.5-oz.) cans fire-roasted tomatoes with juices
3 cup fresh basil leaves, lightly packed
2 tsp. dried oregano
6 cup unsalted vegetable stock
1 tsp. sugar, depending on sweetness of tomatoes
Preheat oven to 400 degrees. In a large rimmed sheet pan, combine the fresh tomatoes, 2 Tbsp. olive oil, salt and pepper. Roast in an even layer for 45 to 60 minutes. While tomatoes are roasting, in a heavy large pot, saute onions in olive oil for 1 minute. Add garlic and saute another minute. Add the fire-roasted tomatoes with juices, fresh basil, oregano and vegetable stock. Stir to combine well.
Add your oven-roasted tomatoes (and any liquid that may be on baking sheet) and bring to a low boil. Simmer for 30 minutes uncovered. Use an immersion blender or food processor to puree soup until desired texture. Add 1 tsp. of sugar to taste, if needed. Add additional salt and/or black pepper as needed.
Source: NDSU Extension Service
3/4 cup canned pumpkin puree
1 cup non-fat vanilla greek yogurt
2 tsp. pumpkin pie spice
1/4 tsp. vanilla extract
In a mixing bowl, combine pumpkin puree, yogurt, pumpkin pie spice, and vanilla extract. Stir to combine. Serve with apple slices, Nilla wafers or graham crackers.
Source: NDSU Extension Service