Many of us have enjoyed watching athletes from around the world compete during the Summer Olympics.
These athletes take their training as well as their nutritional intake very seriously. Do you ever wonder what these world-class athletes eat?
While many of us do not have dieticians and trainers that monitor our diets on a daily basis, we can rely on resources such as the U.S. Department of Agriculture's MyPlate tool to help us choose foods for a balanced and healthy diet.
MyPlate recommends identifying your own healthy eating style and maintaining it for a lifetime. This means:
• Make half your grains whole grain
• Vary your protein routine
• Consume less saturated fat, sodium and added sugars
• Make half your plate fruits and vegetables
• Move to low-fat and fat-free yogurt or milk
If you or a family member is physically active or compete athletically, the Physicians Committee for Responsible Medicine provides the following guidelines:
• Carbohydrates — Carbohydrates tend to be the primary fuel utilized during high-intensity exercise. There is also evidence that it boots performance as well as endurance.
• Water — Water is the best and most effective form of hydration. Maintaining optimal hydration will aid in preventing injury and promote performance.
• Dietary Balance — Body weight maintenance means energy in must equal energy out. Since athletes tend to burn more calories they need to consume more calories to prevent loss of bone density and muscle mass.
• Protein — Composed of amino acids, protein plays an important role in the maintenance, repair and building of muscle tissue in the body.
• Fat — High-fat diets, specifically animal fats that are high in saturated fat, are not recommended for athletes and should be avoided.
• Putting it all together — Choosing nutrient-dense foods (vegetables, whole grains, legumes, fruits) will provide athletes with many of the minerals and vitamins needed for competition and training.
Broccoli and Mandarin Orange Salad
4 cups broccoli florets
1 medium yellow onion
1 cup golden raisins
1 cup dry cooking sherry
1/2 cup lime juice
1 Tbsp. dried cilantro
1/2 cup olive oil
1 tsp. salt
1 tsp. ground white pepper
1 cup canned mandarin oranges (drain and reserve liquid)
1/2 cup blanched almond slivers
Wash broccoli florets and cut into bite-sized pieces. Remove skin from onion and cut into 1/4-inch pieces. Place raisins in 1 cup cooking sherry and let soak for 15 minutes.
For the dressing, combine lime juice, cilantro, olive oil, salt and white pepper, and reserved liquid from the mandarin oranges. Mix well.
Combine broccoli, onion, raisins, mandarin oranges and blanched slivered almonds. Mix until well blended. Pour dressing on top of broccoli mixture and stir until blended. Refrigerate for at least one hour before serving
Source: North Carolina Cooperative Extension Service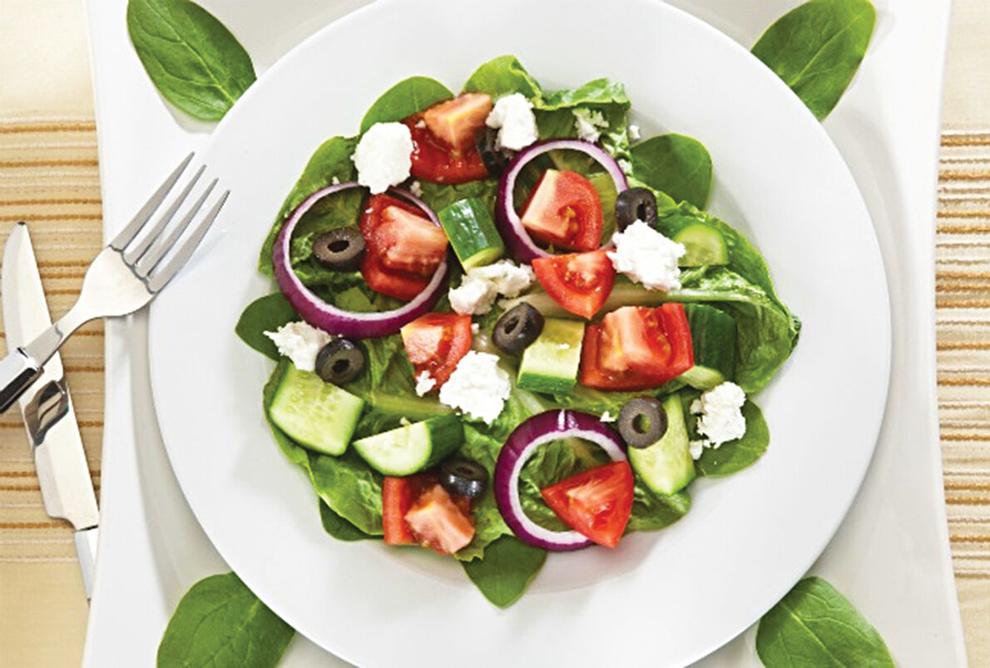 1 cucumber
1 red bell pepper
1 yellow bell pepper
1/2 red onion
1 pint cherry tomatoes
1/2 lb. feta cheese
1/2 cup pitted Kalamata olives
2 cloves garlic
1 tsp. dried oregano
1/2 cup Dijon mustard
1/4 cup red wine vinegar
1 tsp. salt
1/2 tsp. black pepper
1/2 cup olive oil
Slice and combine the cucumber, bell peppers, red onion and tomatoes in a bowl. Mince the garlic and whisk together in a separate bowl with the oregano, mustard, vinegar, salt and pepper.
While still whisking, slowly add the olive oil to make an emulsion. Pour the vinaigrette over the vegetables. Add feta and olives, then toss the salad lightly. Cover with plastic wrap and place in the refrigerator for 30 minutes, allowing for the flavors to blend.
Source: Tennessee State University Extension Service
Asparagus, Potato and Onion Frittata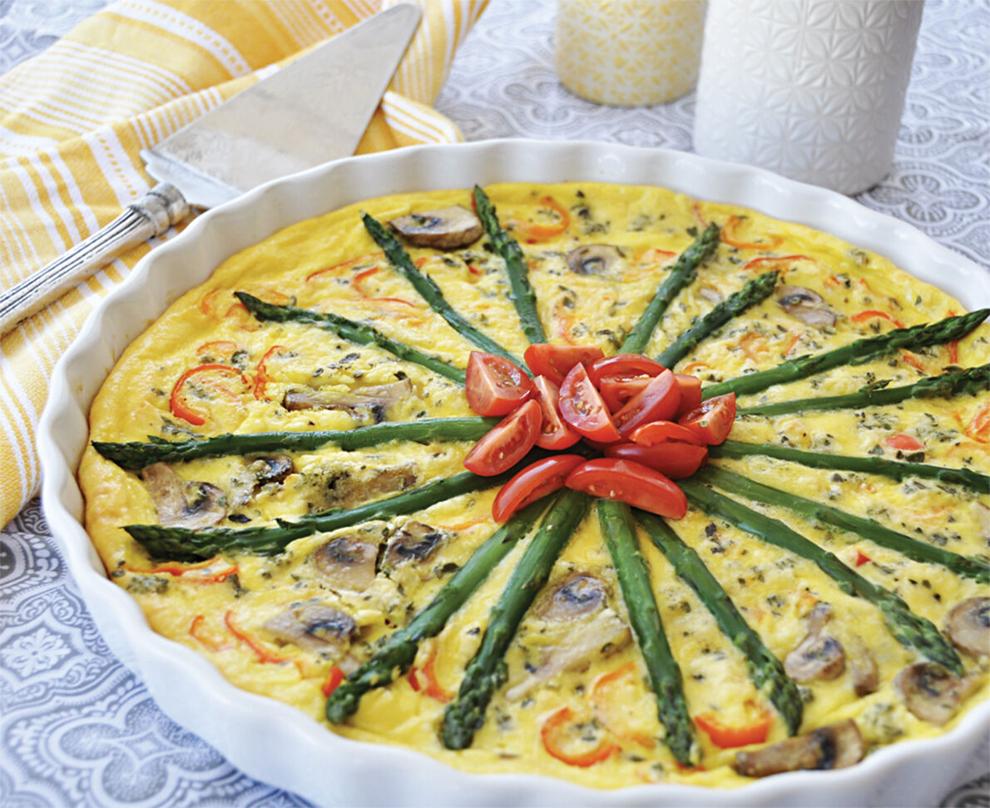 1/2 yellow onion, chopped
2 potatoes, grated
1 lb. asparagus, cut into 2-inch pieces
2 Tbsp. olive oil
1/2 tsp. salt
1/4 tsp. fresh ground black pepper
1 cup diced ham
6 eggs
1 Tbsp. milk
1/2 cup shredded mozzarella cheese
1/2 cup shredded white Cheddar cheese
Preheat the oven to 350 degrees. Heat oil in a large skillet over medium heat and add the shredded potato and onion. Cook, stirring occasionally, until the potato begins to brown, about 5 minutes. Season potato and onion mixture with salt and pepper.
Add asparagus and ham and continue cooking until asparagus is tender, about 5 to 7 minutes. Remove pan from heat.
In a small bowl, combine eggs and milk. Beat until frothy. In a greased 9-by-13 baking dish, add the asparagus and potato mixture to the baking dish and pour the eggs evenly on top. Sprinkle the mozzarella and white cheddar cheese over the top of the baking dish. Bake for 20 minutes or until the internal temperature reaches 160 degrees.
Source: Tennessee State University Extension Service
4 bone-in chicken breast halves
1/8 tsp. salt
1/8 tsp. pepper
1/2 cup sweet orange marmalade
2 tsp. lemon juice
2 tsp. Dijon mustard
1/2 tsp. Worcestershire sauce
1/8 tsp. garlic powder
1 tsp. curry powder
Place chicken breast halves (bone side down) in an 8-by-11.5-inch baking dish. Sprinkle salt and pepper over the chicken. In a bowl, combine the lemon juice, mustard, Worcestershire sauce, garlic powder, and curry powder to make a marmalade. Blend well.
Pour the marmalade mixture over the chicken and cover tightly with aluminum foil. Place the chicken on the bottom shelf of the refrigerator and allow the chicken to marinate for 1 to 2 hours.
Heat the oven to 375̊ degrees. Bake the chicken, covered, for 30 minutes. After 30 minutes remove the foil and baste the chicken.
Insert a cooking thermometer into the thickest part of the largest breast. Continue baking uncovered, basting as needed, until the internal temperature reaches 165 degrees.
Source: Tennessee State University Extension Service
2 (15-oz.) cans Mexican-style diced tomatoes
1 (15- oz.) can black beans, drained and rinsed
2 cups fresh, frozen or canned corn (if using canned, drain and rinse)
1 (14.5- oz.) can sodium-reduced chicken broth (or substitute homemade chicken broth)
2 cloves garlic, minced (or 1/2 tsp. garlic powder)
1 tsp. chili powder
1 tsp. ground cumin (optional)
1/4 tsp. pepper
1 lb. skinless, boneless chicken breast
Optional garnish (chopped cilantro, light sour cream, shredded cheese, baked tortilla chips)
Add tomatoes, beans, corn, broth, garlic, chili powder, cumin (if desired) and pepper in a large saucepan.
Remove and discard any visible fat from chicken. Cut chicken into large chunks and add to the saucepan. Heat to boiling, reduce heat and simmer, covered for 20 minutes or until chicken is tender.
Remove the chicken and place on a plate; use forks to shred the chicken. Return the shredded chicken to the soup.
Source: Iowa State University Extension
Strawberry Clementine Salad
10 oz. mixed green lettuce or fresh spinach
1 lb. strawberries, hulled and thinly sliced
4 clementine oranges peeled and separated into segments
3/4 cup dried cranberries
3/4 cup pistachios, shelled and coarsely chopped
3/4 cup crumbled goat cheese (or feta)
1/3 cup good quality olive oil
3 to 4 clementine oranges (2 tsp. zest and 4 Tbsp. juice)
1 large lemon (1/2 tsp. zest and 2 Tbsp. juice)
2-1/2 Tbsp. honey
2 tsp. Dijon mustard
1/2 tsp. sea salt
In a large bowl, toss together the lettuce, strawberries, clementines and dried cranberries.
For the dressing: combine all of the ingredients together except for the oil in a food processor or blender. Blend until all ingredients are well incorporated and zest has been broken down. Add in the oil in a slow, steady stream and pulse until just combined and emulsified.
Right before serving, add the dressing (add to taste, you may not need/want it all), pistachios and feta cheese. Toss and enjoy immediately.
Source: University of Vermont Extension Service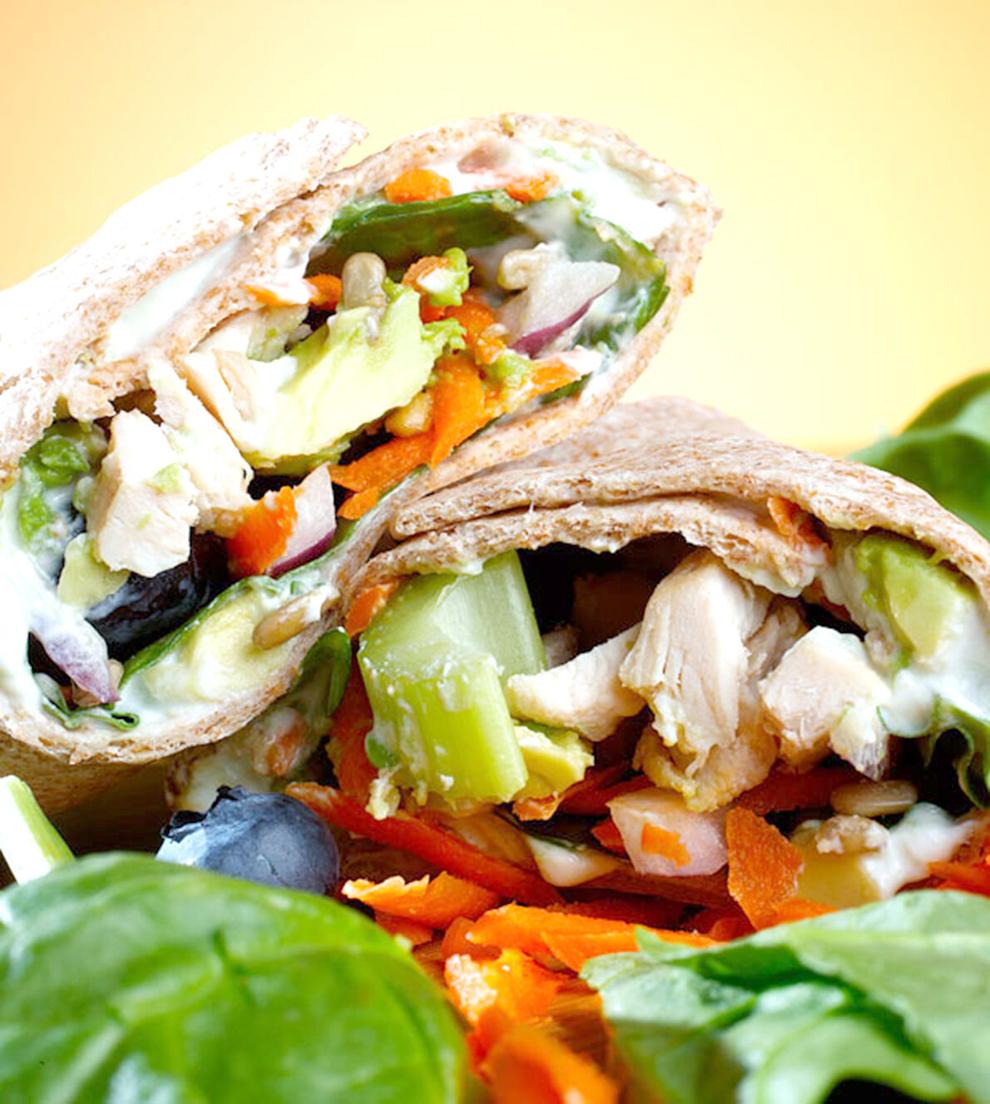 1 avocado, gently rubbed under cold running water, seeded, peeled and cut into chunks
1/2 cup plain nonfat Greek yogurt
1 tsp. lime juice
1/2 cup carrots, scrubbed with clean vegetable brush under running water, grated
1/2 cup celery, scrubbed with clean vegetable brush under running water, chopped
1/4 cup red onion, chopped, scrubbed with clean vegetable brush under running water
12 ounces cooked chicken breast, cubed
1/2 cup blueberries, gently washed under cold running water
4 (8-inch) whole wheat tortillas
2 cups fresh spinach, chopped, gently rubbed under cold running water
2 Tbsp. sunflower seeds or sliced almonds
In a medium bowl, mash 1/2 of the avocado chunks. Add yogurt and lime juice and mix until combined. Add remaining avocado, carrots, celery, onion and chicken. Mix gently.
Fold in blueberries. Place tortilla on a plate. Top with 1/4 of the chicken mixture. Top with spinach and sunflower seeds. Roll up tortilla.
Source: University of Nebraska-Lincoln Extension Service
2/3 cup 100% apple juice
1/2 cup fresh baby spinach
2 cups frozen pineapple chunks, no sugar added
1 cup low-fat vanilla yogurt
1 banana
Gently wash spinach under cold running water. Add apple juice and spinach leaves to blender. Blend first to help make it smooth and avoid leafy chunks. Place the remaining ingredients in the blender. Blend until smooth and serve.
Substitute low-fat or nonfat milk or 100% white grape juice for 100% apple juice. Adding milk instead of 100% fruit juice will lower the sugar while adding extra calcium to help strengthen bones.
Use kale instead of spinach. Kale does have a stronger flavor than spinach.  
Replace low-fat vanilla yogurt with nonfat vanilla yogurt or nonfat vanilla Greek yogurt.
Source: University of Nebraska-Lincoln Extension Service