Hampshire County's apples are in abundance and many will travel from afar to visit our local orchards and farmers markets.
Making apple butter is also a mountain tradition that is still very prevalent here. Many civic groups or families will gather together to make apple butter to sell or for their own consumption. According to the National Center for Home Food Preservation, there are over 2,500 varieties of apples in the United States. Some popular apple varieties used for apple butter include: Winesap, Stayman, Golden Delicious, MacIntosh and Jonathan.
Eating a fresh apple is not only tasty but provides nutritional value to your diet including iron, potassium, calcium and zinc. Apple, which is known by its scientific name of Malus, is a delicious and nutritious fruit to eat as the Fall season is already upon us.
By eating an apple in its entirety, which includes the skin, one is ingesting 4 grams of fiber. Fiber plays a very important role in our body's digestive system.
According to Mayo Clinic Institute of Medicine, individuals should get 20 to 30 grams of fiber daily. Fiber aids in lowering and stabilizing blood sugar levels by slowing down the rate in which glucose is released and carbohydrates are broken down within the bloodstream.
The healthiest option for consuming apples is eating them fresh. Raw apples may be added to cold cereal, oatmeal and yogurt or be included in a mixed fruit salad. There are an unlimited number of recipes that include fresh apples as the main ingredient.
When purchasing apples, choose firm apples. When preparing apple slices for snacks or for recipes, an apple corer is a handy tool.
Apples may also be dipped in lemon juice or ascorbic acid (can be located in the canning section of stores) to keep apples from turning brown.
8 lbs. apples
2 cups cider
2 cups vinegar
2-1/4 cups white sugar
2-1/4 cups packed brown sugar
2 Tbsp. ground cinnamon
1 Tbsp. ground cloves
Wash, remove stems, quarter and core fruit. Cook slowly in cider and vinegar until soft. Press fruit through a colander, food meal or strainer. Cook fruit pulp with sugar and spices, stirring frequently.
To test for doneness, remove a spoonful and hold it away from steam for 2 minutes. It is done if the apple butter remains mounded on the spoon. Another way to determine when the butter is cooked adequately is to spoon a small quantity onto a plate. When a rim of liquid does not separate around the edge of the butter, it is ready.
If canning, fill clean, hot jars with hot apple butter leaving 1/4-inch headspace. Process according to the current recommendation from the National Center for Home Food Preservation nchfp.uga.edu/how/can_02/apple_butter.html. (Current recommendation: boiling water canner: Pints, 5 minutes and Quarts, 10 minutes.
Source: Penn State Extension Service
Reduced Sugar Apple Butter
4 pounds apples
1 cup apple cider
1/2 cup granulated sucralose
1 Tbsp. ground cinnamon
1/4 tsp. ground cloves
1/2 tsp. ground allspice
Wash apples well and remove stems. Cut apples into quarters or eighths and remove cores. Combine unpeeled apples and cider in 8-quart saucepan.
Cook slowly and stir occasionally to prevent sticking. Cook until apples are very soft (falling apart). Position a food mill or strainer securely over a large bowl. Press cooked apples with cider through the food mill or strainer to make a pulp.
Be sure to collect all the pulp that comes through the food mill or strainer; for example, scrape any pulp clinging under the food mill into the bowl. Combine pulp with sucralose and spices in an 8-quart saucepan. Simmer over low heat, stirring frequently.
To test for doneness, spoon a small quantity onto a clean plate; when the butter mounds on the plate without liquid separating around the edge of the butter, it is ready for processing.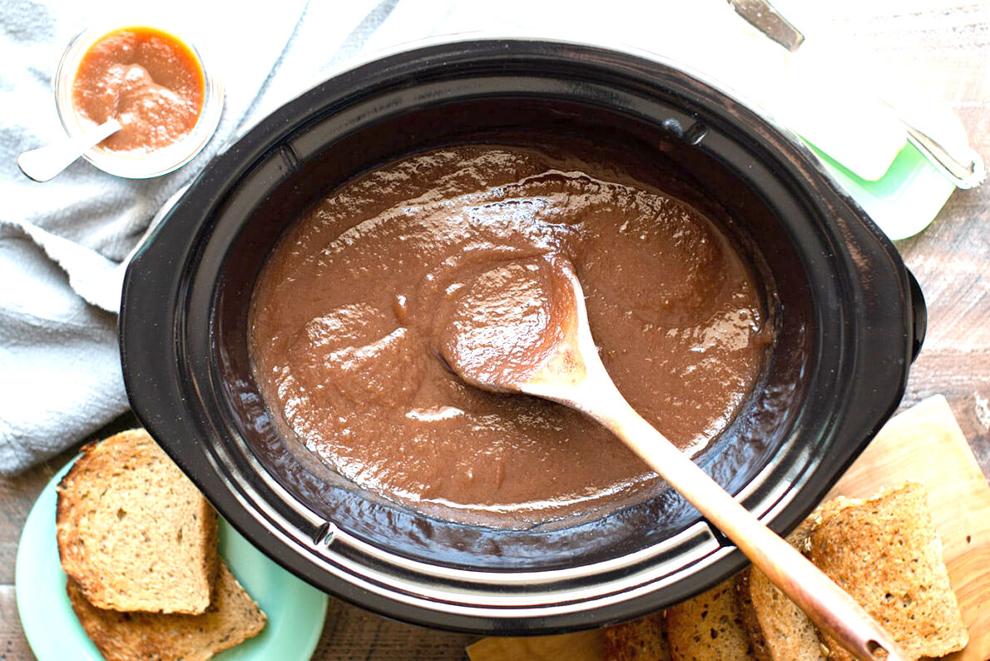 15-20 cups of sliced apples (peeling can be left on or off)
1 cup apple cider
1 cup cider vinegar
1-1/2 cups white sugar
1-1/2 cups packed brown sugar
2 Tbsp. cinnamon
1 tsp. nutmeg
1/2 tsp. ginger
2 Tsp vanilla
1/4 cup maple syrup
Put all of the above ingredients in the slow cooker and cook for 10-12 hours, stirring occasionally. After10-12 hours, take the cover off and cook on low for another few hours. The apple butter should start to break down and condense into a thick butter-like consistency. If too chunky, run through a blender or food processor.
Source: Alabama Extension Service
1 gallon naturally sweet apple cider
1 cup brown sugar
4 cinnamon sticks, broken in half
1 Tbsp. whole cloves
1 Tbsp. whole allspice
1/2 tsp. mace (optional)
Tie cinnamon, cloves, allspice and mace together in cheesecloth or use a coffee filter tied with string. Combine cider and brown sugar in a large pot. Add spices.
Bring mixture to a slow boil. Then turn heat down and simmer for 5 to 10 minutes. Remove spice bag from pot. Serve hot cider in mugs. Spiced Apple Cider may be kept warm in a slow cooker on low setting.
Recipe source: University of Illinois Extension Service
1/2 cup fat-free yogurt
1/4 cup orange juice
1/2 cup apple jelly, melted
1/4 tsp. salt (optional)
1 Tbsp. lemon juice
3 cups cooked chicken, diced
2 cups finely sliced celery
3 apples, unpeeled and diced
1/2 cup coarsely chopped pecans
In a large bowl, mix yogurt, orange juice, melted apple jelly and lemon juice. Add chicken, celery and apples.
Toss gently to coat all pieces. Season with salt and chill until ready to serve. Sprinkle with pecans and serve on a bed of romaine lettuce. Yield 8 3/4-cup servings.
Recipe source: University of Illinois Extension Service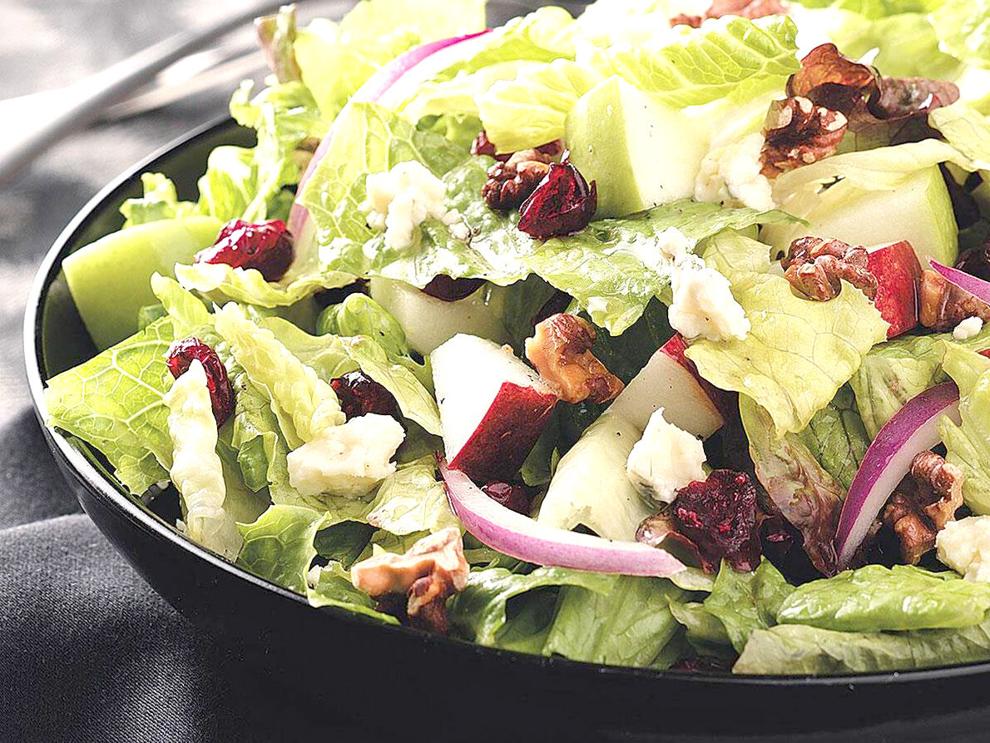 1/3 cup honey
1/4 cup white balsamic vinegar
2 Tbsp. olive or flaxseed oil
8 cups torn romaine lettuce
4 cups fresh baby spinach
6 slices sweet onion, quartered
1 cup cubed Jarlsberg or Swiss cheese
1 medium apple, chopped
1 cup coarsely chopped walnuts
1/4 cup dried cranberries
In a small bowl, whisk the honey, vinegar and oil; set aside. Just before serving, place remaining ingredients in a large bowl; drizzle with the vinaigrette and toss to coat.
Source: University of Vermont Extension Service
3 cups Baking Master Mix
4 Tbsp. sugar
1 egg, beaten
1 cup water
1 tsp. vanilla extract or lemon flavoring
3/4 cup chopped, peeled apples
1 tsp. cinnamon
Combine Baking Master Mix, cinnamon, and sugar in a bowl. Blend eggs, water, apples, and extract; add to mix and sugar. Stir gently until ingredients are moistened. Fill paper-lined or greased muffin tins 2/3 full. Top with streusel topping if desired. (See recipe below.) Bake in a 400 F oven for 20 to 25 minutes.
3/4 c. sugar
3/4 c. all purpose flour
1 Tbsp. water
1-1/2 tsp. cinnamon
1/4 c. butter
Mix ingredients together until crumbly. Keep in refrigerator for up to two weeks. Use 1 tsp. per muffin.
Source: North Dakota Extension Service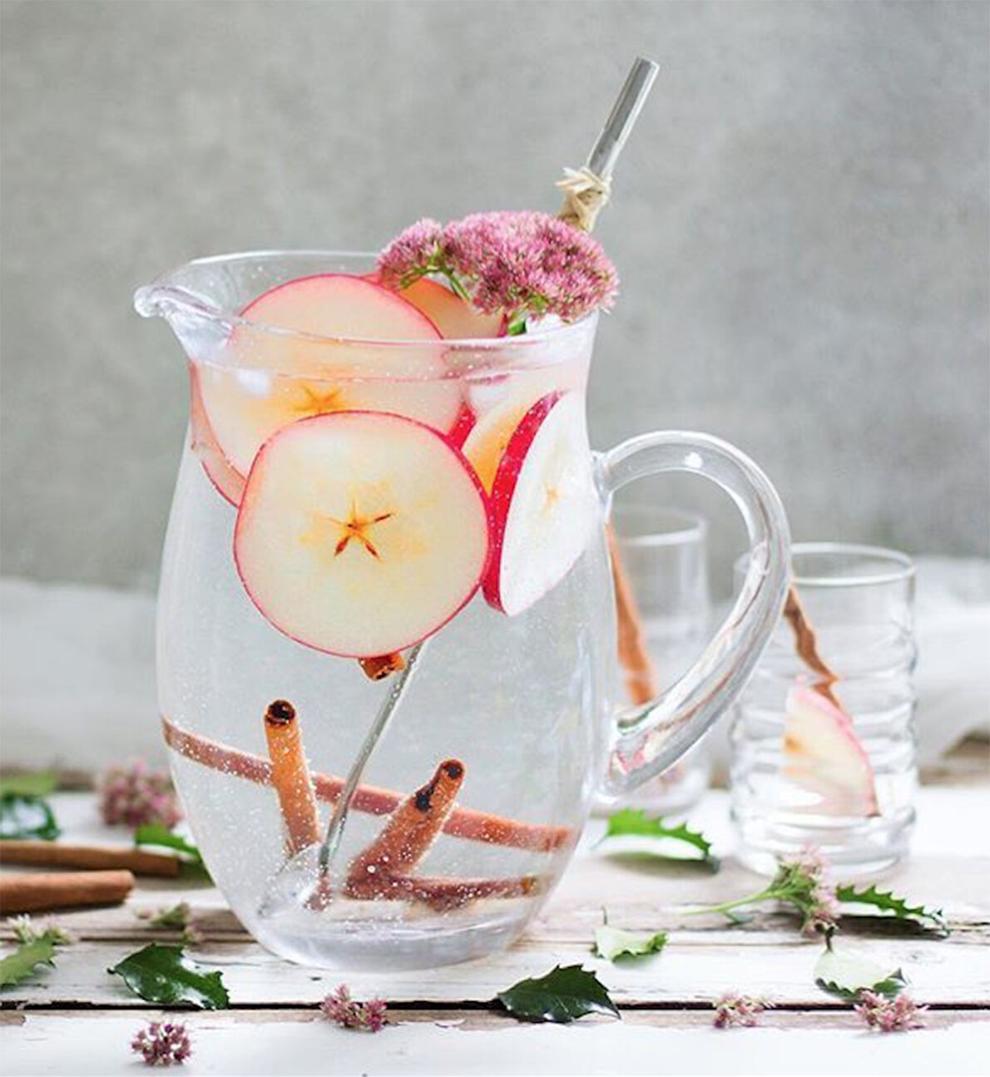 1 gallon of water
2 apples
2 whole cinnamon sticks.
Pour water into pitcher or dispenser. Cut apples into thin slices, making sure to remove seeds. Add apples and cinnamon sticks to water. Refrigerate for 12–24 hours before serving.