The meals and gatherings that we enjoy during the holiday season with friends and family are special ones that many of us look forward to all year.
The costs for producing these special meals and gatherings can be surprising. However, there are a few ways to help reduce costs.
• Check newspapers and ads for local sales. Turkey as well as other meats that are served during the holiday season go on sale around Thanksgiving and into December. A whole turkey is less expensive per serving than purchasing separate pieces of turkey.
• Consider fewer holiday dishes. Meat is usually the most expensive part of the meal. Consider offering 1 or 2 meat choices instead of more.
• Make as much of the food yourself. The more work that you do the less the food costs. The more boxes and pre-made items that you use the more expensive the items can be per serving.
However, it's also important to consider your time when making a choice of convenience foods or making from scratch.
• Sometimes healthier options and alternatives can save costs.
For example, when serving pie for dessert, consider a pumpkin or fruit-based pie as compared to pecan or a French silk pie. Pumpkin and other fruit based pies are normally less expensive.
• Offering a variety of beverages can quickly add up. Offering water is a healthy choice and can save on the budget.
• Disposable holiday products add up quickly — plates, napkins, cups. Do you really need them? If you enjoy using them, OK, but if you need to cut costs somewhere, this may be a good place.
Holiday dishes that can be used from year to year may be a better investment. Plan ahead for next year by purchasing these items after the holiday season when they are on sale.
• Make a menu plan to use leftovers. Take the time to place food in containers for refrigeration or to be frozen, ready to be used for another meal. Perishable foods should not be out for more than 2 hours.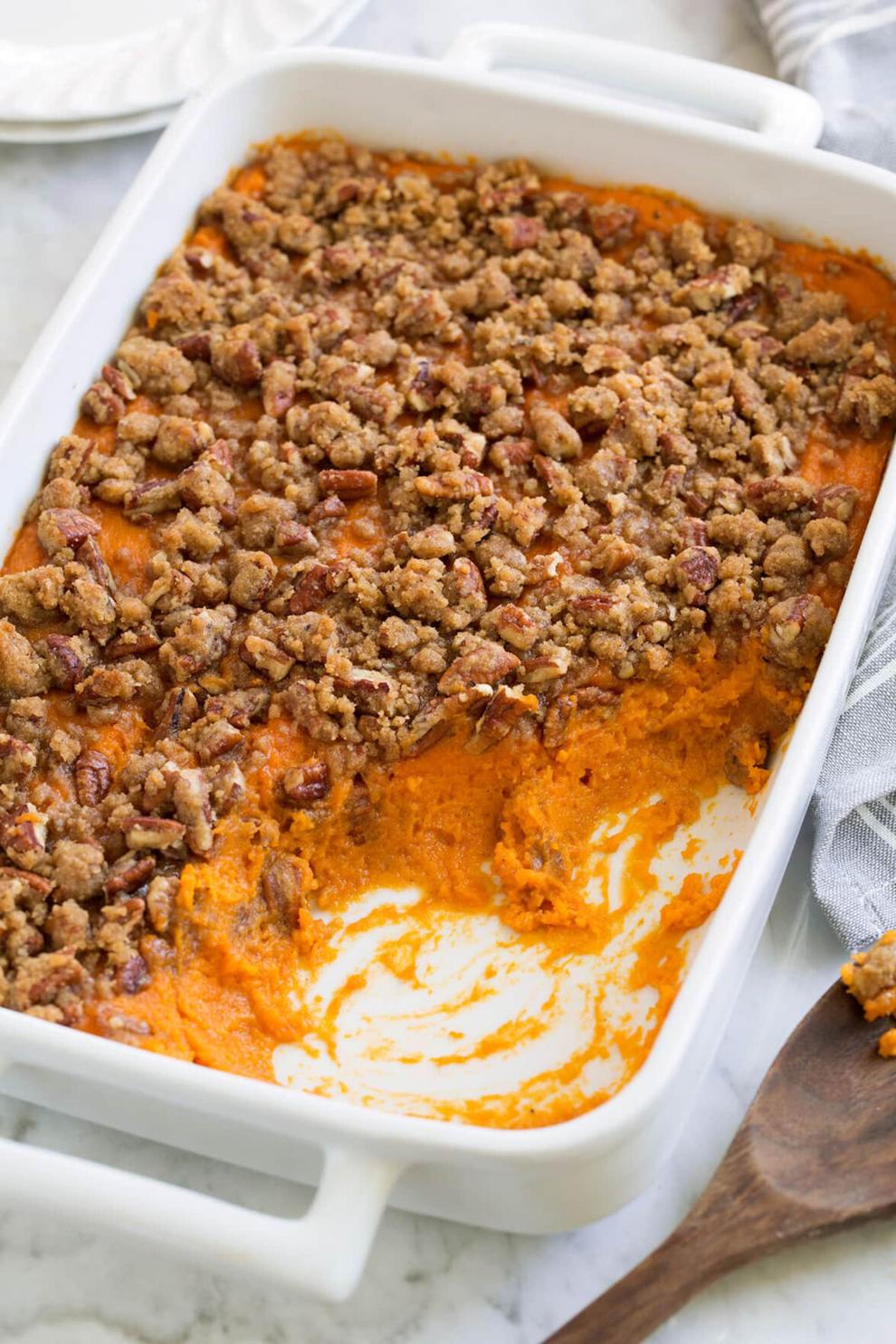 6 medium sweet potatoes
1/2 cup sugar
2 eggs
1 tsp. vanilla extract
1/3 cup nonfat milk
1/2 cup butter, softened
1/3 cup firmly packed brown sugar
1/3 cup pecans, chopped (optional)
2 Tbsp. all-purpose flour
2 Tbsp. butter
Cook sweet potatoes in boiling water 45 minutes to 1 hour or until tender. Preheat oven to 350 degrees. Let cool to touch, then peel and mash. Combine sweet potatoes, sugar, eggs, vanilla, milk and 1/2 cup butter. Beat at medium speed with electric mixer until smooth. Spoon into lightly greased 12-by-8 casserole dish.
In a separate bowl, combine brown sugar, pecans, flour and 2 Tbsp. butter. Sprinkle mixture over casserole. Bake for 30 minutes.
Source: University of Illinois Extension Service
1 whole raw chicken, 3 to 4 pounds
2 Tbsp. vegetable oil
1 tsp. garlic powder
1 Tbsp. ground oregano
1 lemon or orange, quartered
If chicken is frozen: Thaw in refrigerator 24 hours before cooking. Place on pan or plate while thawing. Preheat oven to 375 degrees. If giblets are present in chicken cavity, remove before cooking and discard.
Place chicken, breast side up, in roasting pan. Brush chicken skin with oil and sprinkle with garlic powder and oregano. Stuff lemon or orange into chicken cavity. Roast 90 minutes to 2 hours or until meat thermometer inserted into chicken thigh registers 165 degrees. Remove from oven. Let chicken sit for 15 minutes before cutting and serving.
Source: University of Illinois Extension Service
Maple Glazed Bacon Brussels Sprouts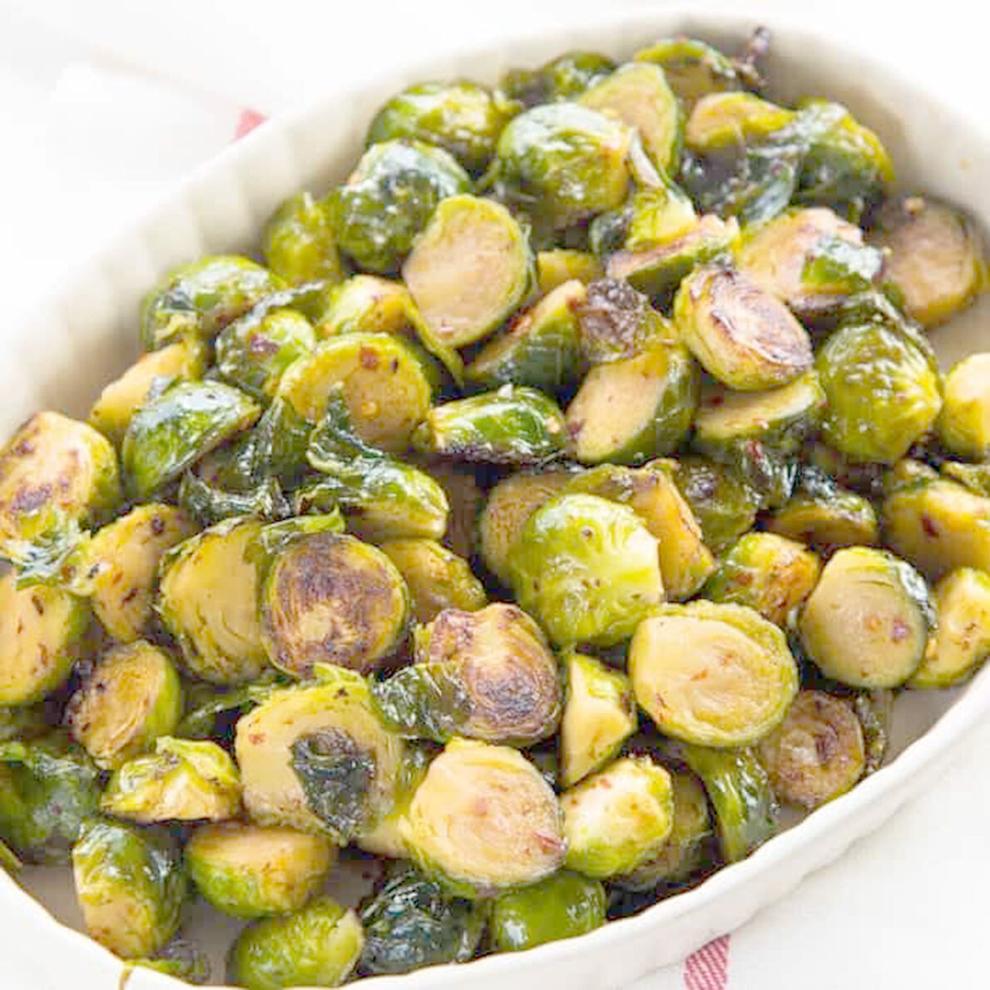 16 oz. bag frozen Brussels sprouts, (thawed in refrigerator and drained), or 1 pound fresh Brussels sprouts, washed and halved
2 strips bacon, chopped
2 Tbsp. butter, melted
2 Tbsp. maple syrup or pancake syrup
1/4 tsp. salt
1/4 tsp. black pepper
Preheat oven to 400 degrees. Place brussels sprouts in medium mixing bowl. Cover with chopped bacon, melted butter, maple syrup, salt, and pepper. Mix gently to combine.
Spray baking sheet with nonstick cooking spray. Spread brussels sprouts on baking sheet. Cook about 45 minutes, stirring a few times during cooking process, until Brussels sprouts are tender.
Source: University of Illinois Extension Service
Holiday Breakfast Casserole
10 slices bread, cubed
1/2 lb. bulk pork sausage, cooked, drained and crumbled
1/2 cup shredded low-fat cheddar cheese
1/2 cup shredded low-fat Swiss cheese
1/2 cup canned mushrooms, drained
6 eggs, beaten
2 cup nonfat milk
Salt and pepper, to taste
Spray a 9-by-13 pan with nonstick cooking spray. Arrange layers of bread, sausage, cheese, and mushrooms in pan. Combine eggs and milk and pour over top. Refrigerate 8 hours or overnight. Preheat oven to 350 degrees. To bake, cover with foil and bake for 45 minutes.
Source: University of Illinois Extension Service
Leftover Turkey Casserole
5-1/2 cup cooked turkey, chopped
3 cup low-sodium chicken or vegetable broth
1 lb. macaroni noodles, uncooked
1/2 lb. (8 oz.) reduced-fat cream cheese, cut in small cubes
3 small onions, finely chopped
2 can cream of mushroom soup (98% fat free)
2 cup cracker crumbs
1/2 tsp. sage (optional)
1/8 tsp. pepper
Preheat oven to 350 degrees. Combine all ingredients into a large mixing bowl; mix well. Pour mixture into greased 9-by-13 baking dish. Bake for 1 hour.
Source: University of Illinois Extension Service
Roasted Butternut Squash and Spinach Salad
1 lb. butternut squash, peeled and seeded
1 tbsp. olive oil
1 to 2 Tbsp. maple syrup
Salt and pepper to taste
1/4 cup dried cranberries
4 oz. spinach (or spinach and arugula mix)
1/2 cup toasted walnut halves
1/2 cup freshly grated Parmesan cheese
1/2 cup apple cider or apple juice
2 Tbsp. cider vinegar
2 Tbsp. minced shallots
3 tsp. Dijon mustard
1/3 cup olive oil
Preheat oven to 425 degrees. Peel and cut squash into 1-inch chunks or cubes. Place on a sheet pan and toss with 1 tbsp. olive oil, maple syrup, salt and pepper. Roast for 30 minutes, stirring once. Add cranberries to the pan for the last 5 minutes of roasting.
Combine the apple cider, vinegar and shallots in a saucepan and boil over medium-high heat for about 8 minutes, until the cider has reduced. Remove from stove and add the mustard and 1/3 cup olive oil. Season with salt and pepper to taste.
Place the spinach in a large bowl and add the roasted squash. Top with walnuts and grated Parmesan cheese. Spoon vinaigrette over the salad to lightly moisten and toss well.
Source: North Carolina State University Extension Service
1/2 cup chopped carrots
1/2 cup chopped celery
1/2 cup chopped onion
1 1/2 cup de-fatted turkey broth or 1 cup low-sodium non-fat chicken broth
1 cup sliced raw mushrooms
1 8-oz. package of seasoned stuffing mix
Nonstick cooking spray
Wash, peel and finely chop carrots, celery and onion. Place in a medium saucepan with broth and bring to a boil. Cover, turn heat down and simmer for 5 minutes.
Slice mushrooms. Heat nonstick skillet over medium heat. Remove from heat briefly and spray with non-stick cooking spray. Return to heat and add mushrooms to saute. Place stuffing mix in large bowl. Add mushrooms and vegetables in broth. Toss lightly with a fork.
Spray baking dish lightly with cooking spray. Spoon stuffing into baking dish. Cover tightly with foil. Bake at 325 degrees. If you choose to stuff your turkey, be sure to do it loosely.
Source: W.Va. State Extension Service
1 cup apple cider
1 cup low sodium chicken broth
1 cinnamon stick (3-inch long or a couple of pinches of ground)
4 whole cloves (or a tiny pinch of ground)
4 peppercorns
1/3 cup minced shallot or onion
4 boneless, skinless chicken breasts, pounded to 1/2-inch thickness
2 Tbsp. butter
1/4 tsp. salt
1/4 tsp. black pepper
1/2 tsp. dried thyme
In a large saucepan, combine cider, broth, cinnamon, cloves, peppercorns and shallots. Bring to a boil and reduce to 1/4 cup, removing cinnamon stick, cloves and peppercorns when done.
Meanwhile, in a large skillet, melt butter. Add chicken breasts and sprinkle with half the salt, pepper and thyme. Cover and cook until chicken is well browned. Turn over and sprinkle with remaining half of salt, pepper and thyme. Cover and cook until chicken is just done. Remove to a platter and keep warm.
Pour the reduced cider mixture into the skillet and bring to a boil, stirring up any bits from browning the chicken. Pour sauce over chicken breasts (or slice and then pour sauce over) and serve
Source: University of Tennessee Extension Service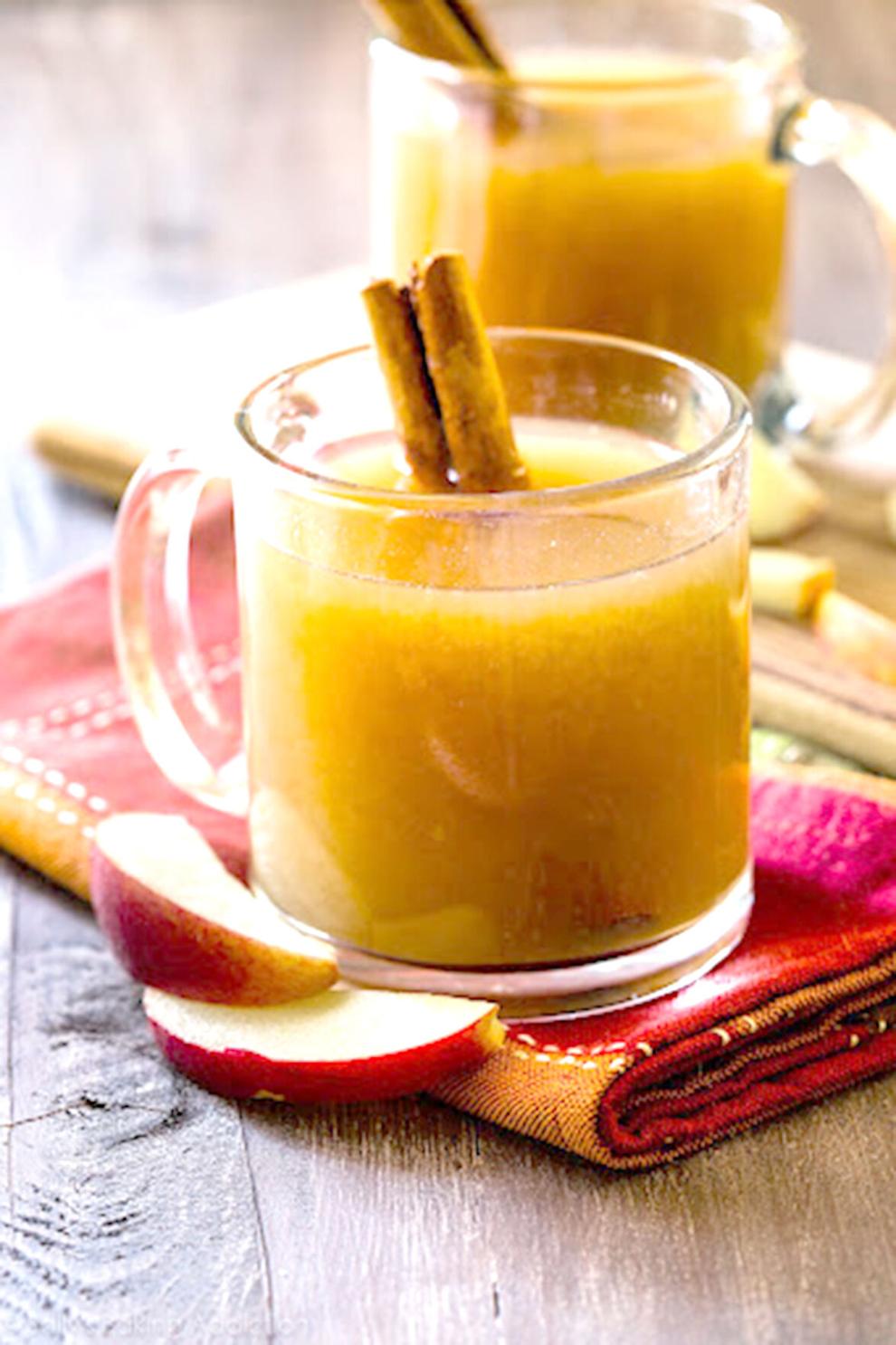 10 apples, quartered
3/4 cup sugar
1 Tbsp. cinnamon
1 Tbsp. allspice
Place apples in a large stockpot and add enough water to cover by at least 2 inches. Stir in sugar, cinnamon, and allspice. Bring to a boil. Boil, uncovered, for 1 hour. Cover pot, reduce heat and simmer for 2 hours.
Strain apple mixture though a fine mesh sieve. Discard solids. Drain cider again though a cheesecloth-lined sieve. Refrigerate until cold.
Source: University of Vermont Extension Service