Remote learning has tested Hampshire  County's patience and encouraged adaptability
Gov. Jim Justice announced on Dec. 30 that schools in non-Red counties would be returning to school on Jan. 19, citing poor grades and child home safety as the big reasons for this prompt return.
"One-third of our students are receiving failing grades in at least 1 of their core classes. The virtual learning models do not work for many students without consistent, live engagement from a teacher," Justice said at his Dec. 30 press briefing. "Also the DHHR reports that there is a reduction in child protective services referrals by an average of 50 to 54 percent per month. We've got a bunch of kids that are out there, really suffering. So we must get back in school."
With vaccinations for teachers being distributed last week, the ball is rolling in Hampshire County to prepare teachers, staff and administration to resume in-person education.
State Superintendent Clayton Burch echoed Justice's thoughts, adding, "The research shows it is safe to restore the in-person learning model for parents that chose this option for the children."
Justice mentioned last week that he's open to talking with teachers and school staff (but not union heads) to address their concerns about the return to school, saying, "They're legitimate concerns, and we need to talk."
He hasn't given any timeline for any forums as of yet.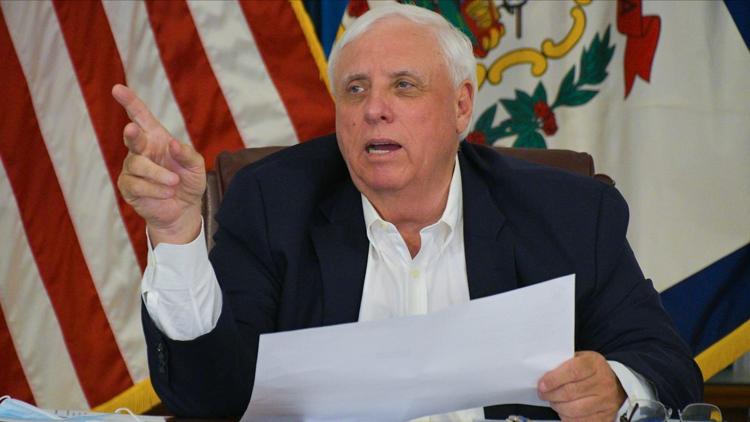 'The parents have become heroes'
When remote learning chugged to a start in the spring, it was a huge change for Hampshire County families, especially families where the parents have full-time jobs.
It's a long day for many parents, like Mindy Kenney Robinson, who works during the week and comes home to help her child (or, in many cases, their children) with schoolwork.
"It has been very difficult. I work 4 days a week; the amount of schoolwork is crazy," she said. "I have to do work with my 3rd grader in the evenings and on weekends. I'm burnt out."
Willie Knave added his thoughts: "Both parents working 12-hour jobs, nights and days, and gone from home up to 18 hours a day and then trying to be a teacher, doesn't work well."
It seems like many Hampshire County families are in limbo between a rock and a hard place. Patricia Crowley, a 6th grade special education teacher at Capon Bridge Middle School, said she's sympathetic to what the parents are going through.
"There is simply not enough time to accomplish everything. Some things must be put to the side so they can help their child be successful with their studies," Crowley pointed out. "I have had 2 parents break down into tears because they are so overwhelmed. They want to do it all. The parents have become heroes."
Crowley added that the students she works with have special needs, and that can be overwhelming if the parents don't have the support they need.
"At home, they don't have the advantage of the teacher in front of them, presenting the lessons, asking questions, encouraging them to participate, nor do they have their peers to work with them," Crowley remarked. "Students need to be in school, with their peers and their teachers."
Talking tech: connection issues concern families, teachers
Removing students from in-person learning has added a number of new challenges for the county, and many of them are centered on the technology.
If you'd said the word "Schoology" a year ago, very few folks in Hampshire County would know what it meant.
Now, with the learning and teaching done remotely, Schoology is the pulse of Hampshire County education.  The technology has been arguably 1 of the biggest struggles when it comes to the remote education in the county. Allison McCormick, an ELA teacher at Capon Bridge Middle School, said there was a learning curve with Schoology.
"We have all used it as a county; it has helped to post lessons, activities and assignments for students," McCormick explained. "I love how it has made giving feedback on essays so much easier, less time-consuming and interactive with my students. Students can see the directions for each day and can work at their own pace."
On top of concerns surrounding virtual school's workload, Internet issues and Schoology difficulties, a larger problem exists: some teachers are having a hard time connecting with their students through virtual means.
"I have students who have not logged on since November, and they have Internet access," said RMS alternative education teacher Stephanie Buckley. "As a teacher, it is 2 times the work. Daily, I go live for 10 different lessons, record myself and then post it. I have only ever had 1 student join my live sessions and that is rare. Often, I am teaching and recording the lesson to no one."
McCormick added that she spends lots of time trying to make calls to reach her students.
"Students have also been great about messaging if they ever have questions or just to check-in with their homeroom teacher," she said. "We also do calls for anyone that we may not be hearing from to make sure everything is okay and if we can help in any way."
While the Jan. 19 return date for schools is looming, McCormick said that being able to connect with her students from home has been rewarding.
"I have really enjoyed being able to not only touch base with family at home, but even getting a moment to talk to students and hear how they are doing," she said. "I definitely miss them."
Creativity, out-of-the-box thinking at WVSDB
The West Virginia School for the Deaf and the Blind has had a few more unique challenges that have nudged them toward embracing more of an individualized teaching plan for their students, said chief academic coach Jamie Vittorio.
"It's certainly been a time where we have aggressively looked at almost individualized instruction for our children," Vittorio said. "We've been looking at trying innovative ways, being creative with different platforms, getting hotspots for children and bringing different types of technology into the home."
Creativity has been key for everyone during this time, and the staff over at the WVSDB have had to think outside of the box. Vittorio commended the families, saying that they've been very supportive for their students.
Organization has never been more important, either. With the school mailing supplies and comprehensive learning packets to students, staff has had to plan and preplan to make sure students get their materials when they need them.
"It definitely takes a team," she said. "This has taught us to be flexible, patient, understanding and to work as a team. We certainly want our students back; we miss our students."
Between adapting learning platforms for students and staff, individualizing learning plans that change from student to student, making sure students' physical, emotional, social and academic needs are met, it's a giant undertaking, but one that Vittorio said has gotten smoother since the spring.
"We've come a long way," Vittorio said proudly. "Considering the situation we're all in, we've done the best we can, certainly."
As of right now, the plan is for the school's residential students to return to the campus on the 18th, though things could change in an instant, Vittorio said.
"We are just trying to be flexible," she added.  
Face Time: Your online thoughts about remote learning
In the beginning it was difficult to understand. But, with the help of my son's teachers, it became so much easier…I find that having patience and understanding has really helped.
It's been stressful and my children don't want to do it anymore.
The teachers are great but with 2 working parents getting home at 6 and doing homework for 2-3 hours each night, cooking dinner and bedtime, it's been terrible. I understand this pandemic is real, however, my children are missing out on almost 2 years of real education.
We managed, and it's nice to be relaxed at home so I can teach my grandson.
Luckily, I had the opportunity to quit my job and stay home to teach 1 child. But I honestly don't know how parents do it when they have to work or have multiple kids.
Remote learning should be focused on quality not quantity.
We have 4 kids in 4 different grades and we haven't had too many issues. The teachers have always helped us.
All of my son's work is done in the evening when I am off and of course the teachers are too. I don't expect them to be available 24/7. They have families and children as well.
I would love for my kids to go back to school but not when the map is still in red.
(My son) needs 1-on-1 help and he has to wait for my work schedule to allow him that 1 on 1 time…I feel like we are drowning.
(The kids) miss school so much and are ready to go back. The teachers have been wonderful! And if we need help, they are always there to help.