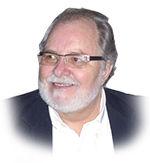 It seems that at my age now I spend more time looking backward and less time looking forward.
It reminds me of an old station wagon someone in our family once owned that had 3 bench-style seats and the rear seat faced backward. We loved riding back there as kids. We couldn't see where we were going, but at least we knew where we had been. I guess I now have more places to look back on than I have to look forward to.
It's interesting how I see so many things differently now than I did years ago. People, places and things that I held in high esteem when I was living them don't seem nearly as important now that they are filed in the annals of time.
Don't misunderstand. I'm glad I had the opportunity to experience most of them, visit most of them and meet most of them. It's just they don't score as high on the ole memory meter as they once did.
As I peruse old photo albums I find myself doing less boasting and more time asking the proverbial question, "So?" I'm not sure if that tends to make me smarter or more cynical. I'm afraid it's more the latter.
I appreciate the many experiences I've had in my lifetime. There are countless others whom my experiences can't hold a candle to theirs, nevertheless I don't feel cheated.
I've met a few celebrities in my time. I've walked side-by-side and conversed with Burt Reynolds. Jerry Reed used my back as a makeshift desk to sign autographs for some. I've seen Tammy Wynette, George Jones, Louise Mandrel and Jackie Ward in concert.
It all seemed cool at the time, but now I find myself asking, "So?"  I can't really say my life is any better because my life intersected with theirs or vice versa.
I'm sure that within 20 seconds after our brief encounter none of them remembered me. I didn't make a difference in their lives nor did they have a lasting impact on mine.
I've had the privilege of meeting 6 West Virginia governors, interviewed 5 of the 6 and was invited to ride on the campaign bus with 2-time Republican Governor Cecil Underwood.
Those were great experiences, but, "So?"   I've met and interviewed a number of state politicians and U.S. Senators. "So?"
However, 2 scripts I am proud to have in my possession are actual autographed speeches from the late Governor Cecil Underwood (speech given at dedication of new addition to HHS) and the late U. S. Senator Robert Byrd (last speech given at Augusta Fire Hall).
I have been privileged to sit in on and cover a session of the West Virginia State Supreme Court and have met a number of the Supreme Court Judges.
I've covered high profile murder cases and have covered late-night election returns in the same courtroom. Not at the same time, of course. My question now is, "So?"
I've driven the highways from Maine to Florida and traveled as far west as Omaha and Iowa. "So?"
I've officiated the funeral services of some of the wealthiest people I've known as well as some of the poorest folks I've known. I've preached the funeral services of many of my relatives, most of my brothers, my sister and my parents.
None of these am I proud of, whether rich or poor, family or friend. It is not an area where pride can have a part. For these I don't ask, "So?" I only pray that something was said that helped someone get through a very difficult time.
If it seems I've used this column to toot my own horn, then this column has been misunderstood and for that I sincerely apologize.
I have been blessed to have had many of the opportunities and experiences I have had. I've made my share of mistakes in my young adult life, none of which I am proud of.  I am a testimony to the fact that God is the God of a 2nd chance.
Even more so, God is the God of another chance, for I have made mistakes. I cannot boast in myself. I have nothing to boast of.  But it's not so much how we have run the race, it's about how we finish the race that counts.
I, like so many others, have had to throw myself on the mercy of God, repent and allow God to do what little bit He could do with me in the twilight of my life.
I have listed the things I did, not to boast, but to point out that I could not do enough to make up for my failures and my downfalls. The Bible says, "not of works lest anyone should boast." (Ephesians 2:9)
Our salvation is a gift by God's grace. We can't earn it. We can't buy it. Nothing I mentioned that I've done impresses God.  
I've never raised a young man from the dead, I've never touched the face of a man eaten up with leprosy or forgiven a man of his sins.
The one thing I have done in life that really counts is to have called on Jesus and ask that I be forgiven of my sins. And if I have in anyway helped someone find their way to Christ, then my living will not have been in vain.