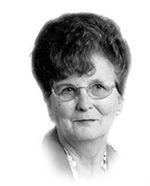 Thought: "Old age is like anything else. To make a success of it, you've got to start young." – Theodore Roosevelt.
You know, when I read this, I thought it was really true. If you stop and think, you are born as a baby to parents that fed you, clothed you and sent you to school. For yours truly, I married, raised a family and worked to help my husband and the children. Now, they are married and have families of their own, and now, I am both a grandmother and a great-grandmother. I have had a wonderful life. God is so good to all of us, and we have so much to be thankful for.
I wondered what to write about today. I went to church, and then went to J.J.'s in Rio and ate a super good lunch. I saw a lot of folks that I enjoyed talking to. Winter is now behind us; it was in the 90s both yesterday and today here in Rio. If you are able to, get out and enjoy the warm weather.
I opened up my iPad and there were pictures of Diana Parker and Reggie Shoemaker's wedding taken 40 years ago in the Bean Settlement Church of the Brethren. That church is over 150 years old, and it is still here today. The pictures tell it all, so Happy 40th Anniversary to Diana and Reggie; we wish you many more years together.
While I am talking about pictures, they are a wonderful way to learn more about almost everything in history. I love the old saying, "Every day we should learn something new, or the day is wasted." It is something to think about.
Deepest sympathy to the Joyce Dove Nichols family in Rio, and to anyone else that has lost loved ones.
Happy 9th Birthday to our great-granddaughter Natalie Charlton on May 24. She is the daughter of Joseph and Amy Charlton. Our great-grandson Camden recently celebrated his 5th birthday on May 16. This past Thursday he graduated from Pre-K, and next year he will be off to kindergarten. We are proud of you; keep up the good work.
Congratulations to all of the seniors graduating this year. Our grandson Jonathan Yonker is among the graduating seniors this year. We are so proud of him. To all of you: good luck in your journey in life.
If you have any news, please call. Until next time, enjoy each day, and God bless.