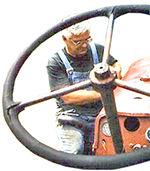 This will be the last installment of this column in 2017. The next will be on Jan. 3, 2018. Such an occasion is commonly thought to be a time of reflection — another year gone by (sigh).
During this move to a new home, office and shop, I came across one of the 1st stories of any length that I wrote and published. "The Return of Cow Patty" appeared about 20 years ago in This Old Truck Magazine. The magazine is now Vintage Truck. As the story goes, when the magazine became increasingly popular, it was feared that Bob Vila's lawyers would make some rather forceful suggestions regarding the title.
Anyway, the story was about an older fellow's thoughts (mine) while demolishing the old, rotted wooden truck bed on our 1954 Chevrolet truck in order to replace it. But the story has a story.
I typed it up on my 1940s Remington typewriter and sent it away to This Old Truck. I was very new to this business so expected to hear back from the magazine within a week. Silence. I was beginning to wonder if it somehow hadn't made it out to the Ohio publisher.
Still, I hadn't received a rejection letter, either. (I know what these look like through extensive research.) When it didn't appear in the next issue, I panicked; maybe somebody swiped it and I'll see it published under another name.
Almost providentially, or so it seemed, I saw an advertisement announcing a nationwide poetry contest. The ad went on to boast about how this particular agency held the keys to the fast track to national publication and that they had already been responsible for scores of poets gaining fame and fortune.
Hot dang. I condensed "The Return Of Cow Patty'' into a sort of prose poem entitled "Woodsmoke in February" and sent it in.
There was a very specific word count but I was sure that art such as mine would be afforded a waiver. Yes, I was quite new at this.
I soon received a letter of congratulation — I had won! The letter went on to explain that, at this stage in the process, I don't necessarily get a trophy and a contract. I had been bumped up from "contestant" status to "prospect."
"Prospect" meant that my work would be considered for an upcoming anthology and that their staff of editors was looking it over for the purpose of subtle improvements that I would surely agree with.
I bristled at this — such innocence. In the ensuing 20 years, I would learn not to care what publishers do to my work as long as their checks don't bounce. (So far, none have, although one publisher, Reader's Digest, of which the Reiman Media Group is a subsidiary, was in bankruptcy for a while. I no longer receive updates on these proceedings so they must have pulled themselves out of it.)
Anyway, I received my edited copy of Woodsmoke in February.
The only change was that it was lopped off abruptly at the word limit. Also enclosed was a letter congratulating me upon becoming a "laureate" and that my poem was destined for the anthology once the legalities had been settled. Also in this large envelope was a very official-looking contract to establish that I was indeed the author and that this company had my permission to use my work in their upcoming book.
I've since learned — painfully in one case — that generally, such contracts are unnecessary. Perhaps it was to ensure that it was my work and not ripped off. The "contract" would also direct the heat to me if my submission was found to have been plagiarized from someone else's work and the Feds came knocking.
I would later realize that this outfit was just trying to make me feel important and to set me up for the next stage of the game. Still bristling over their job of "editing" I held off sending the contract.
I was beginning to smell a rat. Nonetheless, wondering where this would all lead, I filled out the contract but cleverly "forgot" to sign it. I sent it in and waited. Soon, another letter arrived. Apparently, the unsigned contract satisfied their legal department.
The letter announced that the anthology would be ready for distribution in the following autumn. I had been selected to be among an exclusive number of authors who would be able to purchase the book at the special author's discount if I sent $133.36 within the next 30 days. Also, for another $45, they would include a cassette of the anthology read by "acclaimed radio personality" Andre Barouchnikov. (Am I supposed to know this guy or what?) So this turned out to be the ideal "contest" — one where everybody ties for 1st place.
I finally caught on that the idea was to flatter the socks off aspiring writers while giving us a glimmer of hope, then sell us a book at an inflated price.
Our egos would presumably fill any gaps in the plan. We could then show the book to friends and relatives, remembering to hide the receipt, of course.
Then came the letter of acceptance from This Old Truck Editor Tom Brownell. "Cow Patty" was going to be published in the magazine after all. I thus had the rare pleasure of withdrawing my poetry contest submission. In so doing, I also directed their attention to the unsigned contract. My explanation was that the work in story form had been published for real.
I never heard from them again. I've been keeping an eye out for their poetry anthology at yard sales and thrift stores, but so far there have been no sightings. Maybe other contestants caught on early in the game and the project had to be shut down.
Unless it's taken on another form, their advertising has ceased.
Oh well, I guess we'll never know.
First published Dec. 27, 2017