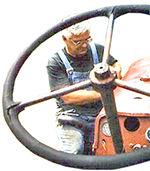 I've been a real bum this summer. One of the benefits that seniors receive as a result of FDR's New Deal along with this column, my magazine columns and a couple of mowing gigs made this possible. Tractor repair work has been limited to emergencies until the weather cools.
I learned to love the summer heat when I discovered I was meant to work outdoors. If I was picking peaches in 1980, I probably would still feel that way. However, the heat and humidity of late just isn't natural. Those who wish to deny this phenomenon are welcome to do so all they want. However, having worked outside for as long as I have, I'm part of the climate myself defined as "a prevailing condition in human affairs." (American Heritage Dictionary)
OK, I know that's quite a reach, but it's interesting that as the earth warms, the definitions of "climate" grow closer together.
Anyway, I had a scary experience with heat exhaustion early in the season followed by another, more serious episode in early August. That does it — it's just not worth getting too far from the swimming hole. In recent years, people have asked how I endured the heat. My reply was that I had no choice. That's not the case now — hence my summer bumhood.
Eighty-eight-year-old Pete Carper lives at Sunnyside, just outside the Winchester, Va., city limit. Since retiring from Exxon/Mobil, he's been restoring antique tractors, collecting old tools and, in general, as he put it, "aging gracefully." Pete had volunteered to pull a hayride at his church's annual picnic.
However, his 1940s John Deere 40, the proposed hay ride tractor, had mysteriously ceased to run. That someone with Pete's skill would call me seemed a little intimidating. Anyway, this was, by definition, an emergency. I told him of my recent experience with the heat and he agreed to keep lots of fans going in his spacious, airy garage.
An initial diagnosis led me to a sunken carburetor float.
These sealed brass floats are what makes a carburetor a carburetor and they must be able to float in order to operate.
Over time, they may develop a hole that allows gasoline to enter and the float to sink to the bottom of the carburetor. This causes flooding that just won't go away.
It's been interesting to watch the progression of carburetor float history. Thirty years ago when I first started working on tractors full-time, only the floats in pre-war era tractors were sinking. As time went by, late 40s' and early 50s' tractors followed suit. By the time late 50s' tractors started to chime in, I had already made float replacement a routine part of all my carburetor re-builds.
We called the local John Deere people and ordered a replacement float. The new float would be there in the morning. So ended my tractor repair day. I had anticipated this early knock-off so had already decided to go to the Addis property near Berryville and mow the yards and creek-bottom field with the 1947 Ford 2-N. As long as the tractor and I keep moving, the slight breeze keeps me from overheating while mowing.
It apparently hadn't rained in that immediate area for about 2 weeks. The crunchy brown carpet of grass at the Addis place clearly didn't need mowing. No problem. A short trip through the back roads would bring me to Unison in Loudoun County, "storm central." Precipitation is pretty reliable there even if it does sometimes arrive as regulation softball-sized hail.
I arrived at this private 300-acre 1950's farm museum to find that some of the family were there for the week. I was invited to have lunch with Martha Crane, who had grown up on this farm and her husband the Rev. Steve Crane (aka Reverend Deadly).
Both Martha and her brother John possess an incredibly clear mental history of the farm. This includes history that predates their birth. As they relate these stories in vivid detail, one is inclined to gaze about the place for evidence of the recent events described. It's about then that they'll conclude with something like "that was in 1936, the same year that …," then launch into another story.
I can listen to this all day — which is what I nearly did along with an excellent chicken salad sandwich, potato chips and a Coke. Martha had finished the mowing with the 1949 Farmall C.
There would be no mowing for me today. The day didn't represent much profit, but I wasn't about to starve.
The float for the John Deere carburetor arrived the following morning and, with some other adjustments, Pete and I had the old 40 popping away by lunchtime. We settled up and I left.
I had plans for lunch at Jordan Springs Market at Stephenson. This market-restaurant is owned by Austin and Olivia Landry.
The reader may recall a write-up in the Review about Austin restoring a local barn. Moreover, their barbecue is famous up and down the Shenandoah Valley. The Landrys had let me use the cylinder head from their 1951 Farmall H for a tech article in Antique Power.
The deal is that anyone who helps with an article gets acknowledged in the photo caption and a free copy of the magazine. I hoped that by giving Jordan Springs Market national recognition, I might earn a burger and fries. I drove to Stephenson and delivered the magazine to Olivia at the store.
Something was sizzling on the griddle that smelled very tasty.
I asked if they were cooking burgers and Olivia explained that they were making steak-and-cheese subs. I ordered one.
"Foot-long or six-inch?" she asked. I couldn't see driving with a foot-long and a standard transmission so opted for the six-inch. She let me have it on the house, but notice that she asked whether a foot-long or six-inch before doing so. They're smart people, those Landrys.
I have a Jordan Springs Market sticker on the back of the Old Black Truck. Austin said that if it should somehow appear in a photo in my tech column in Vintage Truck Magazine, that I would get free lunch for a week. I'm working on it — though I never expected to be doing endorsements. I'm just working for food.
First published Sept. 14, 2016