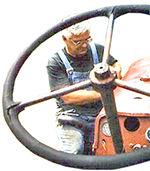 I've kept a daily journal since sometime in 1994. These volumes conclude around 2012 when I started publishing enough to realize that the flow had reversed direction. The idea was to use these journals — someday — as story material for columns like this one. So  — what am I still saving them for now? This is it. Let's look in on this week 15 years ago in the year 2000 when our most memorable national catastrophes were still Mt. St. Helens, Three Mile Island and the Kennedy assassination. Though the term "terrorist" had been around since Boris and Natasha, "terrorism" still hadn't entered our day-to-day vocabulary.
Any reader who may have harbored doubts about me being certifiably nuts can abandon them as I describe how I arrived at the name of the character in our title. The name refers to a 1939 International truck that I found more or less abandoned in the woods. I tracked down the owner, and he gave me the truck.
In the year that followed, I made regular visits to the site, got the truck running and drove it home. The story of the truck's rescue later appeared as a feature article, "The Long, Slow Journey of an Old Farm Truck," in Farm and Ranch Living and in another version, "Backwoods Truck Revival" in Vintage Truck.
The Green Diamond "flathead" 6-cylinder engine bore no exhaust system other than the engine's rusty cast iron manifold. Part of the floor was missing, which made for a very noisy driving experience. "Joplockajoplocka" was the sound that the engine made at idle. Mice had carried away any remnant of upholstery or headliner from the cab. When one revved the engine to engage the clutch, the noise would reverberate throughout the tall, sinister rust-encrusted cab. "Japloooon" was the resulting sound that was just as much a sensation as a noise. I played with the spelling a little when we named the truck.
Anyway July 4, 2000, found us, still a family of 4, far from the current empty nest situation. We had just arrived home from a week long in-law visit at their fancy gated South Carolina lakeside Republican community. That place gives me the willies. Remember that TV program, 'The Prisoner?' It was about an American fellow of some political significance imprisoned on an island where the Russians try to brainwash him by making his surroundings way too perfect. Anyway, it's great to be home.
We're catching up on yard work. I'm mowing with the vintage 1968 Sears Suburban (Roper) tractor. Firing up the '39 International (joplockajoplocka-japloon) was necessary in order to access the grass under it. It being a holiday and conducive to such antics, I drove the old truck up and down the road past a local keg party much to the delight of everyone there.
There was a fireworks show in the community that night. The late William McCauley and I also engaged in our yearly bottle rocket battle where we try to get rockets to explode over each other's yards. Having just come from South Carolina, I had some pretty effective ordnance. However, as usual, I found myself outgunned.
The tractor repair route was similar to today with the exception of runs to the Front Royal area and West Virginia. These days, I just can't seem to get out of Loudoun and Clarke. Anyway, the Old Black Truck's travels then included visits to now nonexistent shops and tractor dealers. Some nostalgic farm and gear head stirrings are inspired by names like Bloxxom Electric, G.L. Dunn & Son, High View Sales, Tutwiler Tractor, Sandy's Implement.
Sandy's was the local Massey Ferguson dealer near Stephens City. This week's visit was in search of some hydraulic system parts for a Massey Ferguson 1100, a hay field emergency — something else I now manage to avoid. Raymond "'Buzz" Sandy was unable to get the parts in a timely manner. The farmer's son was then dispatched to a tractor salvage yard and used tractor dealership deep in the Pennsylvania Amish country in order to fetch the needed parts.
The field where the equipment rested was dry hay stubble that shone a pale yellow in the hot July sun. Since I was there anyway, it was decided that I would perform maintenance on the tractor and baler. The round baler service included the removal of a hardened steel drive chain link or 2. Out came the air powered handheld angle grinder, which easily cut through the flinty metal.
Another farmer stopped by to visit and both looked on as I reattached the shortened chain. A crackling sound 20 feet away drew our attention. A spark from the grinder had ignited the dry stubble. It took the 3 of us and some first rate stomping to extinguish the rapidly spreading blaze.
As little was being accomplished at this site, the visiting farmer asked my customer to join him for lunch at the restaurant across the road. I saw the fellow leave. "Aren't you going?" I asked my customer, always preferring to work alone. "No," he replied. "I gotta stay and 'stomp fahr'."
Unbeknownst to me, as I made the repair to the 1100, a second trip to Amish country had been arranged. The result of this trip was my customer's purchase and transport home of a large, 4-wheel drive late model Massey, complete with a cab. I felt somewhat responsible for this sale.
In the days to follow, I had occasion to speak with our Amish friend. "Jonas," I said, "It looks like I sold a tractor for you. Is it too late to talk about my commission?"
"Well," he began slowly but dismissively. "It's never too late to talk about it."
Japlocka Japloogn was eventually sold to a collector. This fellow was an Englishman and made sure that I knew it (heck, I would, too). However, like America's all-time favorite Brit, Bob Hope, he had no accent. I suggested that he fly to London — preferably the South Side — and practice up.
First published July 8, 2015