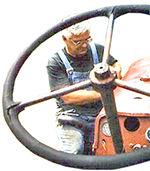 Tractor-trailer loads of wooden bins filled with green/yellow apples have been rolling into the cold storage and apple processing plants for about 2 weeks now. Even with the recent expansion of Winchester, Va., this area on the town's north end is still easily accessible by heavy truck. However, these early loads, numerous as they may be, represent a mere tip of an apple picking iceberg.
Today, only remnants of Whitham Orchard can be found in the form of rows of apple trees in neatly trimmed suburban lawns — the community that now covers the orchard reposes on a high ridge west of Gore, Va. The view to the west ends abruptly at the first high ridge in Hampshire County, Sandy Ridge between Cold Stream and North River Mills.
I was advised to arrive early on that first day of the "real" apple harvest of 1980. I call it real because this, the day after Labor Day, is the day that the Jamaican pickers' contract goes into effect. I was to ride the orchard's labor transport bus to the labor camp with my immediate supervisor, John R. "Bob" Whitacre. We would be taking turns making this run, and I was being shown the ropes. I was off to a slow start this morning in part because I had worked late the previous day helping to put a new clutch in this old yellow 1963 Ford retired school bus. We also had some "expert" help from one of the new seasonally hired tractor drivers, so the job took twice as long as it needed to.
As we crossed the tracks at Hayfield, the Ford's hood flew up blocking the windshield. Whitacre stopped the bus and ordered me to close the hood and tie it down with a picking bucket strap. Fortunately, none of the mechanism was damaged and the latch engaged firmly. All of this was probably the fault of tired mechanics, but I had observed this tendency in Fords of that vintage before. (Later, Whitham Orchard owner Gordon T. "Tom" Whitham wryly commented that there should be a recall.)
At the camp, on the north end of Winchester near the community of Sunnyside, Bob pulled the bus past the open gate and parked near the long, white barracks-like buildings. He briefly communicated with a fellow at an office window. The public address system crackled to life, and a heavily accented male Jamaican voice said something unintelligible except for the name of the farm, pronounced "Weet-Ham Archard."
One by one, the men boarded the bus where Bob had already occupied the driver's seat. This made for a good vantage point to check each name off his list so that all were aboard before we departed. Again, the elegant island accent as they greet their old friend Bob, "Good mahrning, baas mon."
At the farm, we stopped at the big red barn (Today, apart from the house across Route 610, this barn is the farm's only remaining structure.) where picking buckets and ladders were distributed. The picking buckets were numbered to correspond to numbers already assigned to the pickers. These numbers were assigned to insure that each picker is credited for the volume they picked.
Ladders are another matter. These were still the days before dwarf and semi-dwarf trees. Apple trees were much taller then, and the selection of which ladder one would be spending the season using was critical. The choices might include lengths of 20 feet, which was standard, but some pickers preferred the extra reach of a 24-foot ladder.
Wood or aluminum — many pickers felt that the metal ladders didn't work as well against the limbs and branches. I agree — though lighter and with steps rather than rungs being easier on the feet, one always seemed to be fighting limbs in order to safely set the ladder. Wood on wood just seems to work more smoothly. Always the last to be chosen was the wooden ladder with square rather than the usual round rungs. I often wondered about this and tried to champion the cause of these ladders. "Got a good ladder here," was always met with, "No thanks, mon."
It seemed to me that the flat rungs would be easier on the feet. It was not until I picked for a season at another orchard using one of these ladders that the mystery was easily — and painfully cleared up. A square presented at the angle of a ladder when in use becomes a diamond shape with a corner digging into the soles of the feet. No thanks, mon, indeed.
You may have noticed that the apple growers are using foreign workers and are even accommodating them with housing and transportation. Any among us who are idle because "foreigners took all our jobs" are reminded that because the growers use foreign labor, they are required by law — as of yesterday — to hire any American citizen who applies for work — tools and training provided. Get ready to walk the walk. However, growers are not required to keep you on if you make a mess of things.
A middle-aged couple arrived at the orchard to take advantage of this arrangement. They were inexperienced and because they moved so slowly, we assigned them an area away from the fast moving Jamaican crew. They were picking large Golden Delicious apples from smaller, younger trees that required a minimum of skill with the ladder. I was to regularly ride out to their work station on the tractor to move their slowly filling bin.
They were supposed to be picking the fruit with minimal bruising and stems intact. The apples in their bin were bruised almost beyond recognition without dental records. Few, if any stems accompanied their host apples. In my naiveté, I presumed that since they were out here at all, they wanted to do good work but lacked the experience. I watched briefly as they clawed the apples from the tree and dropped — rather than placed — the delicate yellow fruit into their picking buckets. I saw the problem and classed them on proper picking, including a demonstration. Lifting the apple and thus breaking the stem from the branch is actually easier than simply pulling.
My efforts were met with low unintelligible grunts, blank stares and shallow grins. (I was assured that they spoke English.) As I left, they shrugged and went right back to clawing and dropping. The desire to excel at any given task was obviously an alien concept to them. I informed the manager of the situation, and the couple was soon dismissed. He explained that they were sent to us by the welfare people. The objective of their workmanship was to get fired so that they could go back on the dole. As it turned out, the outcome was in everyone's best interest.
Sometime over the ensuing 33 years, I read their individual obituaries — him first then her following several years later. The orchard's manager, Robert Ridenour, is gone as well. I heard that he was buried in the Sandy Ridge Cemetery, and as research for this story, I stopped to look. His mom and dad and younger brother are there as well as some extensions of the Ridenour family, Carters and Zirks.
Though I'm aware that the dead are conscious of nothing at all or "know not anything" (Ecclesiastes 9:5, KJV), it still felt natural to say, "Howdy, Jake" when I came across Everett Swisher's headstone. But still no Robert. I'll have to ask my Ridenour family historian, Peggy Whitacre, about that. A small mountain graveyard is especially peaceful this time of year with cicadas singing high in the treetops dappled sunshine on 19th century headstones. Sometimes I still wonder if that couple ever got to know the satisfaction of a job well done. But that was a long time ago — I guess it really doesn't matter now.
First published Sept. 3, 2014