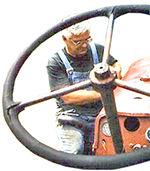 I have virtually no experience in the beef cattle business. There, I feel better having finally made that confession. In addition, I have only 1 (one) tractor repair customer who is a full-time cattle farmer and not retired from some secret branch of the federal government. Of course, all of this calls my qualifications as a writer of a farm column in West Virginia into question. In my defense, though, I here state my cow qualifications, few though they may be.
The prosperous New Jersey Dutch and German dairy farmers hosted the healthiest cows on earth. Their acreages of corn and hay were endless and their white barns, milk houses and spacious homes always immaculate. Many of these farms were established in the 1600s that were often proclaimed on the signs at the end of their lanes, which also bore their names: Heinkel, Van Nuys, Esch, Van Cleef, Wycoff.
The French and English would come later; then the Irish would arrive still later to dig the Delaware and Raritan canal. Local legend suggests that some of these Paddies never left the jobsite but died on the job and were buried under the towpath like so much fill. Last to arrive to farm the land before the area fell to development were the Czechs, Latvians, Estonians, Lithuanians, Russians and Poles. These were collectively referred to by the Dutch and Germans as "Polaks."
After crossing an ocean full of German U-Boats, my grandparents arrived at Ellis Island from Lithuania. There, they were greeted by a recruiter working for an Appalachian coal operator. They soon found themselves in a coal camp at Buffalo Creek in Logan County, West Virginia.
In addition to working in the mines, Prohibition afforded my grandfather the opportunity to found a bootlegging operation and amass a considerable fortune for the time. However, it wasn't long before Italian competition made its presence known in an outspoken way. Chicago hosted the country's largest segment of the Lithuanian/American population. So it may have been news of the events of Valentine's Day 1929 that inspired my grandparents' sudden abandonment of their lucrative enterprise.
Their fortune allowed them to purchase a 170-acre farm near Princeton, N.J. My grandfather milked a small herd. This was in the days of those huge milk cans and prior to the milk being collected from the farms in bulk. I can easily recall seeing those platforms along country roads where the cans awaited the Farmer's Cooperative truck. Each platform bore a metal plaque proclaiming membership.
When the milk collection went to bulk tanks exclusively, the family decided not to update their system to accommodate this new method. The herd was downsized, as were the poultry and pork operations. The farm's sole purpose then was to be a source of meat, dairy and general farm produce for the extended family.
The farm's financial needs were met by contributions from my dad and uncles who were now all working in manufacturing. We still made some hay and filled the old wooden corncrib by hand every year.
By the time I became old enough to be aware of my surroundings, my dad had built a house in an outer pasture of the farm. The house and yards were surrounded by a post and rail fence to keep the cows out. Since the house was on the cows' way to the creek, they often stopped to visit by the fence to see what we were up to. I'm told that I used to toddle out to the fence to visit them.
There was an area outside the fence that was devoid of topsoil, a patch of red dirt and shale. Little children liked to play there. Any toy left outside the fence was doomed to a most undignified fate. Of course, the curious cows would have to examine this strange new object in great detail. Having completed this inspection, they would invariably turn 180 degrees to look across the pasture and speculate about what their next adventures might be. Their discharge of several pounds of ultra-processed pasture grass must have aided their thought process.
The subject of the New Jersey pasture patty must not be taken too lightly. They are, after all, indicative of the health of these once famous dairy herds. Walking out to the school bus, a careless boy could go ankle deep in an instant. Down into the dark mass would go Buster Brown and his little dog, too. In later years, while walking home across pastures from after school detention, the same would happen to my pointy-toed, tiger print lined Thom McCanns.
I don't see cow crossings anymore. During these maneuvers, traffic on the roads had to stop while a long column of cows crossed from one gate to another across the road. Of course, beef cattle don't have to be returned to the barn to be milked. While waiting for this column to pass, if there happened to be a bull in the ranks, he would normally wait until he was in the middle of the road to make his amorous move toward the cow ahead. He didn't always pick the best time. In at least one instance, the waiting car contained a seventeen-year-old fellow on his first date. The farmer would then break this up in order to keep things moving.
I don't recall any further cow related experiences until the Old Hippie and I were married and living for a while in the log cabin she built near Woodstock, Conn., an area with several small dairy farms. We had driven out to a secluded pond in my 1956 Chevrolet panel truck. We swam for a while then drove toward home.
We rounded a bend to find a cow crossing operation in progress with a farmer in attendance. I was becoming known locally as someone who didn't mind hard labor in the hot sun and could fix equipment, too. I was at loose ends — mainly by choice — and farmers knew to look for my familiar red panel truck when in need of day labor. The farmer walked over to chat with us and to discuss future employment in the hayfield. It must have been the bull's day off. It wouldn't have mattered anyway. This wasn't our first date by a long shot.
Fast forward to a year or so later and the gentle pasture land near Corydon in southern Iowa. A small family milking herd would make its daily commute past our place, temporarily shutting down the narrow dirt road. "If you're going to town, you had better do it now — it's almost cow time."
This is great ring neck pheasant hunting country. I was taking the J.C. Higgins' 12 gauge for a walk, making a beeline across the pastures to a field of corn stubble nearly a mile away. We rented the big drafty farmhouse from a relative, a local veterinarian. A cattle rancher leased the 2,000 acres of pasture and crop land.
Ascending a steep hill (for Iowa) I emerged onto a wide green plateau. Green, that is except for the sea of Black Angus ahead, yellow ear tags dangling and all eyes on me as if awaiting orders. I had never been in the presence of so many cows before and didn't know if it would be advisable to just forge ahead. Would the crowd part and a bull or dominatrix cow step forward to confront me?
Since childhood, whenever in a cow pasture, I've been in the habit of constantly gauging the distance to the nearest fence lest an aggressive bull suddenly appear. In this instance, though, I had been remiss in this duty. In so much space, one can forget that there are cows around somewhere — even herds as large as this. My fence sonar told me that the nearest fence was a quarter mile away. Great.
I plotted a course to the north around this huge throng. As I moved in that direction, so did the herd. The same thing happened when I tried a southerly route. I stopped — they stopped. We stared at each other. I turned and headed back home. I had to laugh at myself while hundreds of curious, gentle cows calmly and meekly followed me as far as the fence.
First published Nov. 27, 2013