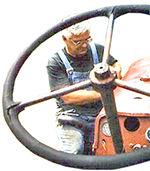 Betsy Frankhorn is the name given to Hampshire County bus 76. I don't know the origins of this name other than it was suggested and voted upon by the bus's passengers. I can only hope that it doesn't have any inappropriate connotations. These days, it's very difficult to keep abreast of current trends.
A yellow index card bearing this name was attached to the center of the dashboard. This sticker had to be removed during 76's final cleaning before being turned in at the bus garage for the summer. If one of the students who rode 76 last year and was responsible for the name should want to "plant the flag" so to speak, then it is suggested that he or she have such a sticker at the ready this Thursday morning. It will, however, still be subject to a vote.
In 2011, the Review carried my story "The Passenger's Guide to the Old Hippie Bus Driver." (I think the Review posted it this week alongside this story on the website, hampshirereview.com) But there's more — good grief, is there ever more — to tell about that silver-haired character at the front of the bus; Betsy Frankhorn's driver and my wife, Stephanie Kalvitis.
She was born Stephanie Manka, Jan. 24, 1955, in Ames, Iowa.
She has no middle name — her father didn't like to leave any room for argument. (Something I would learn all too well many years later.) She was then quickly whisked away to Heidelburg/Manheim, Germany. She learned to speak German before she learned English but insists that it's all forgotten.
I'll bet she speaks German under hypnosis, but the extent of her German would only be things relevant to a toddler. Still, I'm looking for the opportunity to sneak up on her with a pocket watch on a chain. And speaking of things German, Betsy Frankhorn is powered by a 6-cylinder turbocharged Mercedes Benz Diesel.
Stephanie's dad was one of the early IBM execs so the family moved quite often — mostly around the Midwest. Eventually, though, Big Blue would move them to the rurals around Princeton, N.J., where she and I became acquainted. She served her last semester of high school there. Though she attended Montgomery Township High School for only those few months, she left behind a rather large outdoor art project that bore her name for years afterward and may still be doing so today — leaving students wondering "Who the heck is Stephanie Manka?"
She next attended the University of Connecticut, majoring in fine arts. Now any normal person would live in the dormitory provided by the university — but we're not talking about a normal person here. Using only an axe, she felled enough ash trees to build a log cabin in the vast wooded area around West Woodstock, Connecticut. My first impression of the area was that it was stuck in the 1940s. By coincidence, one of my Virginia tractor repair clients is from there and goes back to visit on occasion. She says that the place hasn't changed.
The roofing, flooring and windows for the cabin were scavenged from the local dump. A quarter-mile foot path led to the cabin from a rural tar-and-chip road over which the nearest electric lines ran. The cabin, of course, had no electricity or plumbing.
Between this cabin and similar situations in other parts of the country, she would spend a total of 7 years completely off the electrical grid and about 12 years without indoor plumbing. The nastiest outhouse doesn't scare her a bit.
College was interrupted by marriage and children, of which there are 3 — all girls. We opted to live in her home state, Iowa, but after a year out there, the grandparents insisted that we move back east as we had their only grandchild. Due to overdevelopment of the rural landscape, my home state of New Jersey was out of the question. I had already established myself (I more often use the word "imposed") in West Virginia, my father's home state — so here we are.
Among other jobs, (She's an accomplished wood cutter, apple picker and wild game butcher) she worked as Hampshire County's 1st itinerant elementary school art teacher. She was very successful at this endeavor. Elementary and middle school arts education is doing well in Hampshire County these days. But it was Stephanie who blazed the trail.
After 9 years, her contracted services position was eliminated. Moving forward, Hampshire County decided to make art education a regular full-time teaching position. Stephanie would have to finish her degree in order to qualify. She enrolled at Potomac State in Keyser.
Though never expressing the slightest interest in entering law enforcement, she nonetheless took some criminal justice "cop classes," including firearms instruction. Cop classes also included criminal psychology and juvenile justice. Watch out, kids, she's trained to get into your head — but not without a warrant. My guess is that she just needed the additional credits.
The young future police officers in her firearms class all referred to her as "Mom."
She finished her degree in 2003. However, she discovered that school bus driving better suited her pursuit of other interests.
This brings us around to her ministry. Yes, she spends about 70 hours a month in a volunteer ministry and has a more vast knowledge of the Bible than the average pulpiteer. She takes a genuine interest in the total welfare of her passengers, some of whom are the children of her former art students. She loves the local sense of community. And she does windows.
But we're supposed to be talking about Betsy Frankhorn, the bus. Okay — speaking of windows, aren't Betsy's windows, with that space that's impossible to clean, really dumb?
First published Aug. 17, 2016