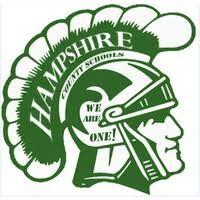 Hampshire's 2021 seniors get their marching orders
That all starts with graduation.
After feeling out the emotions of the seniors, the staff and the community as a whole, HHS principal Mike Dufrene landed on a fairly simple graduation plan: 4 tickets per graduating senior.
"It's just the right thing to do," he explained. "My commitment is to the seniors and people who raised them."
Last week, Dufrene met with seniors and HHS staff and presented a different graduation plan, a 2-part ceremony with graduates only on the evening of Friday, May 28, and an opportunity for family to attend an abbreviated ceremony the following day.
After considering the plan further and listening to the seniors, staff and families, Dufrene said he thought that having 1 event Friday evening with 4 tickets per graduate is just the better way to go.
"I feel much better about giving 4 tickets and letting (the seniors) decide who attends," Dufrene said. "In a perfect world, we'd be at 100 percent capacity, but I think it's still going to be a good day."
The graduation is going to take place on Rannells Field, and there will be a guest list at the front gate so family members can easily check in. The ceremony will also be livestreamed for folks who aren't able to attend.
Since the ceremony is planned to be outdoors at 6 p.m. that Friday, there's always the possibility that it might rain, but Dufrene has a plan.
Saturday, May 29 is the rain date for the graduation ceremony, and Dufrene said he's willing to adjust the ceremony if it means the class of 2021 can graduate on Rannells Field.
Worse comes to worst, Dufrene said, if it's raining on Friday night and there's no opportunity to squeeze in a ceremony between downpours on Saturday, the graduation will move indoors to the auditorium and be seniors-only.
"As principal, there are a lot of things I can control," Dufrene remarked. "I can't control the weather."
Along with graduation, there are 2 other milestone events for seniors planned in the upcoming month and a half: a Senior Day and a senior prom.
Senior Day, a cross between a field day and a senior picnic, will include food, music and games out on the football field. It'll be held from 10 a.m. until 1 p.m. on April 30, a Friday, so that all students and staff can be involved, including virtual students. Transportation will also be provided for students who may need it.
 "We want to make sure all kids are included," Dufrene said.
Prom is the next big-ticket item, and at the school board work session April 1, Dufrene went into detail about how it'll work.
It'll be held Saturday, May 15, from 8 p.m. until 11 p.m., and it'll be seniors only, with no guests and no underclassmen.
Dufrene explained that in his discussions with the Hampshire County Health Dept. and head nurse Rhonda Dante, it was recommended to keep the numbers of prom attendees as low as possible.
"We'll have it at the school so we can have it under our control," he said. " We can set it up how we want." The setup will include the gymnasium, the cafeteria and an outdoor portion in the back parking lot.
"At the end of the day, my focus is on our seniors and on their families," Dufrene pointed out. "You can't please everyone. We are going to give them something special."
He added that he has "confidence" in the plan for the seniors over the next month or so, especially when it comes to graduation.
"I'm thankful we have a school community that comes together to solve problems instead of complain about them," he said. "We're doing the right thing."
Depending on the state of Covid numbers in Hampshire County over the next few weeks, all senior plans are subject to change, and events like the Baccalaureate ceremony and the athletic awards are currently in the planning stage, and more information will be released as plans are solidified.