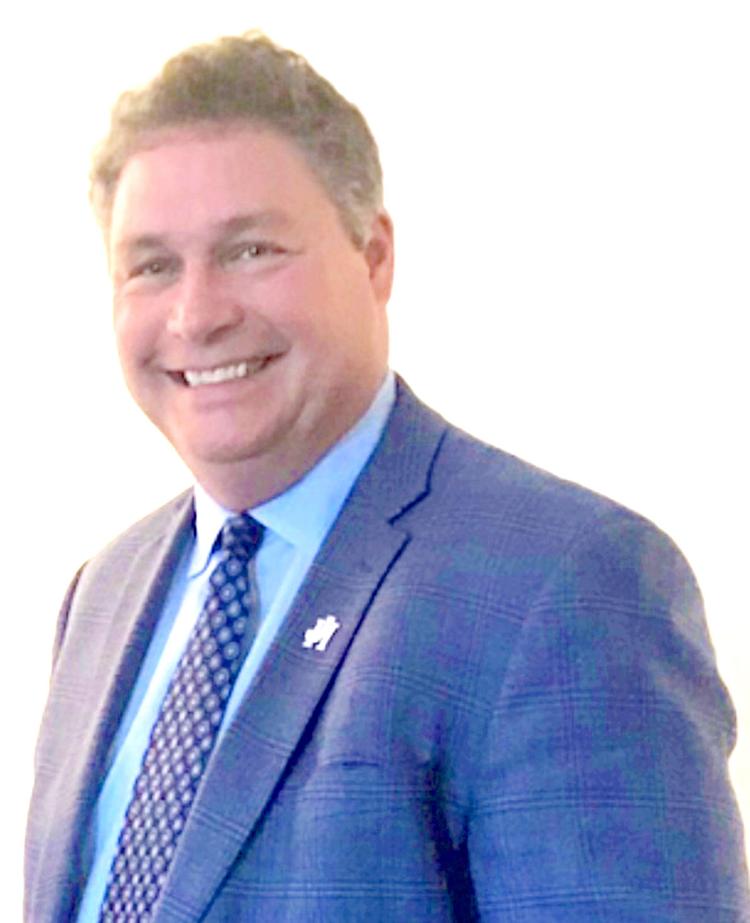 Hampshire High School's new man in charge values family, unity
New Hampshire High School principal Mike Dufrene is approaching his new position with a coach's mindset: family, teamwork and school pride are going to be front and center. 
Dufrene has been in education for almost 33 years, and while the last 5 years have seen him dressed in maroon at John Handley High School in Winchester, he's excited to don green and white and join the Trojan community.
"I've been in this business for 32 years, and I can honestly say that I have just as much passion now as I did in year 1," Dufrene said. "I love making a difference. I thought this was an opportunity to explore something that would really fit my skill set and allow me to do what I do well."
What is it, exactly, that Dufrene does well?
"I think you're going to find that my biggest strength is my relationship with my kids," Dufrene affirmed.
You don't have to take his word for it, either. In the week or so since the school board brought Dufrene on, it's been impossible to ignore the overwhelmingly positive response of the John Handley community to his leaving.
"If you've followed anything on social media about me leaving Handley, I think the community speaks for itself about how much we mean to each other," said Dufrene.
When Dufrene entered the education field almost 33 years ago, right after he graduated from George Mason University, he started out as a physical education teacher and head boys basketball coach. He was 23 years old.
He was then "Coach Dufrene" for 25 years, until he became "Principal Dufrene," finding that he could make a difference in students' lives as an administrator in the same way that he could as a coach.
It was just on a bigger scale.
"Teaching and coaching? I loved it. I loved seeing the results of my efforts," Dufrene recalled, saying that his best friend got out of coaching early to become an administrator, and at the time, Dufrene didn't understand it.
Now, Dufrene said, he understands what his friend meant: you can do the same thing with teaching, coaching and administration, if it's done the right way.
"I think if I would have gotten into administration early in my career, I wouldn't be here today," he noted. "I'm proud of the path I took. I worked my way up the ladder and earned my stripes along the way, and I'm extremely confident in what I do."
So, how will his coaching attitude transfer to his new position at HHS?
His first focus is on uniting the Trojan community.
"It sounds like I need to bring people together," Dufrene said. "I need to get everybody on the same page, with the same vision."
Without divulging some of his personal trade secrets, Dufrene said that several programs he began and helped facilitate at John Handley might be a good addition to HHS.
"I'm very big on student leadership," said Dufrene. "I think if I allow the students to have a voice, they're going to respond."
This unity is essential for a successful team, whether on the basketball court or an entire high school community. Teamwork is also a key element, and Dufrene explained that he feels like the staff at HHS is a solid start.
"I think we have some good pieces in place, we just have to put them in the right spot to utilize their skills," Dufrene remarked. "That's my job."
It doesn't end with the school staff, either. A cog in the wheel that's just as important is the HHS families, and Dufrene understands that.
At John Handley, Dufrene said that when he started out, there were only 4 or 5 moms in the parent organization at the school. Now, at the time of his departure from the Winchester school after 5 years, there are over 30 parents involved.
"It's just going around and meeting with the key players and building a team," Dufrene explained. "It's building a family. I believe in a family environment."
He and his wife are planning on moving to Hampshire County from Winchester, where his wife Holly is currently a 1st and 2nd grade teacher. While moving from Winchester Public Schools to being a principal in a tight-knit community like Hampshire might seem like a big change, Dufrene said that at the end of the day, kids are kids, no matter where you go, and he's excited about the change of scenery as well.
"I love the 1 high school system. I like that hometown feel," he said. "I feel like the high school principal of a 1-school community, every kid in this area is my kid. You don't have to even be in high school. If you're in 1st grade, you're my kid."
Dufrene officially takes over on July 1, and he acknowledges that it's going to be tough with the challenges posed by COVID-19, but he said he is working now to try to figure out a plan for HHS, whether they're allowed back on campus in the fall or if the virtual learning continues.
"I'm thinking about how we can get better now in preparation to open up the school year. That's the struggle everyone's going through," he explained. "I'm a personal guy. I want to see you face-to-face. When can we say hi?  When can we say 'hello' and hug again? That's going to be the biggest challenge."
Though Hampshire County is a bit of a change, Dufrene isn't shying away from the differences or the challenges. He said that he is working on his plan, and when the school year starts, he's going to be hitting the ground running, with the big-ticket issues and the little things, which Dufrene says "make the most difference."
Dufrene's track record, from discovering his love of kids when he was just a high schooler working at summer camps, to teaching and coaching for 25 years, and now with his years as "Principal Dufrene," shows that whether you agree with his approach or not, his passion for his students always shines through. He said that he would challenge anybody when it comes to working as hard as he does or caring as much as he does.
"You can't fake it, you can't buy it, it's not a class you can take in college," Dufrene said. "You have to experience it, and once you experience it, you're in. You can't walk away from it."