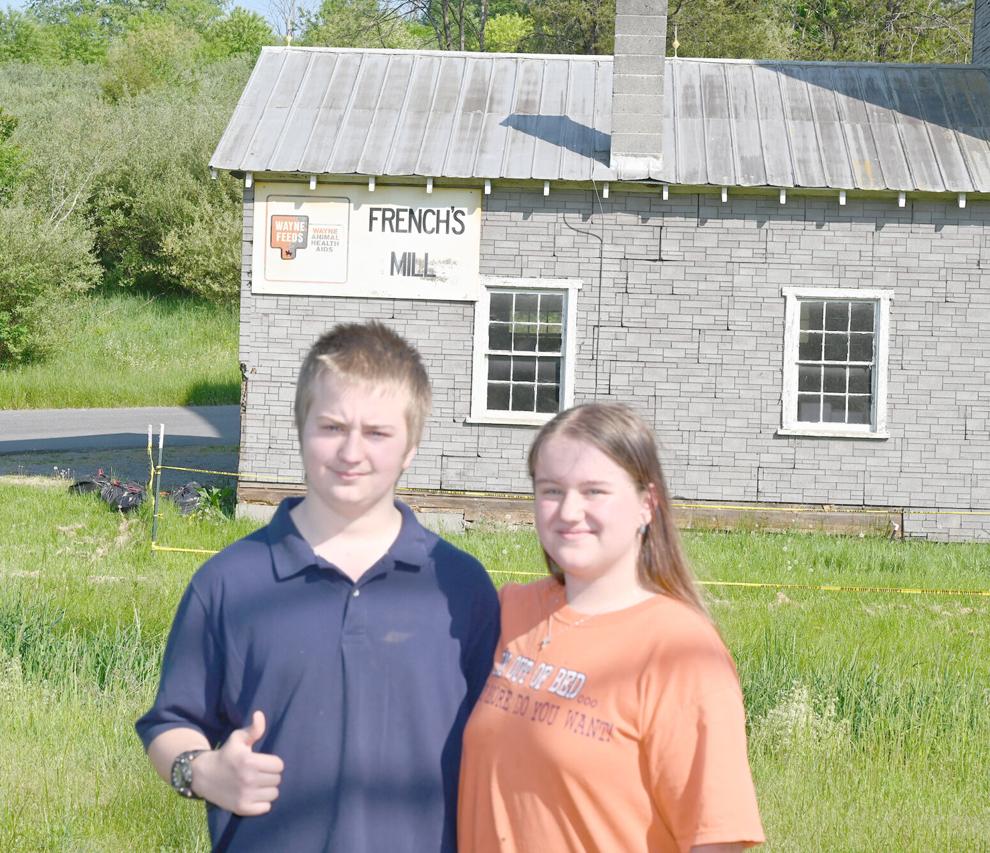 Young entrepreneurs envision a place to recycle and discover
The business that will occupy the mill belongs to her 2 children, Victoria and J.D., says Carole Croucher, who was working in the former garden shop across Fairgrounds Road last Friday. She explained her presence at the mill by saying: "I'm a volunteer."
Young entrepreneurs Victoria and J. D. Croucher envision an art gallery on the 1st floor of the old mill, with the 2nd floor entirely given over to a big train table featuring HO scale model trains.
The art gallery may include some of their own work. Their mother Carole points out the 2 have won national awards for their photography in a contest sponsored by the New Jersey Horticultural Society.
There will be some merchandise for sale on the floor with the model trains, but viewing the trains will be free — just an encouragement to draw people into the building.
Victoria and J.D. designed their business plan first, for a company titled RDSWV, LLC, long before they chose the mill as their location. RDSWV was incorporated last August.
Once this was done, they needed a place to implement their plans. They looked at house after house after house, said Carole, but none of them were suitable. Everything was in the wrong location, or had a layout that just wouldn't work.
Then they spotted a "for sale" sign on French's Mill. It was just what they were looking for.
The current mill was built for the Augusta Milling Company in 1911, replacing a mill on the site that was destroyed by fire. According to nomination papers submitted to the National Historic Register, the Augusta Milling Company was created by local townspeople and farmers who issued stock to raise the money needed to replace the mill they had lost.
Most old grain mills were powered by water, and the nomination papers report that old maps show a creek ran north of the site at one time.
However, French's Mill was originally powered by a steam boiler heated with wood, and then by an automobile battery. It was converted to electricity in 1949, the year before the current gray asphalt siding was installed on the building.
The nomination papers note that along with providing insulation, the siding would aid in fire prevention, always a concern in grain mills.
French's Mill stopped operating in 2000, but the machinery that powers it is still operational — turn the power on, and the whole building shakes.
Carole says they have no plan to use the mill to grind grain again.
Victoria and J.D. chose RDSWV as a name for their new business because it is an acronym for Recycle, Discover, Support West Virginia. The teens' business plan includes a little of each.
They will put out recycling bins for newspapers, cardboard and shopping bags, planning to reuse them to wrap and package merchandise.
Their "discover" activities will promote the Department of Environmental Protection's youth program, their mother Carole says. A handout promises information on subjects from art to history to science — "and much more," including monthly contests for children.
The project will require "support" from the community in the form of donations of "2nd chance" for the thrift store — unwanted items of all kinds, including produce from apples to zucchini.
The mill was purchased and the enterprise supported by their father Shaun, a long-distance truck driver working for an Iowa-based company. He is on the road 8-10 days at a time, driving out to the state of Washington or down to Texas.
Victoria and J.D. are still in school, being home-schooled by their mother. Victoria is old enough to have a new driver's license, and was out running errands last Friday.
J.D. is a year younger, and had taken a break from staining floors to try to get a business account set up with the FNB Bank — "not as easy as we thought," said Carole, who was taking a break with her friend Solveig Gruver in the future thrift shop.
They hope people will turn out to support them, donating and buying from the thrift store to help get their plans off the ground. Right now, any money goes back into stain and paint.
The old mill still needs a lot of work, and part of the surrounding area is fenced off with yellow tape. They put up the tape to protect themselves after being warned that they are liable if siding falls off the old mill and causes harm to anything or anyone passing by.
Everyone is hard at work, trying to get the enterprise ready to open. Once the thrift shop opens, they will make outside yard and flea market space available to others as well.
The smaller building across Fairgrounds Road gives them a place for the thrift shop that will help pay for repairs and renovations.
Carole says the building has gone through a lot of changes in the years since the mill was operational.
When the mill was open, it was used for mechanical work, Carole says. Then it was used for poultry, housing 500-1,000 turkey chicks. It has been used for storage, and as a garage.
As for the mill, Carole points out so many people have thought of buying it and finding a new use for it — for a gym, a restaurant, and all sorts of other ideas. Local people seem happy to see work being done to preserve the building and make some use of it.
The Crouchers hope to give French's Mill new life, and to open to the public by the end of this month. They will record the progress they are making with restoration on their new website, www.frenchsmll.com.