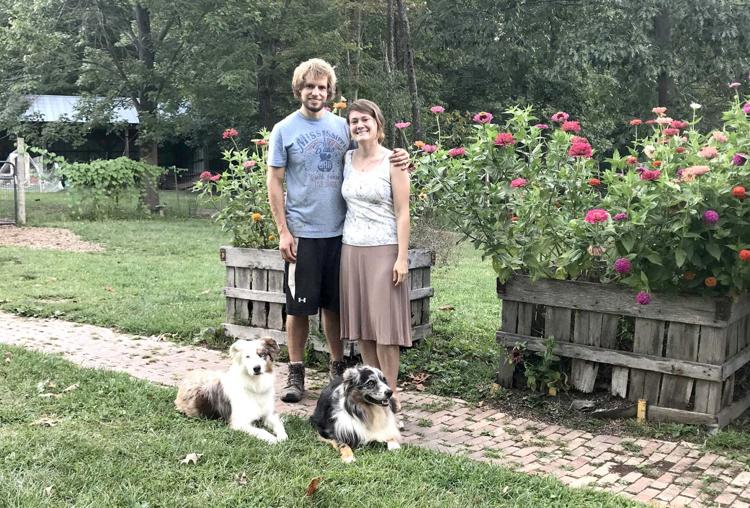 CAPON BRIDGE — Rooster Dirt Farm is a mushroom growing operation run by husband-wife duo Logan and Jess Peck who are currently based out of Cross Junction, Va. The two are planning to move their current operation to a 25-acre plot they recently purchased on Raging River Road near Capon Bridge. 
"I wish I could say the transition would be in the next year but it will probably take 2," said Logan Peck.
Jess and Logan, both 28, grow their mushrooms while tending to 3 pigs (1 of which is currently pregnant), 2 milk cows, chickens for meat and 350 pasture hens who output 120 doz. eggs a week or 17 doz. eggs a day. 
"We sell out of our eggs every week. My wife is an egg washing machine," joked Logan, 28, who grew up and met Jess in Pennsylvania. 
Rooster Dirt Farm sells their mushrooms in 5 regional farmer's markets and can be found weekly at the Winchester, Berryvile, Leesburg, Cascades and Shepherdstown venues. Farmer's Daughter in Capon Bridge also gets some "but they go fast," said Logan.
The farm's fungal output is a whopping 150 lbs per week. Mushrooms are currently grown in 25 ft. by 15  ft. space now, "But it's tight," explained Logan who added, "it all started from a 10 by 10 space in our basement." '
The farm grows 7 types of mushrooms; blue, yellow, pink and king oysters, lion's mane, shiitake and tropical pioppino. "We had our first success 6 to 8 months after we started, then it just snowballed from there," said Logan a former software engineer who quit his job last year to focus on the business fulltime.
Logan caught the mushroom bug early foraging for them as a young man. Five years ago after hearing drastically contrasting information about what's in our food he and his wife said to themselves "let's find a homestead and start farming ourselves. We were just tired of all the food lies."
And so it followed that the 2 added more and more around the farm.
"It just gripped us from the start, screamed at me. I got up early and was doing my farm chores and felt like I was being dragging away to my desk job." Today the pair does everything around their 5-acre homestead themselves. The farm plans to hire next year. "We can't go another year and do everything ourselves."
The Peck's say they practice regenerative farming, "we try to have as little impact on the environment around us as we possibly can. Our goal for the Capon Bridge spot is to bring people together and educate folks more how they can do the same thing."
The two say they are "extremely excited," about the move to Capon Bridge. "The climate is close to parts of France and Spain, where they grow great food." This year Logan says that the farm is focusing on building up the business infrastructure.
"Right now we're reading the land. We want to grow truffles which take about 5-6 years to get going so we're trying to start that as soon as we can," explained Logan. 
The Pecks also brew medical tinctures with their mushrooms. "Lion's mane remediates the nervous system," said Peck who shared that he had also heard anecdotal tales from customers about the mushrooms reducing the need for diabetes medicine in a patient. 
While it may be a few years before the Pecks go load up a truck and move to their new farm in Capon Bridge, the young pair's passion for what they do is undeniable, "we couldn't imagine doing anything else," Logan concluded.